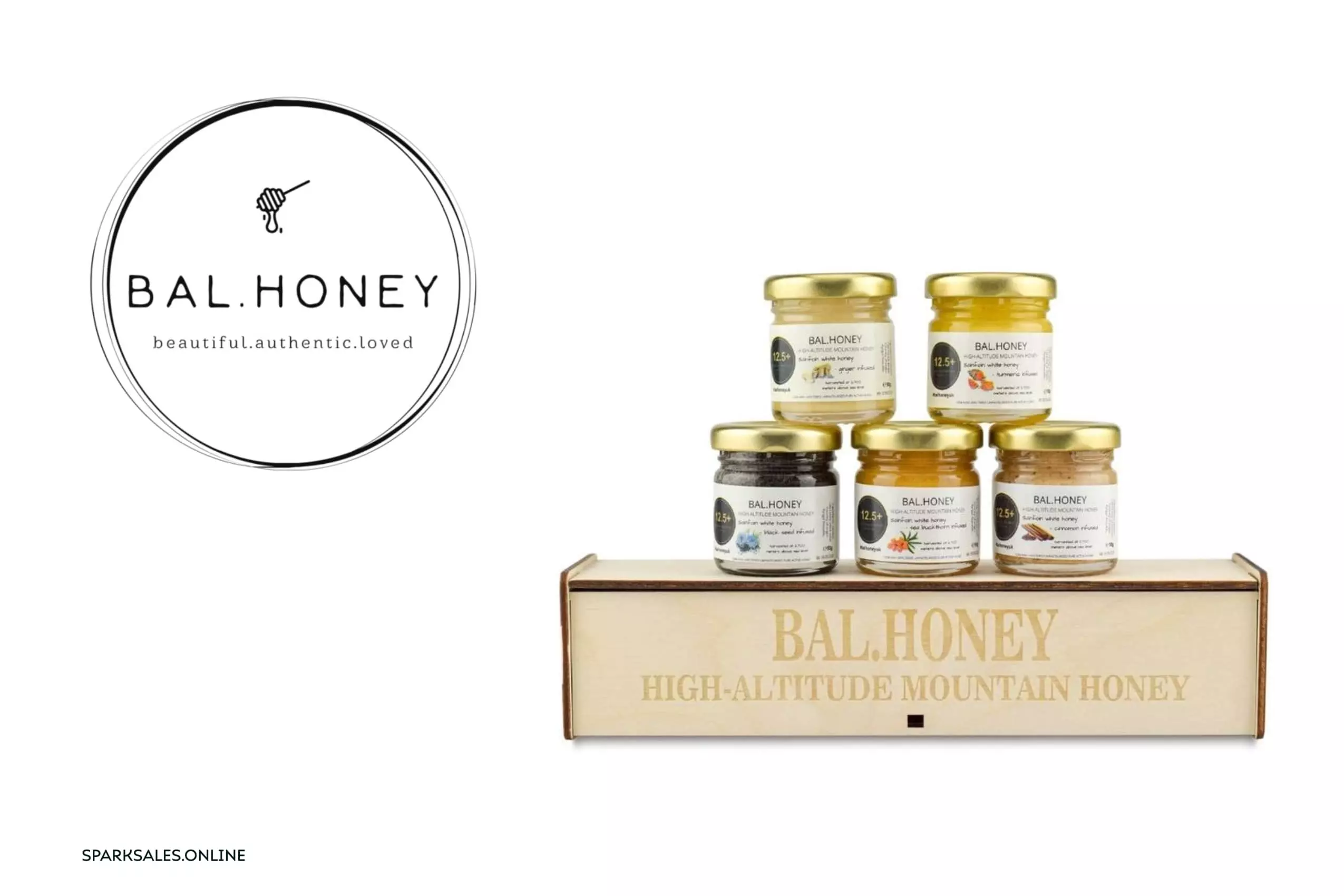 We sat down with BAL.HONEY to discuss their story of bringing in multichannel eCommerce, working with the right partners and creating a brand that sells across some of the most profitable, worldwide marketplaces.
The story of getting started
BAL.HONEY was co-founded by Jana and Saaly, two finance professionals and health enthusiasts. After years spent working in the corporate world, we both felt ready for a new challenge.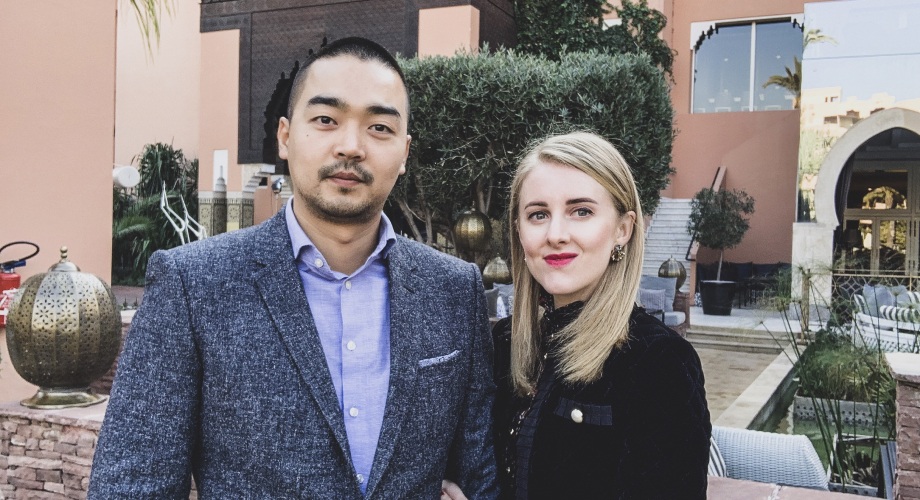 With Saaly's finance background and Jana's knowledge of accounting and social media, idea to bring unique and rare raw honey from Kyrgyz Republic was created.
It helped that Saaly is from the Kyrgyz Republic as we had a great advantage in establishing the supply from the local beekeepers and bringing honey to the UK and to the whole of Europe.
Our honey comes directly from the ecologically clean and pollution free regions of the Central Asian country, Kyrgyz Republic, a country with over 4,500 different flower species.
Over 90% of Kyrgyz Republic is covered with mountains which makes our honey unique in taste and rich in vitamins and minerals.
BAL.HONEY is harvested from the nectar of wild mountain flowers and rare herbs at an altitude of 2,700 meters above sea level which makes our honey really stand out.
How did you approach establishing the brand?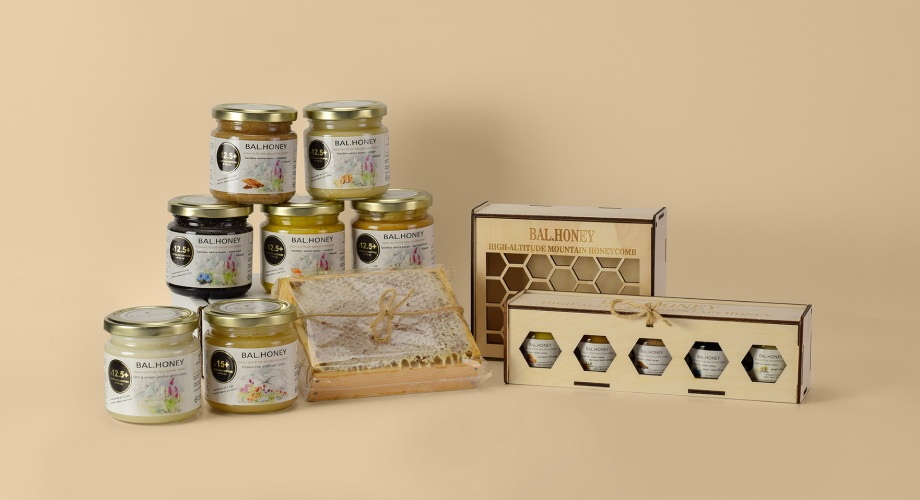 Our first step was to establish the company name, we wanted an easy to pronounce name with meaning.
We didn't have to look too far as the word 'BAL' means honey in the Kyrgyz language, simple and easy.
The first and probably easiest part of setting up the business was done.
Soon after, we registered our company, purchased the domain balhoney.co.uk and started to work on our Shopify store. Shopify is a very straightforward platform to use and we would definitely recommend it to everyone who is looking to start their online shop – most importantly, no coding is required!
With regards to social media, we opted for Instagram, Facebook, Twitter and Pinterest. Each of them attracts slightly different age groups and demographics and that was exactly what we wanted. With Instagram being our flagship channel, we still keep presence on all of them.
Insider tip for the readers: Start your Instagram page right away, do not wait until your product arrives. By doing this you will create buzz and build a very valuable audience that will be ready to purchase your products on day 1 after you launch.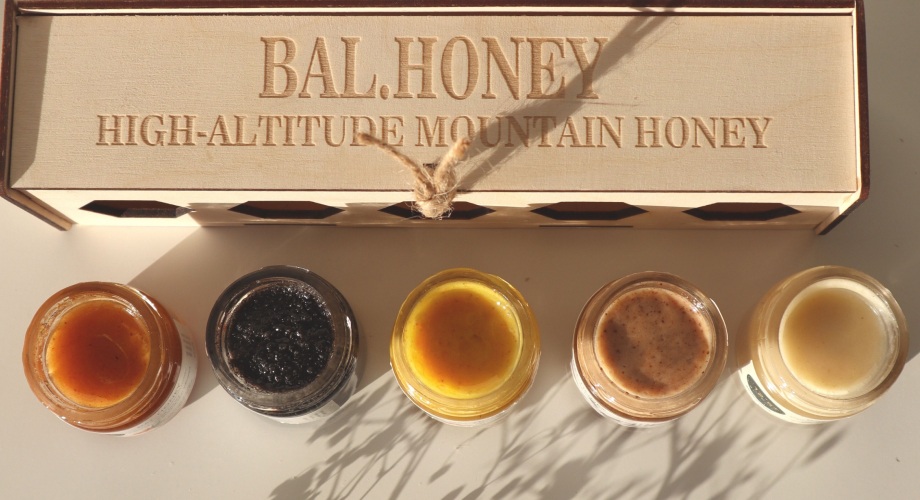 What were the initial eCommerce challenges?
The biggest challenge was still waiting for us, EU import regulations. Being beginners in the food industry, we felt quite overwhelmed with the amount of certifications required. It took us a few months to grasp it all and understand what documentation we need. The main lesson we learnt was not to give up and keep going, reading the rules and taking it one step at the time.
After we ironed out all the documents, our first shipment was on the way. In the meantime, we focused on the BAL.HONEY branding, we designed our own labels, created our banners, leaflets, business cards, etc. For most of our branding materials we used Canva – a free online tool for, frankly, everything design related!
In December 2018, our first shipment arrived, we launched our website and we were ready to start selling. We had amazing first few weeks, better that we could hope for.
Soon we realised that selling on our website only was not enough and we started to explore other selling options. At this point we came across Sparks Sales Online and our online selling journey had officially started.
How did you choose where to sell?
First, we had to establish which selling channels were right for BAL.HONEY.
There are many marketplaces where you can sell but not every marketplace is right for your product. Based on our research and guidance from Sparks Sales Online, we decided to set up accounts and to create listings on the three selling channels below:
As we are in the food industry, we knew that Etsy and eBay may not work well that but we wanted to try them anyway. It soon became apparent that Amazon was the clear winner in this trio. With Sparks Sales Online's expertise we decided to close down Etsy and eBay and to focus on our Shopify based website and Amazon.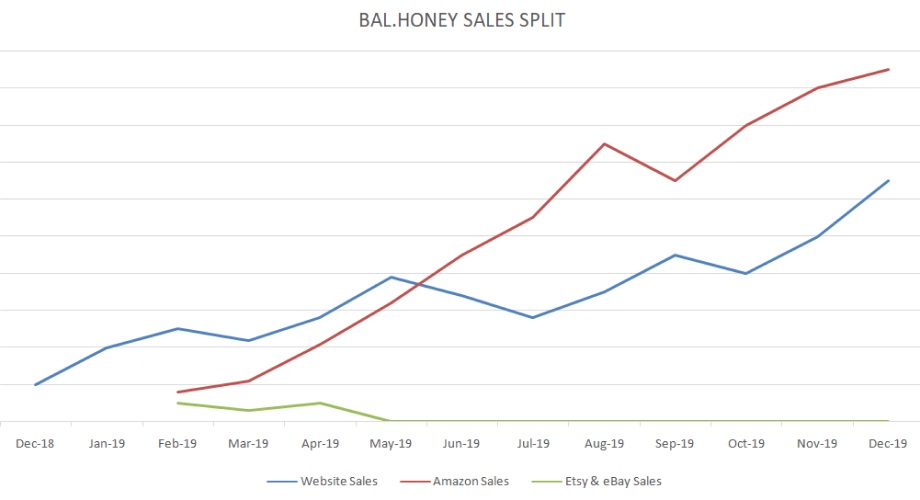 There is nothing wrong with Etsy or eBay, they just weren't the right marketplaces for our products.
As mentioned previously, Shopify is a very easy to use platform for your own website. They offer built-in integration with all major payment providers; it is very easy to link all your preferred couriers as well as the integration with a main stock control system like Linnworks. Quick and convenient.
Taking on the giants at Amazon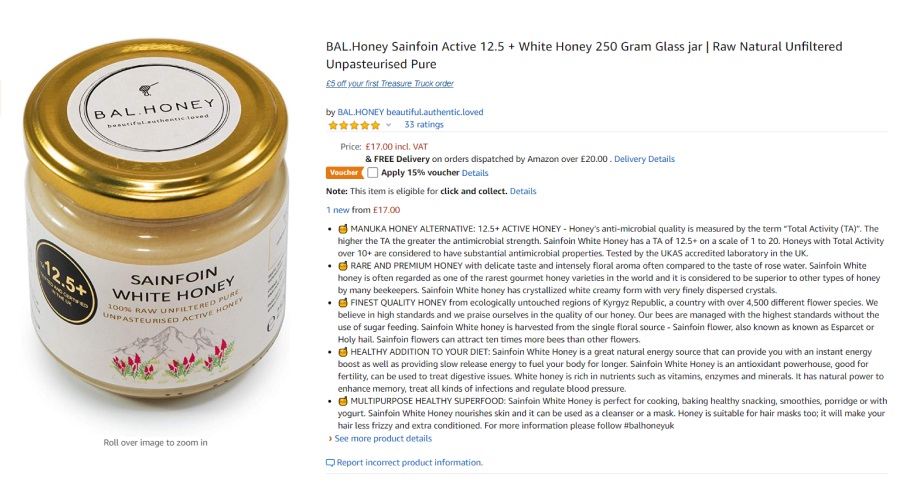 The next challenge was Amazon, this is where help from Sparks Sales Online became extremely valuable. With Amazon, every little detail of your listing matters. Having the right keywords in place can make a difference between having 2 sales a day or 200 sales a day. We listened carefully and we made our listings as good as they can be.
Insider tip: It is not just listings that matter; make sure to create your own store front and A+ content for all products.
In short, the more professional listing you create, the more trust you receive from your customers and the more sales you will have.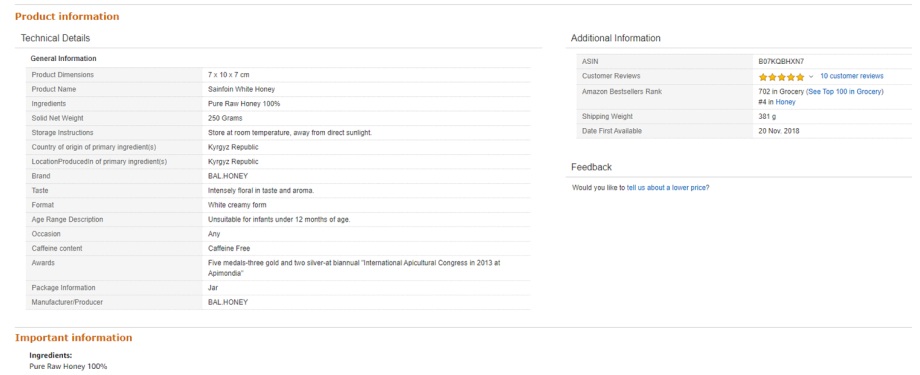 It is not just the Amazon.co.uk we conquered, the team from Sparks Sales Online encouraged us to go global and we went to Amazon.de, Amazon.fr, Amazon.it, Amazon.es, Amazon.co.jp and even Amazon.com!
It was a logistical challenge as the food sector is highly regulated in all of these countries but we made it.
Which countries make the best markets?
Which country is selling the best and which is the worst? This is probably the most common question we get asked.
We must admit that Amazon.com is a very competitive marketplace and requires a big marketing budget. Our advice would be to leave it until you are ready and have sufficient funds to cover ever so growing Amazon advertising cost.
Spanish and Italian channels are good, easy to establish as they are part of the European Fullfilment Network but they do not perform that much – at least for us.
French and German channels are fantastic and, of course, UK is number one when it comes to Europe. You might ask, how about Japan?
Japan is our best-selling Amazon platform! Japanese customers love our product and we could not be happier with the results. Please remember though, that your product can perform completely different, one can never tell until they try the audience for themselves.
Final Software Suggestions
Another great software to use is Replyco as sometimes, it can feel slightly overwhelming to receive so many messages from your customers. Replyco helps you to stay on track and not to lose sight of customers questions, very important part in eCommerce.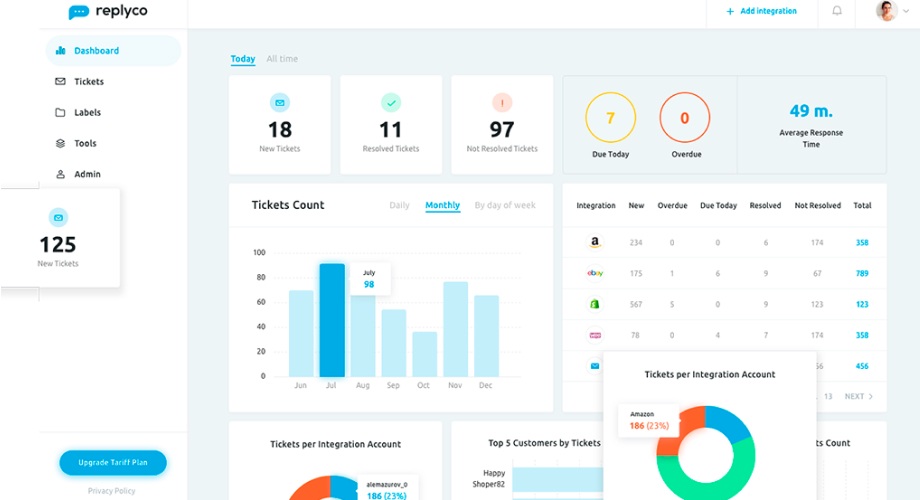 The Results
A year later, we are proud to say that all challenges of online selling world were ironed out, mostly thanks to Sparks Sales Online and we are ready to tackle the next chapter of our business – the retail space.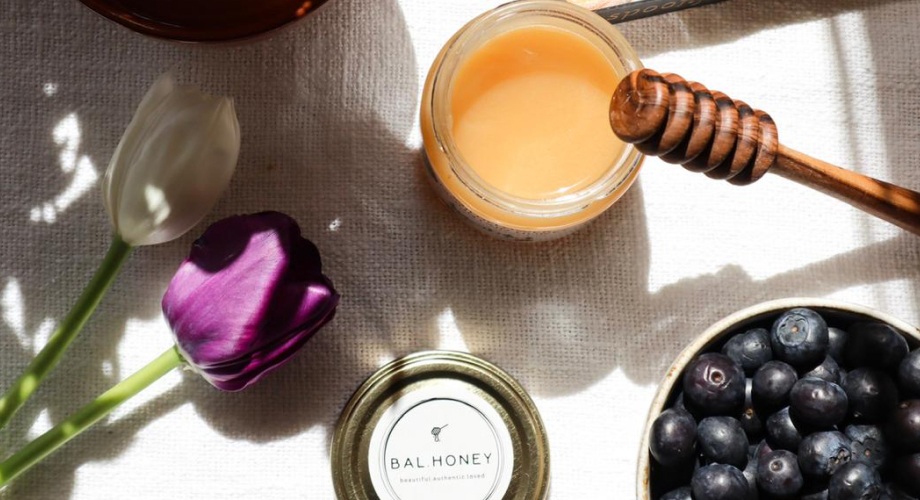 We truly want each and every customer to enjoy our amazing honey at an affordable price. BAL.HONEY is the first high-altitude mountain honey available in Europe, please visit our stores and get your honey delivery underway.
Discover Silk Road Honey. Discover BAL.HONEY.
Jana & Saaly