Amazon PPC for Home Decor
Make the most of your brand's potential with Amazon PPC services. Our PPC professionals are available to boost your product recognition, amplify your business and generate profits from opportunities.
FREE consultation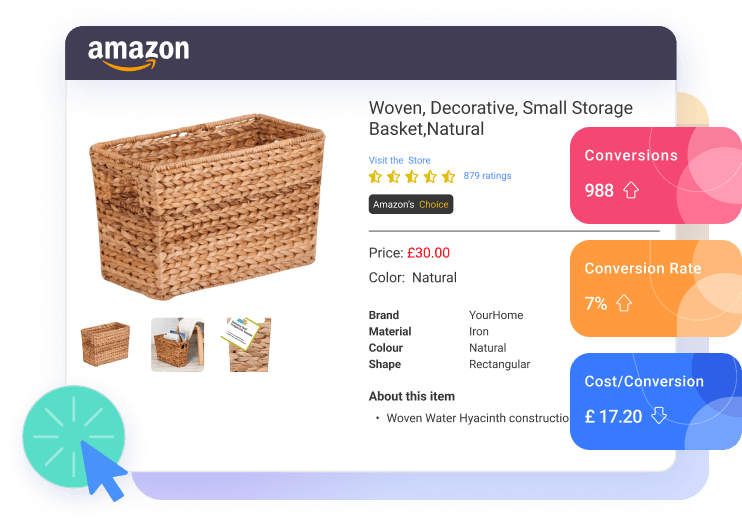 Discover how to boost your online sales with our team.
Three easy steps to grow your business:
Step 1: Discuss your requirements and gather the initial scope.

Step 2: Get back to you with a proposal.

Step 3: Implementation and ongoing managed services.
Get Started
We are trusted
We've worked with many highly successful clients, and client satisfaction is our top priority!

Our services include:
Launch automatic/manual campaigns

It is possible to utilise the advantages of Automatic and Manual campaigns, depending on the purpose of the PPC strategy. Our professional team will help you make the right choice and handle the launch.

Campaigns search terms analysis

By keyword research, we can decide which words to aim for and get information about the actual queries that your intended audience is searching on Google. This comprehension of the search terms allows us to create content and overall marketing strategies.

Keywords Search in Helium10

We use tools such as X-Ray Amazon Product Research, Cerebro, Magnet, and Frankenstein for excellent results.

Existing campaigns analysis

Our expert team will review your current campaigns to determine if it's possible to make any new improvements. We will ensure that we do our best to keep your products at the top of Amazon's search results.
You save time and money from hiring in-house team members or dealing with expansive payroll issues. Instead, our services are provided at affordable flat fees and leverage our years of experience as a team.
We can take your current brick & mortar shop and transform it into a solid online presence with the automation and listings needed to expand your offerings to the digital space.
Thousands of new products are listed on the online marketplaces every single day. To reach your target customer, you need clear, clean, and easy-to-find product elements that we help create.
You will need branding materials like a name, logo, and the products you want to sell. We can provide the optimisation to make your Shopify storefront stand out.
Shopify is a complete eCommerce platform for you to build an online store, sell products, and engage with customers. You can use this platform to expand your business across other channels.
Our managed services provide ongoing, monthly support that boosts your projects to the best possible rank. We can also work in short-term timeframes depending on the project scope.
Our expert answers to your questions
View all
Learn more. Grow more.
The eCommerce industry is constantly changing and evolving. Read our blog and stay up to date on the latest trends.
View all
Get a Free Consultation on Improving Your eCommerce Business.
Take our short quiz and we'll be in touch to help you solve your current challenges.
Get Started
Stay in Touch
Enter your email below to subscribe to our newsletter and get updates on the latest company developments.
Spark Sales Online: Your Partner for Amazon PPC Home Decor Success
Being a leader in home décor is more than developing a unique brand around a personal identity or style of interior design. You need a solid strategy that ensures your items are getting to the top of search results repeatedly. Something you can rely upon, so your bottom-line cash flow is sustainable as you continue to push new products and growth.
Spark Sales Online is here to help you with our top-notch Amazon PPC home decor service. We specialise in driving targeted traffic and conversions for home decor products. From beautiful dining room chairs to those fun little pillows you know teenage girls will love, we give you a competitive edge that helps you achieve your online business goals.
How much does Amazon home decor listing PPC cost?
Of course, it helps to know how much you will spend on any ads you want to run, especially in a challenging market. We understand that budgeting is a must-have when advertising your home decor products.
We have taken the time to eliminate any of the confusing fee structures other companies and pop-up agencies try to nickel and dime you with. We know the best way to grow our book of return and referral clients is through simplified pricing. That's why we offer transparent pricing for our services. When you get flexibility, you can focus on more important Amazon business needs like customer service and cultivating a fantastic social media presence.
Expert PPC Management Services for Home Decor
Managing pay-per-click campaigns can be complex and time-consuming. But don't worry. We've got you covered!
Our experienced professionals will handle all aspects of your Amazon PPC campaigns. We'll take care of everything from keyword research and ad creation to bid management and performance tracking. You get to sit back, pour another drink, and watch as your Amazon store naturally grows in organic search results.
Here's what our PPC management services for home decor include:
Strategic Décor-based Keyword Research: We find the most relevant and high-converting keywords for your home decor products, ensuring that your ads reach customers that appreciate rugs, pillows, bedspreads, tables, and more.
Compelling Ad Creation that Converts: Our creative team crafts paint-point and data-driven home décor ads that grab attention and entice customers to click. We write persuasive ad copy and create visually appealing imagery that showcases the unique features and benefits of your home decor items.
Bid Management & Optimisation: We monitor and adjust bids to maximise ad visibility while maintaining a solid return on ad spend (ROAS). Our continuous optimisation efforts aim to improve your campaign performance and deliver the best results within your budget.
Tailored PPC Solutions for Your Amazon Home Decor Products
Every home decor brand has that cool personality we love to feature. That's why we offer personalised PPC solutions tailored to your specific identity and target market needs. Whether you want to increase brand awareness based on your location data, drive sales for a new product line of custom tablecloths, or expand into new home decor market segments, our team will develop a customised PPC strategy that aligns with your goals.
When you choose our PPC solutions for your Amazon home decor products, you can expect:
Increased Décor Industry Visibility: We optimise your ad campaigns to maximise visibility across relevant Amazon search results and product detail pages, helping your home decor products stand out.
Higher Customer Conversions: Our data-driven approach ensures we target the right audience with compelling ads. This results in increased click-through rates (CTRs) and improved conversion rates for your home decor items.
Improved Ad Spend ROI: We monitor and optimise your campaigns to deliver the highest possible return on your advertising investment. We aim to help you achieve a robust bottom line while growing your brand presence on Amazon.
Unlock the Power of Amazon Home Decor PPC Strategies
Staying ahead of the competition on Amazon requires strategic planning and implementation. At Spark Sales Online, we have the expertise to develop and execute practical Amazon home decor PPC strategies. We leverage our industry knowledge and experience to identify the most impactful advertising tactics for your home decor products. It's all about implementing data-driven strategies that translate into more potential sales.
Here are some critical components of our Amazon home decor PPC strategies:
Home Décor Ad Targeting: We analyze customer behavior, preferences, and demographics to target your ads' most relevant audience segments. This ensures that your ads reach potential customers actively interested in home decor products like yours.
Ad Placement Optimisation: We optimise the placement of your ads across different Amazon ad formats, such as Sponsored Products, Sponsored Brands, and Sponsored Display. This helps your ads appear in suitable locations, reaching your target customers effectively.
Ad Scheduling: Work with an Amazon PPC expert for home décor to strategically schedule your ads to appear during peak shopping times and specific periods when your target audience is most likely to engage with your home decor products.
Work with Home Decor Amazon PPC Experts
Unlock the full potential of Amazon PPC for your home decor brand. Partner with the experts at Spark Sales Online and experience the benefits of our specialised knowledge and dedicated service. We deeply understand the home decor market and have the expertise to successfully navigate the Amazon advertising landscape.
Here's why you should work with us:
Proven Expertise: Our team consists of Amazon PPC experts who understand the intricacies of the home decor industry. We know what it takes to create effective sponsored home décor Ads management that drives results.
Personalized Approach: We'll work closely with you to understand your unique goals and requirements. By tailoring our strategies to your specific needs, we'll help you achieve your desired success.
Transparent Reporting: We believe in transparency and accountability for our home décor brand Amazon PPC service. You'll receive regular reports on the performance of your Amazon PPC campaigns, enabling you to track the results and make informed decisions.
Don't miss out on the opportunity to maximise your home decor sales on Amazon. Contact Spark Sales Online, a leading home décor Amazon PPC agency, today, and let's start optimising your Amazon PPC strategy for success.