Getting your product listing images in top quality is incredibly important for being a success on Amazon. It makes the customer's first opinion of your item and should be spotless. To ensure that your product images are perfect and portray the qualities of your product, you can hire an experienced Amazon product photographer. There are plenty of them you can find, so how can you make sure that you select the best one? What should you be aware of, and where would you locate the best ones? We'll answer all these questions and even more in this complete guide.
Who Is an Amazon Product Photographer?
A product photographer specializes in taking pictures of items rather than landscapes, styles, creatures, or other subjects. This type of photography is viewed as a form of promotional photography and is utilized for promoting the sale of products. A person who is an Amazon product photographer is an expert in this field and is capable of working with clients who are selling their items through Amazon. They understand the specific regulations on images set by Amazon in order to create the most appealing listing images.
However, creating good Amazon product photography involves more than just capturing a nice image of the merchandise. It additionally involves realizing customers' psychology and figuring out how to present the item in its finest style. This includes selecting the proper lighting, perspective, and composition to emphasize the item's exclusive elements and advantages. It is also essential to include lifestyle pictures or incorporate some background to enable consumers to comprehend how it will fit into their lives.
Why Should You Hire a Professional Product Photographer to Shoot Your Listing Images?
How do I take professional photos of my Amazon product? That's a popular question, but let's be realistic – sometimes, it's better to hire a professional Amazon product photographer to get an outstanding result. Amazon requires your images to have at least 1600 pixels on the longest side for optimal clarity and to make them "zoomable." Most newer cameras or phones should have the capability to take photos in a resolution that will be accepted by Amazon.
You take the pictures yourself, but hiring a pro is much better for your sales and conversions. You don't necessarily have to have a professional photographer if money is tight, but if you have the resources, it will pay off. It's a no-brainer since 93% of consumers make their buying decisions based on a product's visual appeal. Clearly, better photos means more orders. It's that simple.
Having the best product in the market isn't enough if its corresponding product photography is bad. Purchasing items online can be tricky since you can't see or touch the items as you would in a physical store. Therefore, Amazon product photography is especially critical as it helps customers visualise exactly what product they're getting.
Make sure the main image is of high quality and compelling enough to draw customers to the product page. Improving the main image on listings immediately increases the click-through rate, so hiring an experienced Amazon photographer can attract more customers to product pages. This could help promote brand recognition and achieve greater success with Amazon's algorithm, even if customers don't make a purchase.
Many people choose to conduct Amazon product photography themselves in order to save money, but they usually wind up investing a large sum in cameras, lighting, and photography gear, whether they are renting or not. If you choose to pay an Amazon product photographer, they will not just provide access to their specialist equipment but also have their experience and knowledge to offer.
Where Can You Find a Quality Product Photographer for Your Listing Images?
Try these options for getting a specialist photographer for your Amazon business:
Google: Type "Amazon product photography service" into Google and browse the results. Focus your search on local providers using keywords like "Product photography London." The businesses listed below the advertisements are typically seasoned participants in the market and often hold the distinction of being market leaders – a testament to their status as preferred choices among clients.
Instagram & TikTok: Employ a similar strategy on Instagram or TikTok by searching for hashtags such as #productphotography, #productphotographylondon, and #productphotographeruk. Delve into their bios for contact particulars.
Competitors' websites & social media: Explore competitor websites and peruse their social media profiles to find references to their photographers. Given the open nature of the market, if a photographer has effectively served your competitors, it's likely they possess niche-specific expertise and can promptly immerse themselves in your requirements without extensive introductions.
Facebook Groups: Navigate to Facebook groups by searching for "Product Photography London" and applying the "Group" filter. Request membership in relevant groups and share a concise Request for Proposal (RFP) with your contact information to elicit responses. By employing these strategic approaches, you can efficiently pinpoint potential product photographers and take steps toward successful collaborations.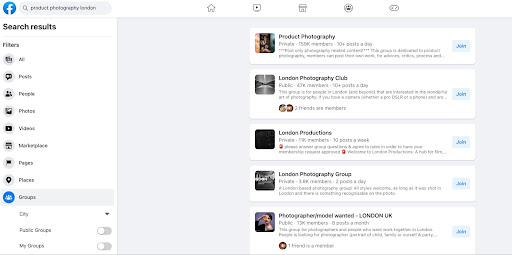 5.  Freelancers websites: Lastly, look through a freelancer directory. Check out sites like Fiverr and Freelancer.com for photographers offering good value for money.
How To Choose The Best Amazon Product Photography Service
When it comes to picking an Amazon product photographer, you should carefully consider the various factors. Initially, you should take cost into account, looking at what each prospect charges. Keep in mind that skill level and experience may not always be reflected in the cost. Moreover, if you want particular requests or distinct styles of photography, extra charges may be involved.
The most suitable photographer in your region for capturing weddings may be unsuitable for Amazon product photography. That's because the two types of photography require different skills, and experience in one area does not carry over to another. When choosing your Amazon photographer, make sure they have a background in product photography especially. Product shots are typically still life, which needs a unique approach compared to candid photographing of people. Furthermore, product photography is more often conducted in a studio setting, unlike outdoor or natural lighting scenarios. This signifies that an expert product photographer has access to a studio that can help produce the desired photos.
It is essential to have experience with product photography but it is even better to already have experience taking pictures for Amazon. This marketplace has very detailed regulations concerning aspects such as formatting size and even requires a particular kind of white to serve as a background. Someone who is familiar with these requirements beforehand will certainly make this process easier. Therefore, although it is not mandatory to seek out a photographer who has worked for Amazon in the past, it will likely be an advantageous choice for the job.
Follow these steps to find the best product photographer:
Determine the Specifics: Define the parameters under which you require the photographer's services. Are you seeking project-based collaboration, an annual contract, or a permanent arrangement with either a predetermined or uncertain workload? Once you ascertain the volume of work you can offer, you'll be better positioned to commence negotiations based on favorable terms.
Strategic Scouting: Investigate prime locations to identify a proficient photography professional, as elaborated in the subsequent section. Create an organized list in an Excel format, encompassing 10-20 product photographers whose portfolio has impressed you.
Portfolio Evaluation and RFP Distribution: Request portfolios from the shortlisted candidates and issue Requests for Proposals (RFPs) to each prospective photographer. Clearly articulate your specific requirements, encompassing factors such as work volume, deadlines, product complexity and size, shipping prerequisites, preferred style, and any relevant information available at the time.
Streamlining the Selection: Streamline your options to arrive at a shortlist of three foremost candidates. These selections should align with your budget constraints, shipping expenses, qualitative expectations, and stylistic preferences.
Colleague Assessment: Share the profiles of the three shortlisted photographers with key colleagues within your organization. Seek input from your superiors and individuals who will directly interact with the chosen photographer.
Trial Photography Assignment: Extend an invitation to all three candidates to participate in a trial photography assignment. Some companies might offer this opportunity at no cost, while others may require a fee to cover expenses.
Evaluation of Trial Results: Upon receipt of the trial images, meticulously evaluate and compare the outcomes. Base your selection of a professional product photographer on the quality of the trial images.
By adhering to this procedure, you can confidently identify a skilled product photographer to fulfill your requirements.
Questions to Ask a Photographer Before Hiring Them
Once you have chosen some potential Amazon photographers, it is important to ask each a few questions before deciding who to hire.
What are your background and qualifications?
Explore the background and credentials of the candidates. Investigate their industry experience – how long have they been active? Inquire about their notable competitors and identify their top clients. Determine their duration of involvement in photography. Have their works received professional awards? Assess the size of their Instagram following. Discover their preferred niche in product photography – whether it's clothing, bags, shoes, jewelry, or accessories – and the rationale behind their choice.
What kind of equipment do you use?
For drawing conclusions, in-depth expertise isn't essential due to two reasons: 1. Equipment models can be quickly searched online during the conversation. 2. A candidate's confidence, precision, and arguments while discussing the topic provide insight into their level of immersion.
What is included in your services and fees?
Product photography pricing entails various factors. Insist on a comprehensive price, encompassing delivery, travel expenses, equipment, studio rental charges, handling of bulkier items on-site, insurance, and retouching.
How many photos will we get?
The e-commerce product page marks the culmination of the conversion process, signifying substantial efforts invested in guiding the customer to this point. Losing a potential customer at this juncture is particularly disheartening, given the proximity to conversion. The objective is to present your product comprehensively, offering insights from various angles and ensuring the customer's thorough understanding. Determine the customary volume of images for each product according to the photographer's practice. Although the quantity varies by niche, a prevailing industry standard entails 3-5 images per product.
What is a turnaround time?
An active photographer is a positive sign – it implies high demand. Conversely, a slow photographer may not be ideal unless urgency and image count per order are not crucial. Estimate the turnaround time to gauge a candidate's production efficiency.
What about backup arrangements?
Professionalism entails backup preparedness. Backup plans serve as safeguards against technical glitches, particularly for photographers without such contingencies.
What are the rights to the photos?
Photo rights encompass legal intricacies that vary by jurisdiction. Consider legal consultation to secure the desired rights while avoiding unnecessary expenses. Note the significance of Intellectual Copyright.
What do you expect from the client?
Clarify your role as a client in the arrangement and your anticipated level of involvement in the photography process. This question aids in establishing rapport and understanding the supplier's expectations.
Additional questions to ask:
How quickly can you do the work?
How big is your team?
Who will be taking the photos?
Who will own the photos after the job is completed?
Do you have any experience shooting for Amazon and meet their image requirements?
Have you used focus stacking software?
Do you have experience in shooting medium or large formats?
What kind of lighting have you used?
Can you shoot on a variety of surfaces, including plexi and optical glass?
Have you assisted well-known product photographers in the past? If so, who?
Do you have experience in styling your images? Can you style soft goods?
Do you have experience in shooting products with highly reflective surfaces?
Be sure to take a look at any portfolios of their earlier projects. Distinguish how much of their salary is earned from item pictures as compared to different kinds of photography. If at all possible, acquire a perception of what customers have commented about their working experience. In the end, select a professional photographer from Amazon that suits the visual expression you desire.
How much should Amazon product photography cost?
In general, the price of a professional photographer can range anywhere from $25 up to more than $250 per hour and maybe more for an individual photo. Other costs may include the photographer's talent level, any preparation required, and other requests.
The cost of your product pictures will vary based on many different criteria, such as:
Location the photographer is based in – those from countries where labor is inexpensive tend to charge less than those from the United States or Germany.
Type of photographer. You can also choose to employ a freelance photographer, a small studio, or a complete listing optimisation agency – the former being cheaper than the latter.
The type of images requested can also affect the cost. If you require studio photos, the overall expense will be lower than when ordering more complex visuals, such as videos or infographics.
The scale and weight of your product may cost more to take a picture of if it is heavy or large.
Preparation. The photographer may ask for extra money if they need to assemble, tidy up, or press the item before shooting. The cheaper it will be for you if the photographer can take it out of the package and start taking pictures immediately.
Additional equipment. If special equipment is needed to be leased or there is a complicated set-up or a difficult retouching job, the price of the photos will be higher.
You may be able to find a competent photographer from overseas that won't cost as much. Nevertheless, if you want to guarantee you're given great Amazon product photography, then it will be best to pay more and secure an experienced photographer.
We hope that this article made you aware of how important product photography is and how to make sure your Amazon listings look its best. Although it might be feasible to take your own product photos without the help of a professional, it will usually be very noticeable if it isn't done by an experienced photographer. For this reason, we suggest that you seek help from someone with the right skills rather than trying to do it yourself.