Amazon is the largest online retailer in the world, and it continues to expand. With over 200 million active Prime customers, this massive ecommerce platform is a fantastic way for your brand to reach new audiences and grow your business.
Selling on Amazon with a registered trademark is simple, but there are still some things you need to know before you get started. The program is 100% free to get started, but there are many options you can choose from that may have additional costs, so it is always a good idea to do your research before jumping into the Amazon Registry Program.
In this post, we'll cover everything from how to register your own brand on Amazon to how to protect yourself while optimizing your listings, so they get found by more customers.
What is Amazon Brand Registration Program?
The Amazon Brand Registry is a program that helps you establish your brand on Amazon. That may sound overly simple, but that is because it is!
This voluntary program allows you to register and protect your brand name, logo, and product images. You can also use this service to provide visibility into how others are using your trademarks and copyrights by searching for them in the Amazon Brand Registry.
The idea is to prevent other people from stealing your intellectual property. The competition for everything from name-brand toilet paper to the latest Children's book is fierce. So you want to have barriers that stop opportunistic people from copying and pasting your products, images, branding, and other business features into their own Amazon account.
Amazon Brand Registry Requirements
As this program is specifically designed to prevent copycats for your unique property, you should have your paperwork in order before applying. That means having any official documents, ID numbers, or related information so when you do sign up, it is as quick and easy as possible.
To register your brand, you'll need to meet the following requirements:
Your brand name must be unique and available for sale on Amazon. If it's not, Amazon won't let you register it.
You must have a live registered trademark or patent on your brand name (or have applied for one). This ensures that no one else can use the same name for their products or services as yours.
You must present a Government Registered Principal Trademark Registration or Serial Number.
Any images of your company logo/brand identity.
Product images that use your trademarked branding name, symbols, or identity.
Be listed under a product category (i.e., fitness, home décor, men's shoes, etc.).
Be able to list the manufacturing origin of all your items being distributed.
You will also want to list your website, social media, and any other relevant contact information. This will tie your Amazon Brand Registry to a specific identity, making it harder for others to duplicate. The more unique your brand is with Amazon, the less likely someone will steal it.
Why Should You Go for Amazon Brand Registration?
Amazon brand registration is an excellent way to protect your brand. In case of any dispute, you can show that you have registered a brand with Amazon and are not violating any copyrights or trademarks. This can help your company win against competitors who might infringe on your rights and increase sales by getting rid of counterfeit products and similar issues that often arise during business operations. Anytime you can slim out the competition is going to be good.
Amazon brand registration is also helpful for increasing traffic on your product listings since it helps potential customers find out more about what you're selling through search results or category pages (if applicable). In addition, your name becomes a link to any other items under your brand umbrella. Better convenience means fewer steps to convert leads into sales.
This program also helps sellers get more reviews from buyers who have purchased products from them in the past. This is especially important when trying out new products because there may not be enough reviews yet available at launch time. Anyone that has spent even a month on Amazon knows reviews equal eyeballs. Without them, you don't get seen.
What are the Benefits of Amazon Brand Registration?
Amazon Brand Registration is a great way to control your brand and help improve customer experience. It allows you to:
Control your brand name on Amazon, including ensuring that other sellers do not use it. This also means adjusting the many features of your product detail pages, like titles, descriptions, and images, in a way that helps you stand out from the crowd.
If you are hoping to sell on a broader target audience range, you'll need the Amazon Brand Registry to list products with various production identifications outside of UPC and EAN codes. That is a requirement if you want to sell in Europe, China, Japan, and Canada – all massive markets compared to the US.
With this program, you get to provide advanced seller support. Just like you would appreciate more personalized care when working with a brand, you get to elevate your customer experience by offering customized support. They get the answers needed to make a well-informed buying decision. You get more sales!
Probably the most important benefit is access to analytics and AI-based algorithms that can tell you what is working and what may need more development for your Amazon brand to sell better.
Extra proactive protection for your brand so you don't have to deal with lousy quality imitators harming your reputation.
What Does Amazon Brand Registry Provide?
There are specific programs and features that become unlocked when you access the Amazon Brand Registry. The goal is to help expand your brand capabilities on the ecommerce platform because you have taken the time to go through the registration process. Amazon wants to reward you for doing your due diligence and boost your capabilities. Some of these programs include:
Access to A+ Content
Amazon A+ Content is a paid enhanced brand content offering for Amazon sellers. It allows you to showcase your registered brand and products in a more engaging and detailed way, with features like images, text, and multimedia content. The goal of Amazon A+ Content is to provide customers with a more comprehensive and compelling product experience, helping to drive sales and increase brand awareness.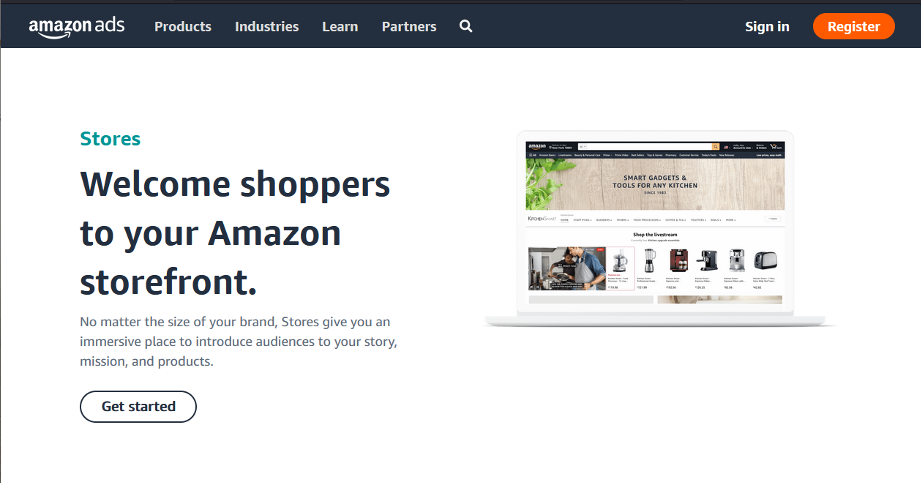 Amazon Stores Builder
This is an exclusive feature for Amazon sellers that provides a customizable storefront. With Amazon Stores, you can create a personalized, brand-centric shopping experience on Amazon, featuring your products and showcasing as well as expanding on your unique brand story. This is like having an ecommerce solution inside an ecommerce platform and helps you differentiate from the competition.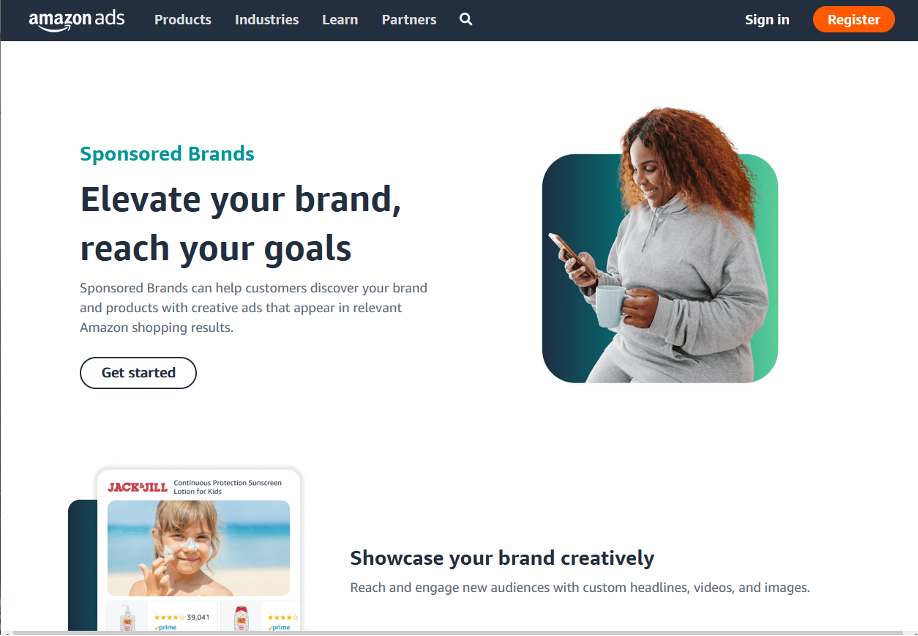 Sponsored Brands Ads
Anytime you can get access to advanced marketing tools, you should take advantage of the offer! With sponsored brand ads, you get a customized brand that allows you to express your creativity and do some quality A/B testing to maximize engagement.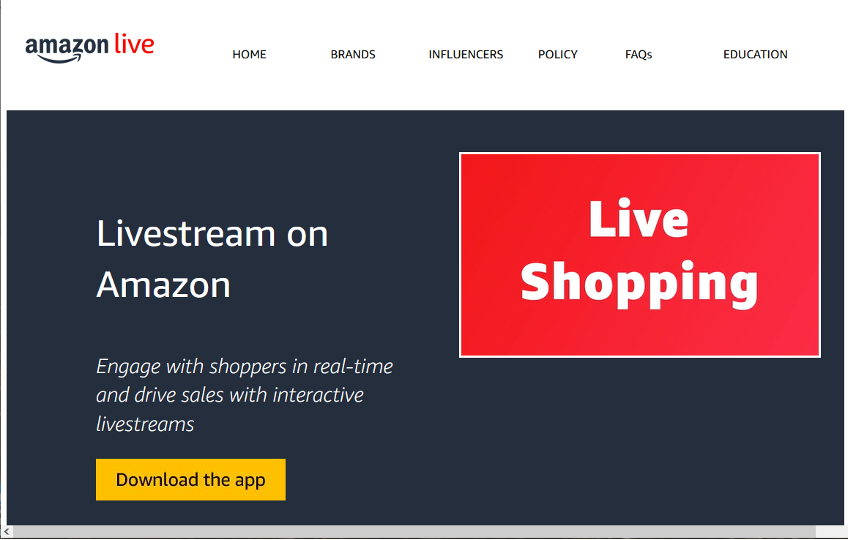 Amazon Live Creator
One of the most powerful ways to improve your brand-to-customer relationship is through 24/7 live chat support. That is precisely what Amazon Live Creator offers, a mid-funnel way of producing a collaborative live stream where customers can reach out and ask you questions.
Amazon Virtual Bundles Tool
This is a relatively new feature being offered for FBA or registered brands on Amazon. It allows you to bundle different products (mostly digital in nature) together to craft a higher-value new product listing. This is especially beneficial for authors, content creators, and others that utilize digitally sourced products or have the same branding across multiple physical products.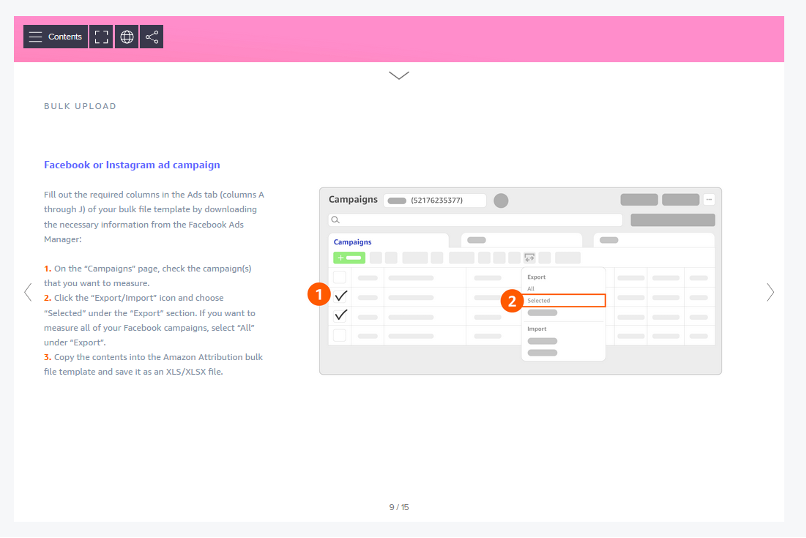 Amazon Attribution Tool
Again, anytime you can make use of advanced analytics – do it! With this attribution tool, you'll gain valuable insight into how measurements are taken and what changes in your digital marketing you can leverage to drive future sales. This can tie in with social media. There is a fantastic introduction to this tool available here.
Amazon Transparency Program
If you want to offer other sellers the ability to promote and sell your unique brand items, you can make use of this program. Once you are an Amazon registered brand, you will get a unique ID or code that gives other sellers the right to move your products.
Project Zero Program
Think of this as the opposite of the transparency program. Here you can blacklist any users that may be infringing on your rights by selling or distributing your products in a way you do not agree with. Amazon will conduct an "investigation" that will verify your claim and blacklist that user.
Examples of Amazon A+ Content
While registering your brand on Amazon is a fantastic way to improve protection for your products. You also get access to A+ Content features that allow you to use images for marketing instead of just words. Take a look at some of the examples we have found:
1 – Casper
A picture is worth a thousand words, and Casper is a great example. Instead of a lengthy explanation of the many benefits their customized mattresses provide for users, they have an easy-to-read graphic that hits the pain points of potential customers.
2 – Apple Airpods
Listing benefits doesn't have to be inside the features above the fold. When customers scroll down to find the reviews, you can separate their viewing experience by hitting those image-rich details you already know consumers appreciate. This is an excellent chance for A/B testing based on the advanced analytics registering your brand provides. Apple does an excellent job of this type of visual break.
3 – JKSHMYT
Besides featuring your product benefits, you also get the chance to introduce your brand through A+ Content. In the case of JKSHMYT, they need to stand out from a highly competitive field selling weighted hula hoops and other exercise equipment. Using the visuals associated with their branding of everyday people getting healthier and fit allows them to associate with feelings of personal growth.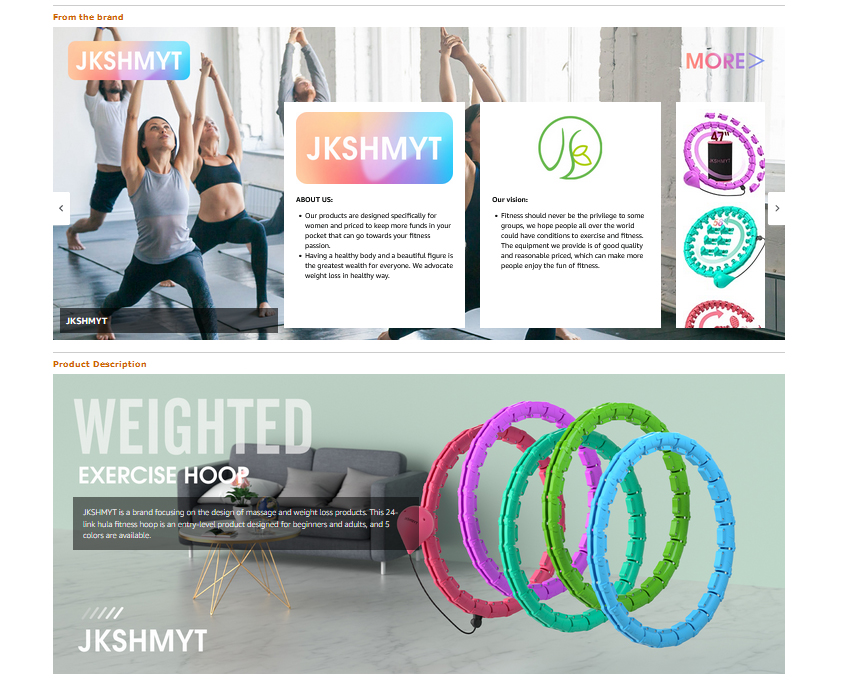 4 – Ooni Pizza Ovens
Video is a massive benefit to any company hoping to differentiate its brand. Ooni does a fantastic job of explaining how to use their pizza ovens, along with interactive visuals that provide mouseover options for additional information.
How Much Does It Cost to Register Your Brand on Amazon?
The cost of registering your brand on Amazon is actually 100% free. Amazon does its best to encourage this program with anyone hoping to develop a robust ecommerce presence on their selling platform, which offers benefits for building your brand when you're working on a shoestring budget.
Where you start to spend money is trademark registration. This varies by country of origin, but in the US, you can expect to pay anywhere from $250 to $400 for the proper filing of your trademark application. That price tag gets a lot more expensive if you involve the cost of a trademark attorney, which may be a good idea if this whole process is overwhelming. They can better navigate the various laws and legal requirements, but will charge you a pretty penny.
You're only allowed to file with a single trademark per application. For example, if you were Domino's hoping to sell product-based merchandise, you would file one trademark for the company, another for the red and blue domino on its side, and another for any tagline. Most companies can get away with just one trademark with only the company name.
Can I Sell on Amazon Without Brand Registry?
Yes, you can sell on Amazon without registering your brand. However, there are several benefits to registering your brand, such as the ability to access powerful tools to manage your brand and the ability to protect your brand from counterfeit and infringing products.
A lot of drop shippers and newly minted ecommerce entrepreneurs begin on Amazon without going through the brand registration process. This is because they offer similar items to so many suppliers that they are not likely to get dinged with any violations.
Once you start to develop a unique brand identity or use a white-label manufacturer, you'll probably want to upgrade to the registry to protect your online storefront.
Can You Sell a Private Label Without ABR?
Yes, you can sell a private-label product without registering your brand with Amazon. However, it is essential to note that by registering your brand, you will have access to powerful tools that will help you manage and protect your brand's intellectual property.
A private label is just as valuable as the products you are sourcing and shipping all over the globe. You are attaching a unique emotional value to every item you sell. When that emotion generates more sales, it offers you a competitive advantage.
Think of McDonald's French fries as an example. They are not the best in the world, nor are they anything uniquely made, but the comfort and joy they offer most Americans are priceless and a big reason the company has survived for so many years.
How to Change Brand Name on Amazon?
You can change your brand name on Amazon at any time. To do this, you need to contact Amazon and request a name change. Once they receive the request and review it, they will let you know whether or not they approve of the name change. If approved, an email will be sent with instructions on how to make the change yourself in Seller Central (or through their Customer Service team).
It's important to note that changing your brand name does not affect sales data from previous orders. Instead, it simply updates all product listings with the new information, so customers see them correctly when browsing through categories like "Camera Accessories" or similar search results pages within specific product categories that list multiple brands under one heading (e.g., Cameras).
How Do I Register My Brand with Amazon?
The goal is to prove you are the owner of the company selling products on Amazon. Once you have secured official approval for your brand registration, you become way more protected from hackers, fraudsters, or copycats from stealing your unique company profile.
You'll need to provide Amazon with:
A working live website.
A company custom email address that usually includes your company domain.
All the packaging images and product details.
The brand identity that makes you unique (competitive value, key attributes, etc.)
A completed application.
Amazon will review your application and notify you via email if your registration is approved. The process can take up to several weeks.
Once your registration is approved, you can access Amazon's tools and services to help you manage your brand and product listings. And to be able to take advantage of the benefits of the Amazon Brand Registry Program.
What Other Key Factors Should I Consider?
Now that you have a basic idea of how to register your brand on Amazon and start selling, let's take a look at some other vital factors that will help your business succeed.
Optimize your product listings: Make sure your product listings are complete, accurate, and optimized for search. Use keywords in your title and product descriptions, and include high-quality images and videos to showcase your products.
Utilize Amazon's advertising tools: Use Amazon's tools, such as Sponsored Products and Sponsored Brands, to drive more visibility and sales for your products.
Encourage customer reviews: Positive customer reviews can significantly increase the visibility and credibility of your products. Encourage customers to leave reviews by following up with them after a purchase and providing excellent customer service.
Offer promotions and deals: Run promotions and offer deals to attract customers and increase sales.
Utilize Amazon's fulfillment services: Consider using Amazon's fulfillment services, such as Fulfillment by Amazon (FBA), to help increase sales and improve customer experience.
Utilize Amazon's analytics: Use Amazon's analytics to track your sales, identify best-selling products and target the most profitable keywords.
Get involved in Amazon's programs: Get engaged in Amazon's programs, such as Subscribe and Save or Amazon's Vine Program, which can help increase sales.
Be responsive to customer inquiries and feedback: Be responsive to customer inquiries and feedback. This can help to increase customer loyalty and repeat sales.
Be aware of Amazon's policies and follow them: Be aware of Amazon's guidelines. This can help to avoid account suspension and loss of sales.
Most of all, use social media relevant to your brand identity. For example, if you have a young hip brand or are solving a consumer problem, making how to videos on TikTok may work. Or, if you have a high-end product that will benefit users who enjoy influencers, you may want to try Instagram.
Social media is a fantastic way to boost your online presence and make the most out of your Amazon Brand Registry account.
Conclusion
Registering your brand on Amazon and starting to sell your products can be a great way to expand your business and reach a wider audience. With the right strategy and a bit of effort, you can establish a strong presence on the platform and increase your sales. By following the steps outlined in this article, you can ensure that your brand is set up correctly and you're on your way to success on Amazon.
Remember to take advantage of all the tools and resources available to you, and don't be afraid to ask for help if you need it. With a little determination and hard work, you can turn your brand into a thriving business on Amazon.
Please be sure to leave a comment or question below about anything we may have missed. We pride ourselves on offering the most comprehensive articles and know this ecommerce platform has massive demand right now. Thank you, and good luck!