Unfortunately, when you sell online, you can't just hand your product to the customer with a cheery smile on your face. Depending on what the product is or where it is going, you need to trust a few different courier companies.
It's not just about trust; you also need to protect your profit margins. The best way to do this is by figuring out the most cost-effective way of getting items to your customers.
Don't just rush in either; take your time, contact different couriers and work out which one would be best for your business. Then, regardless of whether you speak to Royal Mail, DPD, Parcelforce, UK Mail, Yodel, FedEx or UPS, precisely communicate your needs.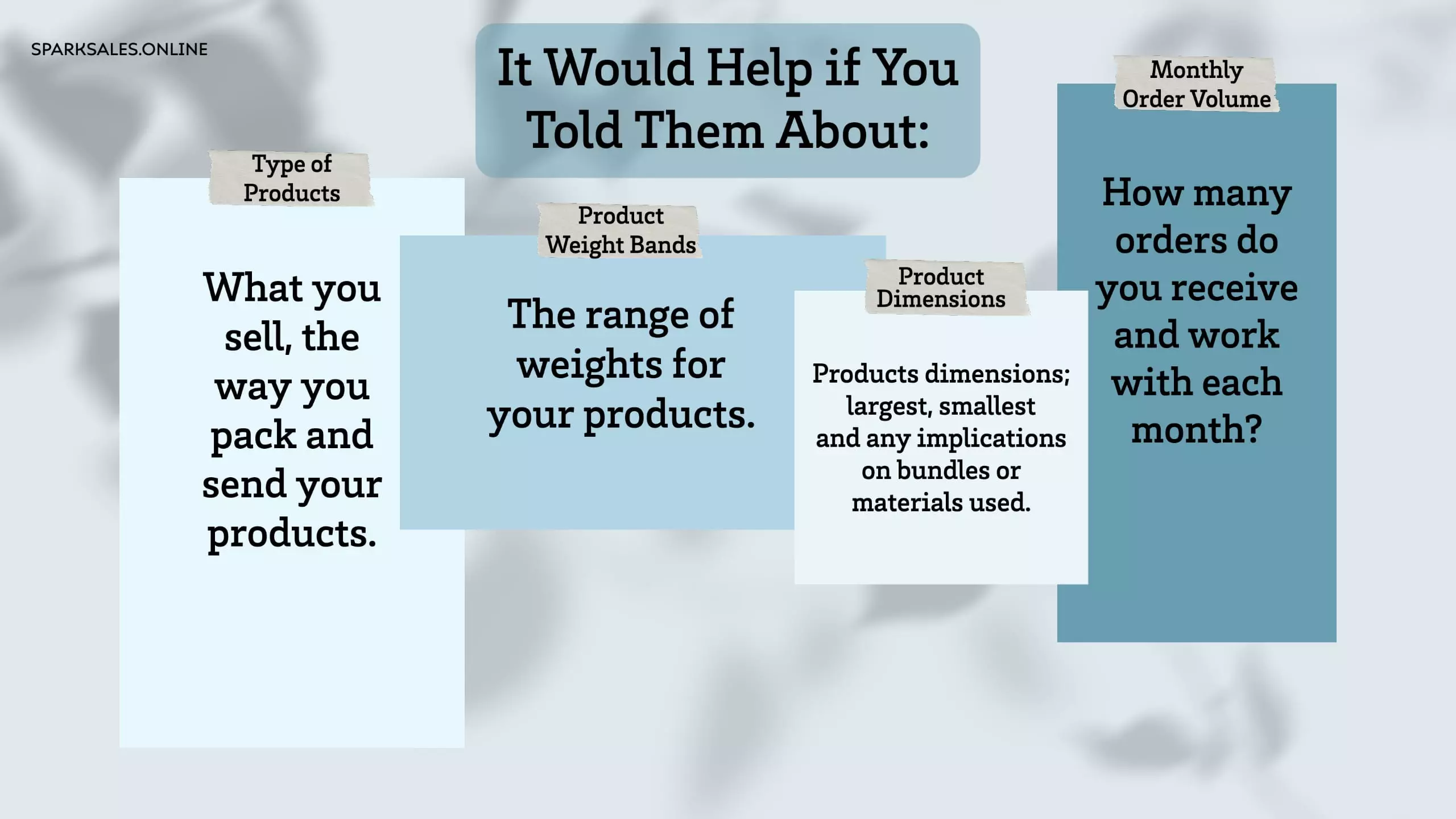 It Would Help if You Told Them About:
Type of Products – What you sell, the way you pack and send your products.
Product Weight Bands – The range of weights for your products.
Product Dimensions – Products dimensions; largest, smallest and any implications on bundles or materials used.
Monthly Order Volume – How many orders do you receive and work with each month?
Multi-carrier management companies like Parcelhub or Parcel2Go consolidate couriers into one solution, providing a single access point for different shipping vendors and their services. These multi-carrier management companies often offer cheaper rates for shipping services than direct couriers.
Companies like Parcelhub or Parcel2Go offer cheaper rates because they have access to volume licencing through bulk purchases of courier contracts from large ecommerce clients.
As they provide access to multiple global couriers for different companies, they reduce pricing pools for your business to benefit from. By using a multi-carrier management company, you save on courier costs.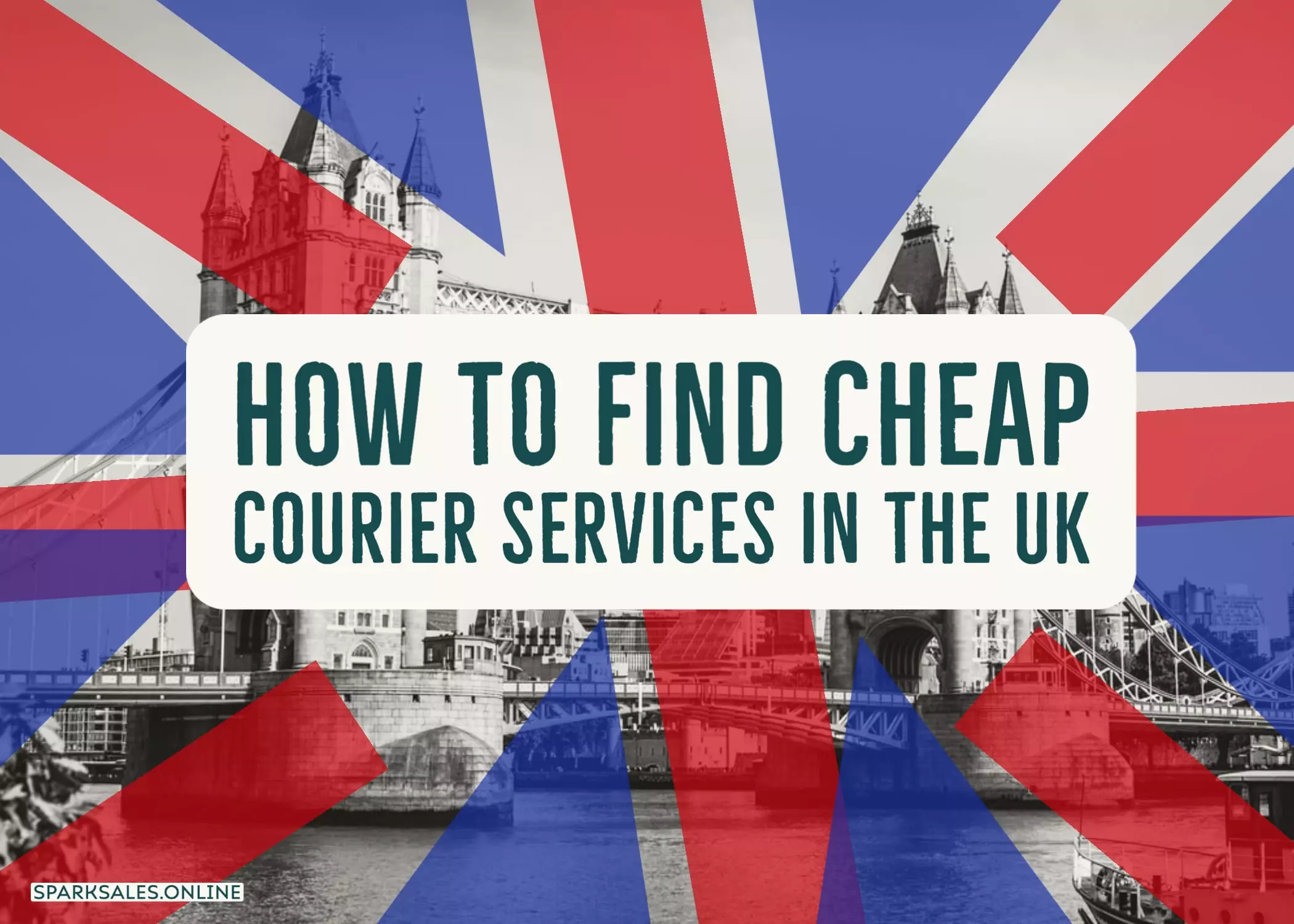 How To Find Cheap Courier Services in the UK
Instead of providing you with a list of couriers whose prices are likely to fluctuate, I think it's best to talk about UK courier comparison sites; this way, you'll be able to check for yourself and stay up to date. So, Royal Mail, Hermes, UPS or DHL, which one is cheaper? This article will tell you how to find the most affordable postage option when you need to ship your orders.
So what is the cheapest way to ship your products when you don't have a business account?
One thing I want to make clear first and foremost is that having a business account with a courier company does not necessarily mean that your shipping costs will be cheaper. If you're sending a small parcel with Royal Mail through a business account, for example, it is likely to be more expensive than sending it with Hermes without a business account. This is because when it comes to sending parcels, Hermes is currently the cheaper option, so you definitely need to know where to look for the best shipping rates because there can be pretty significant variations between prices.
First of all, whenever you are sending anything to anybody, you need to know the weight. For that, you need a set of scales and a Royal Mail Postal Guide/Template that tells you whether your item is a letter, large letter or small parcel.
Let's say at the moment that you want to get an idea of what the difference is between a small letter and a large letter visually. A small letter would be like sending a DVD without the case. If you're sending two DVDs that you've placed on top of each other, that will ship as a large letter even though it's less than 100g in weight because the dimensions bump it up into the more expensive category.
It's wise to buy both a set of scales to check the weight of the item and a measure to check which postage should be applied because you want to choose the correct postage every time to be sure it reaches its destination.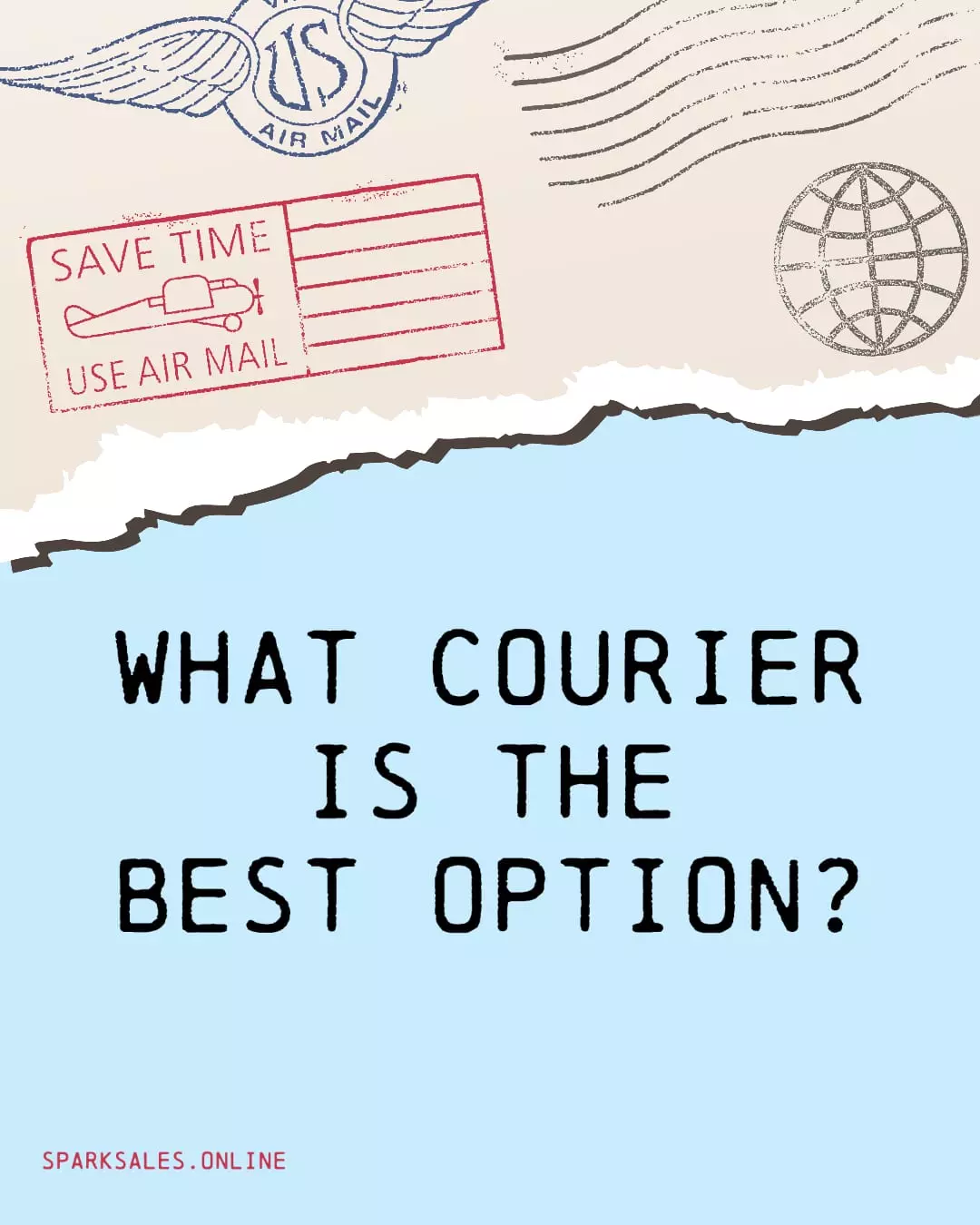 Now, what courier is the best option? If you're sending a small letter or a large letter Royal Mail is usually the cheapest option. You often don't need to compare with other companies regarding small letters and large letters because currently, Royal Mail is the most affordable.
Tip: Did you know that purchasing Royal Mail postage at a post office is slightly more expensive than printing their shipping labels online?
When you're buying postage online, if you ship small or large letters, It's wise to sign up for their online service: Royal Mail Click & Drop. Signing up for Royal Mail Click & Drop is just like a pay as you go account. This way, you don't need to have a business account, and you can even pay via PayPal.
You can also link your Royal Mail Click & Drop account with whichever marketplace you're selling on. For example, once you've linked your Ebay account, anytime you get an order through Ebay, they will import it to Royal Mail Click & Drop, and you can generate the label directly from there. It will then also automatically mark those orders as dispatched on Ebay.
However, I know it's probably unlikely that many of you are shipping your products as letters or large letters. Most of you are, in all likelihood, regularly sending out small parcels. If you have to send a small parcel, the best thing to do is go to a comparison website like Parcel2Go. When you visit these comparison websites, they will compare the prices for you from different companies like Royal Mail, Hermes and UPS, and give you the best possible price.
One of the best things about Parcel2Go is that, just like Royal Mail Click & Drop, using their API, you can link your account to the marketplace you're selling on. So you could have Royal Mail Click & Drop linked with your Ebay store alongside Parcel2Go. If you get orders that are large letter or small letter in size, you can buy the postage from Royal Mail. For the rest of the orders, you can go and check the prices from Parcel2Go.
It's straightforward, simply because multi-carrier management companies have the best prices. They have the best prices because companies like these comparison websites have more significant contracts and therefore receive bigger discounts with Royal Mail, Hermes, UPS or DHL. In simple terms, they buy postage from them in bulk and pass the discount on to the consumer.
So you've got Royal Mail for small and large letters, and you've got Parcel2Go or Parcelhub for parcels. The next thing is the dropping off of those parcels. When you buy postage from Royal Mail Click & Drop, you can pop them in the letterbox; however, if they are being sent using Royal Mail's 'Signed For' service, you have to take them into the post office.
Tip: Not many people know that If you don't have a printer, you can go to your local drop-off point or Royal Mail delivery office. When you buy postage from Royal Mail Click & Drop, you can take the barcode on your mobile and scan it at the delivery office, and the label will be printed for you. It's free of charge, so if your printer breaks suddenly, this can be a handy hack. Obviously, you're going to need a printer in the long run, but this can work fine if you get a minimal amount of orders.
Hermes, UPS or whichever Parcel2Go suggests is the best value courier to use. They will all usually have a drop-off point very close to you, for example, in a grocery store or newsagents. These places usually also have a facility where you can print your label too. When you use Parcel2Go, they will tell you whether you need a printer for your chosen shipping option or not.
How To Use Royal Mail Click & Drop for Online Sellers
Next, we're going to talk about how to use Royal Mail Click & Drop to post your orders because, let's be honest, nobody actually wants to go into the post office if they don't have to.
As we covered earlier, Royal Mail Click & Drop is usually the most economical option for sending small and large letters. If you use Royal Mail Click & Drop, you can post them in the letterbox, and it's nice and easy. It doesn't take very long at all.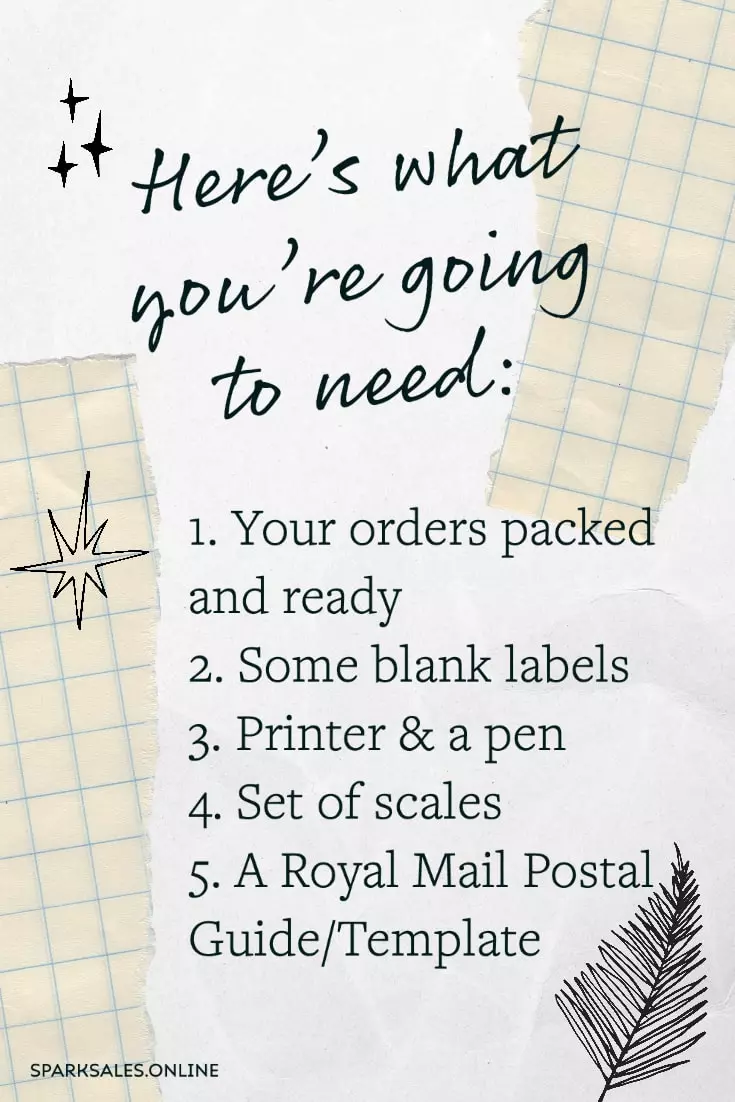 So, first things first, here's what you're going to need:
Your orders packed and ready
Some blank labels
Printer & a pen
Set of scales
A Royal Mail Postal Guide/Template
So without further ado, let's get into it. First, you need to open up Google and type in Royal Mail Click & Drop. It's usually one of the first results that come up. If you don't already have an account, click 'Sign Up' and create one.
Once you're logged in, go to the 'Settings' tab and then 'Integrations'. That is where you add your integrations, and you want to click add a new integration. Next, you'll see all of the different platforms that you can connect to via their API. So if you've got an Ebay shop, you can register it. If you've got a Magento store, you can add Magento. They also have Amazon, Ebay, Not On The High Street; there's quite a few.
The very first thing you want to do is add the name of your shop or business. The next thing to do is to click connect to whichever platform your orders come from. Now, if at any point you have any trouble, there are help guides all over the Royal Mail website. You're next redirected to your platform's website to log in and grant permission for them to connect and communicate with each other, and that's it! In the future, your orders will automatically go through to Royal Mail Click & Drop.
So, in theory, you've now signed up, and you've added all of your stores. Let's say it's the next day, and you've had some orders come in overnight, and your orders are now showing in your Click & Drop account.
To process these, you want to click on 'New Orders', and the first thing you need to do is weigh your order. Next, select the order that you wish to apply postage to and click 'Go'. Next, add the weight and size of the package. You've got lots of different options for shipping, such as if you're sending the item tracked or not.
If it's an order that you're shipping within the United Kingdom, it will automatically come up with domestic options. If it's an international parcel, you'll get international choices, such as adding customs information. When it comes to saving a shipping preference, there is an option in the settings under 'Shipping Rules' to do just that.
So, in theory, you should now be ready to print your postage labels, and once you've made all of these rules and things like that, they're set up forever unless you want to change them. So the whole process each time you want to send out an order will be so much quicker and easier. Next, click 'Confirm' and generate your labels; you can check your orders and make sure you've got the correct postage.
Tip: Do not try and process international and UK orders simultaneously. If you do, when you go to apply postage, it will say that you cannot post domestic and international orders at the same time. So just action them separately.
It will also tell you if you need to provide customs information, but of course, it won't come up with any customs information for your UK parcels because you don't need to enter it.
The best part about Royal Mail Click & Drop and customs forms is that the system takes the data you have provided and fills them in for you. There's also a section where you can scan in your signature, too, to make it even more convenient.
The next thing is to take them to the post box and send them without even having to step foot in a post office. The whole process is super quick. It may seem a little intimidating to begin with, but once you've set it up, it's so fast and easy. Hopefully, this has been helpful and if you get stuck with setting anything up, have a look at all of the guides. I recommend having a play around with all the settings, too, because there are so many different options that you can set up.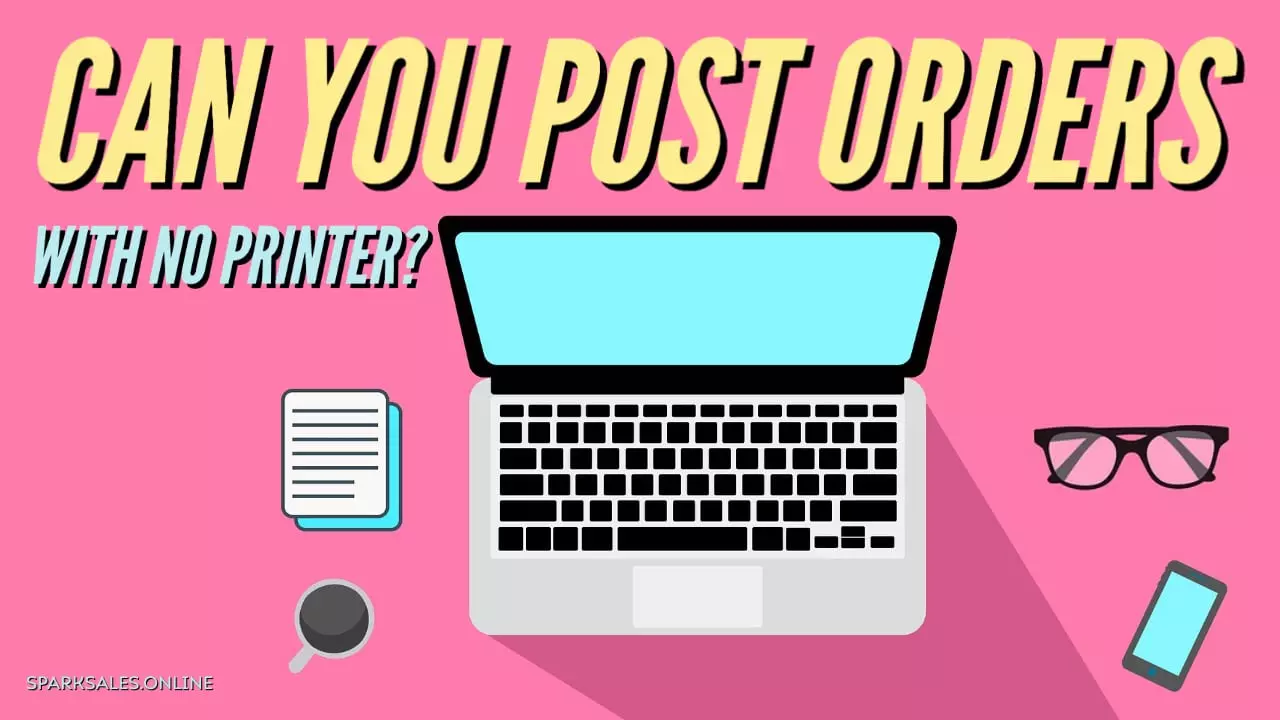 Can You Post Orders With No Printer?
First, don't worry, you've got a few options available to you. I'm going to tell you my top tips for shipping items you've sold if you're just starting out and don't have a printer, including how to write your customer's address and exactly what you need to keep from the post office.
The first thing you're going to need to do is to write out a shipping label. So you're going to write their address on a white sticky label (if you have no labels, you can also use plain paper, cut to size, in a pinch).
At checkout, your customer would have provided their full address. Go ahead and write the customer's name at the top and just copy their address precisely as they've written it. Write it out in block capitals so that everyone responsible for getting your parcel to your buyer can read the information clearly. You'd be surprised how many packages get lost per year down to illegible handwriting. Please make sure you put their postcode, city, county, and then the country. It's also a good idea to include a phone number so that if the parcel gets lost, it has a chance of being found.
Stick the label right at the top of the package in an easily seen place. Unfortunately, many of these labels aren't very sticky, so it's best to cover them with Sellotape too. This has the added bonus of making the address waterproof and protects the ink from smudging.
Next, if you're taking your parcel to your local post office, keep your receipt because that's your proof of postage, and it's pretty important. What is a proof of postage receipt? A proof of postage receipt is a receipt you receive when you post orders to your customers via Royal Mail. It usually has the address of the post office you used, it tells you how much you paid, and it also records the door number and postcode of the address you're posting to.
This way, if a customer ever comes back to you and says that they didn't receive their item, you can contact Royal Mail to help in that situation. It also can be used as evidence during Ebay or PayPal's resolution processes. Whenever disputes come up with customers, it's always best to have evidence. Obviously, if you're just putting something in the post box with a stamp, anyone can say they've done that. There's no tracking or evidence like there is when you have a receipt.
What Packaging Should I Use?
When you think about products, what to sell and what packaging to put them in, try to keep the packaging slim enough to fit through a letterbox. It will cost you more if it's too thick and may even bump it up from a large letter to a small parcel. Remember that when a package is delivered, it usually needs someone to be home to receive it, but a large letter is thin enough to just fit straight through a letterbox even when nobody is home.
How Do I Send an Order Internationally?
The next thing that we're going to talk about is international shipping. Now anybody can ship internationally and offer global shipping; it is not difficult. It's really not a complex process. Just make sure you write out their complete address; international addresses look a bit different. For example, US residents have ZIP codes instead of postcodes. So make sure you copy the buyer's address just as they've provided because they have different postage systems.
When you're shipping internationally with Royal Mail, always check if you need to include a customs information form. It would be best if you made sure the items you're shipping are allowed based on the destination country's shipping rules. Customs forms allow local customs authorities to verify that the products are permitted and evaluate any duties to be paid on entry.
You should secure the customs form to the surface of your parcel with all applicable areas completed. You are in charge of providing a fully complete Customs Form attached to your package. Any packages with insufficiently completed or missing customs forms are likely to be sent back to you, so it's essential that you get it right.
Do I Need a Customs Form?
It is compulsory to provide one if:
You are sending items from England, Wales, or Scotland to anywhere outside of the UK.
You are sending items from Northern Ireland to any non-EU destinations (except the UK).
You do not need to provide one if:
You are sending goods within the UK.
You are sending from Northern Ireland to destinations within the EU.
You are sending letters or large letters only containing correspondence, invoices or documents.
Be sure to post your item using the 'International Tracked' service. Don't send your items using the 'International Standard' option. Obviously, if your parcel is going a long way, there's a greater chance of it getting lost. These processes provide extra security for your business. Just be sure you charge extra for international shipping.
It's almost always a good idea to offer free shipping and absorb the price into the cost of the product. When your customer feels like they're getting free shipping, they're more likely to purchase from you. This is thanks to something in psychology called the decoy effect.
If a buyer is committed to paying £46 for an item, they might go all the way through the process and then see at checkout that you're charging £3.99 for shipping, and that can then put potential customers off. Most people like to feel as though they're getting a deal, and even though it's not logical, £46 plus £3.99 shipping seems more expensive than £49.99 plus FREE shipping. There's something about the word 'FREE'; it appears to have special powers that make people part with their money that bit easier.
I hope this advice has been helpful if you're new to selling online and do not have a printer. I've covered this manual handwritten approach because I know that some of you are small ecommerce sellers that are just getting started. When you start levelling up, getting into the next stages of your business and receiving that influx of daily orders, that is when you can invest in a label printer.
No two businesses or sellers are the same, even if they sell the same thing. Hence, there is a variety of resources out there for your personal use. It can be a daunting process to think about starting an ecommerce business. Hopefully, the tools and information covered here make it seem less intimidating to ship your orders both domestically and internationally.
If you need support with your online business and are looking to grow your sales further or maybe even get set up, contact us today. One of our team will reach out to set up a call and discuss what support you need.