Dropshipping is a commission-based ecommerce business model. Instead of holding stock, when a purchase is made from your store, the item is ordered from the supplier, who proceeds to send it directly to the purchaser. Therefore you play the role of a middleman in the order fulfilment chain of the product.
All you need to get started is a connection to the internet, an online storefront/marketplace, and online marketing knowledge. This way, you can pay a lot more attention to marketing your products because you do not have to store stock or deal with any other problems you may run into when selling through an ecommerce business.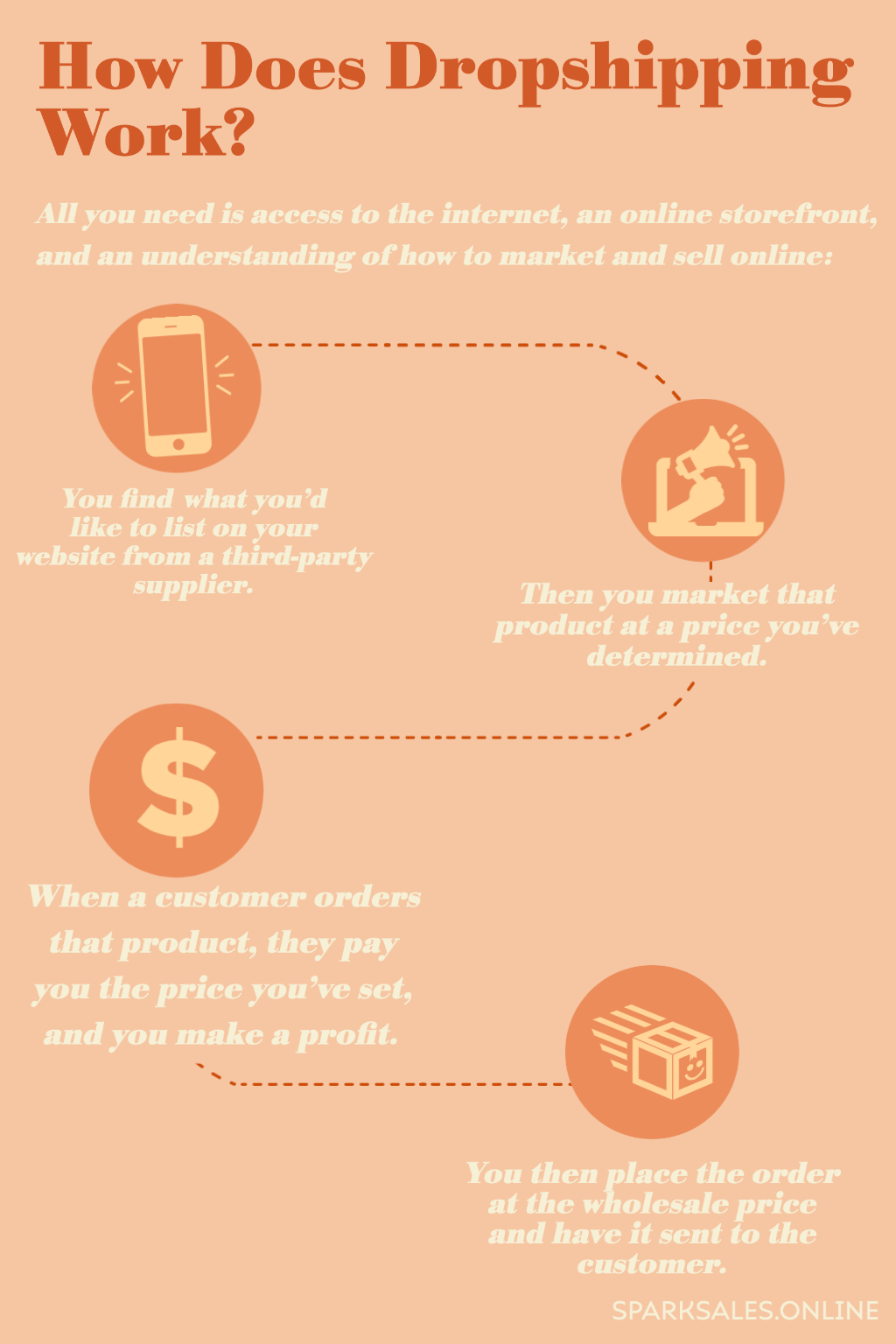 How Does Dropshipping Work?
You find what you'd like to list on your website from a third-party supplier, and then you market that product at a price you've determined.
When customers order that product, they pay you the amount you've decided, and you make money.
You then place the order at the wholesale price and have it shipped out to the purchaser.
Now, suppose you've found a wireless speaker on a dropshipping supplier's website that you'd like to sell. Your dropshipping supplier charges £12 for the wireless speaker, so you decide to list it on your website for £35. When an order for that speaker is placed on your website, you've made £23 profit. Next, you place an order for the speaker from your manufacturer or supplier and have it sent to the purchaser. It's as simple as that!
So, why wouldn't the customer just order the wireless speaker directly from the supplier's website? Well, when's the last time you bought an item directly from a supplier? I don't know about you, but I can't remember when I last did. It's also helpful to remember that when people are influenced to buy things, a considerable proportion of them are buying into the brand and lifestyle those products represent. This is why careful consideration of how you market your product selection to your chosen niche is essential, and we'll cover this later in this article.
How To Get Started
It's essential to study the market before you get started. Find a niche audience or product category you can focus on, such as personalised items or party supplies. It would help if you also analysed your competition, so you know how to pitch your pricing for success. At first look, dropshipping can sound like a simple path to making money. However, this is not necessarily the case.
Although there are very few setup costs involved, you still need to work out your expected income and running costs before going ahead and setting up shop. Finding a reliable dropshipping supplier is imperative. If you inadvertently choose a supplier that supplies counterfeit items or doesn't ship products in the time frame specified, it could cause issues for your online store.
What Are the Advantages of Dropshipping?
It's easy to get started, and you can dropship with minimal initial costs.
You don't have to worry about monitoring inventory or sending packages, which means you can focus on marketing.
You have access to all kinds of products instantly that suppliers are constantly re-evaluating to determine what's popular and in demand.
An estimated 33% of the entire e-commerce sector uses dropshipping as its primary inventory management model.
You set the price, so you control the margins.
What Are the Disadvantages of Dropshipping?
Unfortunately, because it's straightforward to get started, there's considerable competition. That's why it's best to start by finding a niche audience so that you can operate with fewer market challenges. Of course, there can also be supplier errors; it's pretty inevitable that at some point, a supplier will ship an item late to your customer. So you've got to know how to deal with that and have impeccable customer service skills.
Also, since many third-party suppliers are based in China, delivery can take longer than most buyers expect. However, if you make your delivery times clear throughout your website, most customers will be understanding. This becomes a more straightforward expectation to manage if you're selling in a niche where speedy delivery times are not essential. Recently, there are more and more local dropshipping suppliers becoming available, completely eradicating this downside because they're usually based in the same country as you. This makes it possible for your customers to receive their goods within a reasonable timeframe.
However, one of the trickiest challenges will be marketing and driving possible buyers to your listings. So how do you get potential customers in your niche to your e-commerce store? Produce quality content! Utilise everything from attention-grabbing photography, engaging product videos, and excellent written content to your advantage. People almost always want to know more information about what they're buying into, consider covering how to use your items, or what goes into making them. Whether you're selling on an online marketplace or through your store, always make sure your site and listings are search engine optimisation friendly to increase visibility in search results.
How To Stand Out Among Competitors
It's important to remember that this is certainly not a get rich quick scheme, and it will take you some time to understand the steps involved fully. As you go along, you'll learn by experience. Think of dropshipping as a tool for you to use that with the correct implementation can give you a foothold over your competitors.
The first thing you should do is ensure that your SEO and digital marketing strategies separate you from your competitors. You have to make sure that you're using appropriate keywords in your descriptions, titles and on your storefront so that your business reaches the front page of Google.
The second thing to keep in mind is your use of both Google and social media ads. Have you ever been swiping through your social media feed, and something pops up, and it says sponsorship on the top? That's an ad. You're going to want to make sure that you have ads like that popping up in front of potential buyers for your company too.
It's all about exposure, combined with positive word of mouth. You can capture and feature this through reviews of your business, so be sure to make it so that people can leave reviews about your service and products too.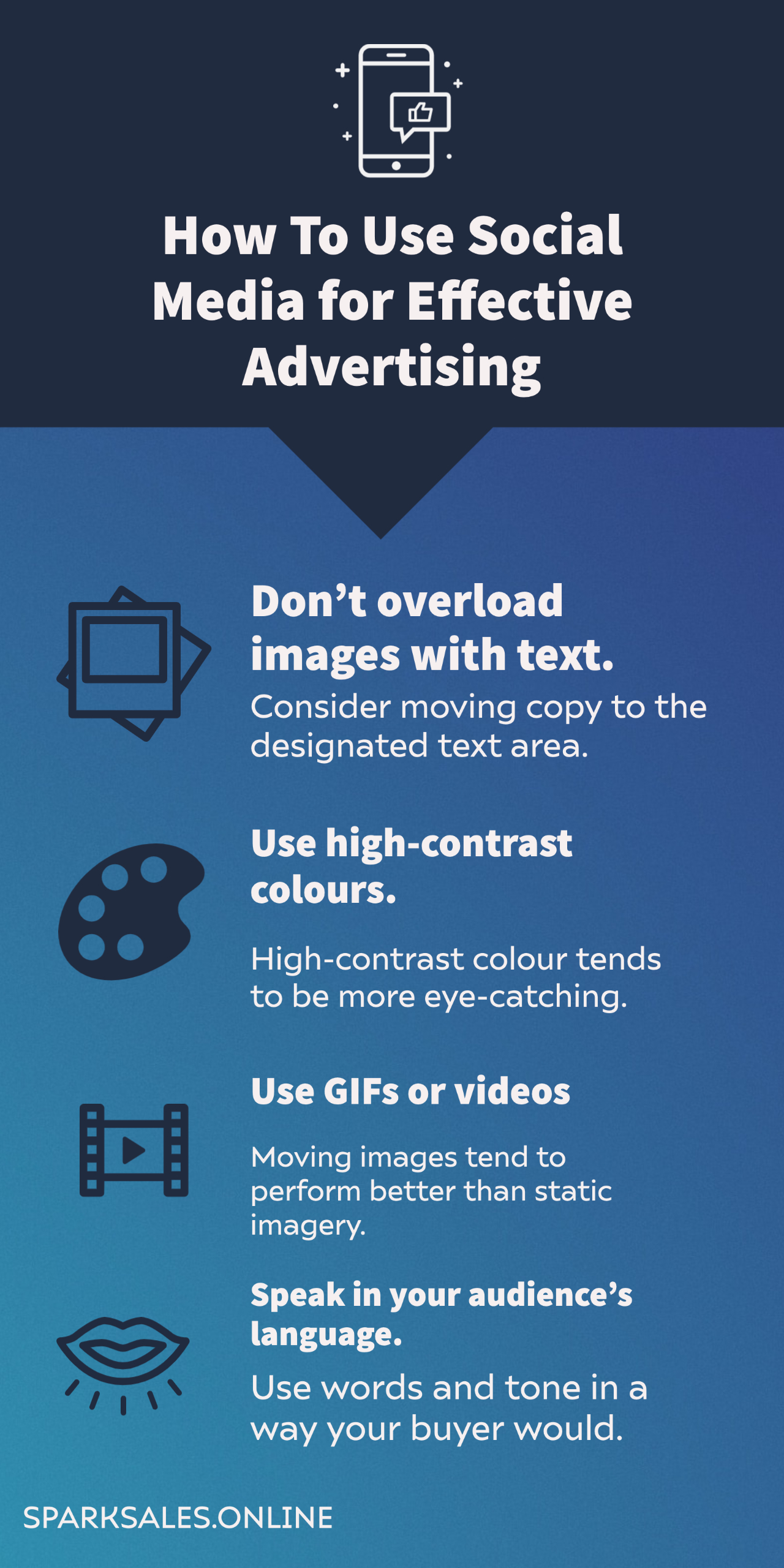 How To Leverage Social Media for Effective Advertising
Facebook indeed is, of course, one of the best social media sites to increase traffic and potential sales for your ecommerce business.
As for dropshipping, social media adverts are still a great option to quickly scale up your business, which makes creating effective ads essential for your marketing strategy.
So, What Makes a Successful Social Media Advertising Campaign?
You'll know if you've created a successful social media advertising campaign if your advert receives many interactions. If your advert resulted in a reasonable conversion rate and you got a high return on your investment, you know it was a great campaign.
When it comes to social media advertising, all you really have to do is interest your audience. This will lead to high levels of engagement and a naturally good conversion rate.
When it comes to deciding what images to use in your adverts, high-contrast colour pictures tend to be more eye-catching. Research says that it only takes about 2.6 seconds to decide where to focus on a page. So using attractive high-contrast images and designs increases the chance your audience will actually see and therefore interact with your advert.
Tips for Creating Engaging Social Media Ads:
Make sure you're not covering the advert with text – Move any necessary write up to the text box.
Use high-contrast colour images and designs.
Use GIFs or videos – Moving images tend to create higher engagement than stationary pictures.
Be sure to always speak in your audience's language.
It's important to remember that when people are using social media, they do not intend to purchase anything when they're scrolling. Therefore, creating a straight forward call-to-action is crucial for converting your advert viewers into website visitors and purchasers.
Another thing to stay on top of when creating a social media advertising campaign is your audience targeting. It is a waste of your marketing budget for people with no intention of buying to see or click on your ad. It's far better to be selective with your audience. In fact, it's essential. Otherwise, your online advertising budget will dissolve very quickly. You can choose your target audience in general settings. You can set detailed audience targeting with the Ads Manager on all of the popular social networks too.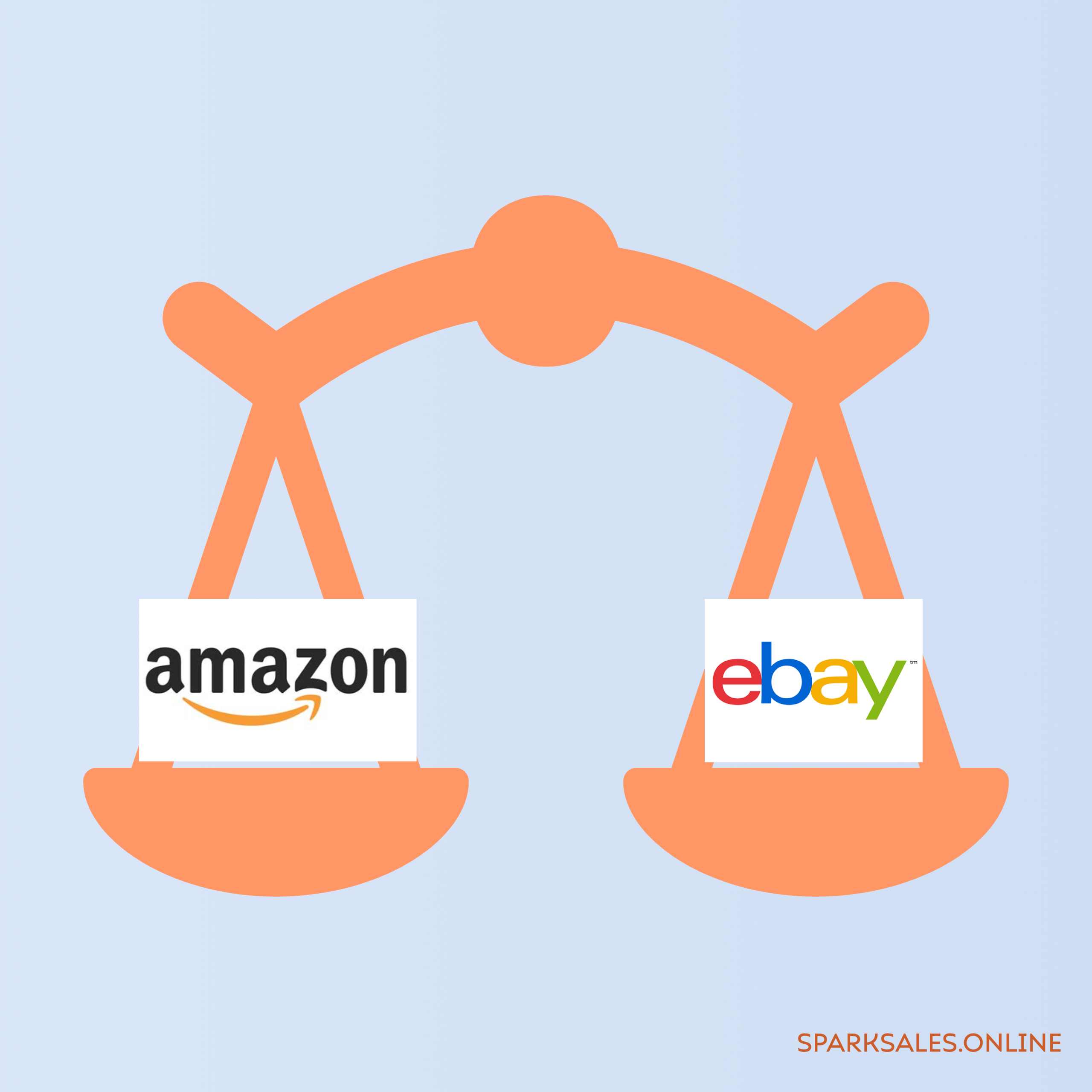 Is It Easier to Dropship on Ebay or Amazon?
Now there are positives and negatives to each, of course. One of the great things about Ebay is that it's very user-friendly, and you don't have to be exceptional with customer service, to begin with. You can make a couple of mistakes without it really causing you too many problems.
On the other hand, Amazon is a lot more strict, so you really have to know what you're doing beforehand. It's not a good idea to make it up as you go along like some people try to do with Ebay. For example, if you make a couple of Ebay mistakes when you first start selling, you don't have to worry too much about it. Yes, these mistakes will probably impact your Ebay seller level and, in turn, your visibility within Ebay search results. But, you can turn your account standing around, and it takes quite a lot to actually get restrictions placed on your account. However, on Amazon, it's really not difficult at all to get your seller account suspended, and it's an arduous process to get it reinstated again if indeed you are able to.
The differences really become apparent when it comes to numbers of listings. With Ebay, you need to list a considerable amount of items just to bring in some decent sales. Whereas with Amazon, you just need to list a couple of the right items and then be prepared to fulfil those orders in the best way possible.
Now, to understand why that is, we only need to look at the ratio of sellers to buyers on both Ebay and Amazon. On Ebay, you have approximately 25 million sellers competing for 183 million buyers. On Amazon, you have around 2 million sellers (which is a lot fewer sellers) competing for 300 million buyers. You've got 23 million fewer sellers to contend with when you're selling on Amazon for more buyers.
Another interesting thing to note is the way that Ebay and Amazon handle listings. If multiple people are selling the same item on Ebay, every seller creates their listing for that item. With Amazon, all the same item sellers have to share the same listing, resulting in a lot fewer listings on Amazon. Amazon has 385 million listings, and Ebay has 1.5 billion listings, so there are 12.5 times fewer sellers on Amazon than on Ebay, competing for more buyers with fewer listings. This is why it's easier to get sales on Amazon with fewer listings than on Ebay.
Now, I'm not saying that Amazon is more manageable than Ebay. I'm just saying that you need a lot fewer listings to bring in more transactions. That's where all the buyers are, and there's a lot less competition; this is why Amazon can be worth the extra effort. Of course, Ebay is still easier to start with, but if you've already done that, you understand dropshipping, and you're not having trouble keeping your Ebay account in good standing. You might want to consider dropshipping on Amazon.
Remember, compared to Ebay, Amazon is a lot more strict, and you really have to stay on top of everything, but the extra sale volume ultimately makes it worthwhile.
Should You Automate Dropshipping?
Without automation, when a customer places an order on your dropshipping website, you're going to need to go ahead and place that order with the manufacturer. It's a manual process, and usually, people will have notifications turned on their phone so that they can stay up to date.
So if one of your customers places an order at 11:00 pm and you've already gone to bed, you're probably going to have to go and place the order with the manufacturer because you want to make sure that this customer receives the product as soon as possible.
As you can see, it can quickly interfere with your personal life because if you have an online business, people will be making purchases at all hours of the day and night. There's no 9-5, no days off, and there's certainly no set working hours. When you have to be personally involved in each transaction, it can impact your work-life balance enormously.
Automating your dropshipping business creates a hands-off process for you, where you don't need to be involved with every single transaction. It's really no secret; what we see in almost every single industry is that the people who can adapt and implement the quickest are usually the ones who reap the rewards.
How To Use an Automated Ecommerce System for Dropshipping
Receiving stock updates to keep listings and items updated with data directly from your suppliers, often several times a day.
Emailing your supplier new order numbers and shipping addresses on schedule.
Getting tracking numbers to your suppliers and updating your orders internally with tracking details.
By using an automated ecommerce system, you can set up several automated imports and exports to make these manual processes a part of your ecommerce automation.
This is very beneficial because it reduces staff pressure, speeds up order processes and ensures accuracy for stock levels. These are updated directly to your internal system without you ever having to intervene. A true "set and forget" process for simplifying the day to day running of your business.
How Do We Set These Up?
We're going to take a closer look at how to do this using Linnworks. Linnworks is an automated ecommerce system that helps sellers automate critical processes. It fully automates order and inventory management, shipping tasks, listings and much more.
The way these imports/exports work is with .CSV files and servers. A file is placed onto a secured server with either order information or stock information. Your e-commerce system is then scheduled to regularly check these locations, download the file, read its contents, and execute an action based on what type of import it is.
This could be updating stock for items it finds in the file or updating and shipping existing orders in your system with their associated tracking numbers once this information is placed back onto that server from suppliers.
Importing and exporting data is a powerful tool for automating large parts of your ecommerce processes, whether you need just one of these imports to handle stock-keeping from suppliers or a mix of several different exports to maintain a catalogue from several different suppliers.
How To Import Supplier Stock Levels on Schedule
This import is practical when you need to maintain accurate stock levels for all your listings based on single or multiple suppliers stock feeds. This can be set to run once or several times a day based on your suppliers' frequency of updates.
An import such as this replaces the need to manually obtain files from suppliers and upload them to every different selling channel. By implementing an eCommerce system to handle stock, you just need to import the file once and have this stock spread out to the other platforms automatically.
IMPORTANT: Remember, not all supplier SKU's will match your internal SKU's. Before starting, be sure to allocate your items in our e-commerce system a supplier code that will match the supplier codes in their catalogues and files that will be put onto servers.
Setup and import once using a "supplier details" import a .CSV file containing the following columns:

COL A refers to your internal SKUs.
COL B is your suppliers SKU.
COL C is the supplier you want this code associated with, as you can assign multiple.
Import this against all items that will need a supplier and supplier code set. This is to match your SKU's to your suppliers SKU's across different files and imports.
To schedule an import for supplier stock levels using Linnworks, follow these steps:
Head to import data from Settings > Import & Export Data.
Select "Add scheduled import."
Name your scheduled import so you can pick it out of the list, e.g. "Suppliers Stock Import 1."
Choose import type as Stock Levels from Suppliers Code.
Next, select the File name and Import Location. Import locations supported are dropbox, FTP and HTTP. Fill in these details as appropriate to connect to that server or dropbox account. For our example, we will be using the FTP import as this is the most common in our experience.
Select your method as FTP:
Input your server details:
Add the appropriate port (the most common port is port 21)
Add User name and password for access to the FTP server.
Input the file path to the folder that holds the suppliers stock file.
Input the filename of the .csv that is inside the folder to complete your file path:
Check "Use SSL" as appropriate according to the server.
After Each Download, select one of the following: do nothing, delete the file, rename the file, move the file or move and rename the file. These options are helpful if you only want to import and leave the file or move it to a completed folder after the import, so you don't constantly re-import the same file.
Once the server details are ready, you can then map the columns of the supplier's file for Supplier Code, to our previously imported Supplier Code and the supplier stock level to our stock level, finally map the stock location you want to update and hit next:

Under Options, you can choose to check the option "zero stock on items not in file" this means that if an item you sell is not included in the suppliers stock file, this item will be set to 0 stock in your eCommerce system.
Next, set up when you want this stock to be checked and updated onto your products in your chosen location. Click on "+new schedule" and name it, e.g. "hourly, daily", and select the schedule type either one time for a one-off scheduled import. Or, in our case, select "Recurring".
Now set up the frequency of the import and its intervals. Set whether the schedule runs either daily or weekly. Select the starting date and time by default; we will set it to today's date. Enter a whole number for your daily or weekly recurrence.
If you selected daily, you could even specify how often the import scheduled will run over the course of that day. If it only has to check in once, choose "Occurs once at" and set the time using the calendar icon. If it's more than once, select "Occurs every" and set the number of hours between each check before finally deciding a start time for the schedule to begin.
Check over everything and hit Save!
According to our schedule, the import will check the suppliers FTP for the filename we would have agreed upon, checking that file for updates and importing those stock levels contained within that file to our items in our e-commerce system.
Once this is set up, we can let it run in the knowledge that the files provided are being downloaded and updated regularly. Meaning we always have the most up to date stock levels for all of our dropshipping items, and this stock, in turn, can then be sent out by our ecommerce system to all significant selling channels.
How To Export Dropshipping Orders?
An order export to your dropshipper is one of the critical areas to get right. This ensures that as orders come into your business, the ones that are to be fulfilled by your third party are sent regularly and are dropped right onto their servers.
This eliminates the need for constant contact between parties for scheduling and automates the process of sending orders to your dropshipper without human error. Remember to agree beforehand on the file's data and format and work with a sample file that you will use once the setup is finalised.
IMPORTANT: Fulfilment Centre Order Location
In most fully-featured ecommerce setups, you can allocate orders to a separate dropshipping location; we can create this in Linnworks the following way:
Head over to Inventory > Location
Select Add new and fill in the contact details for the location: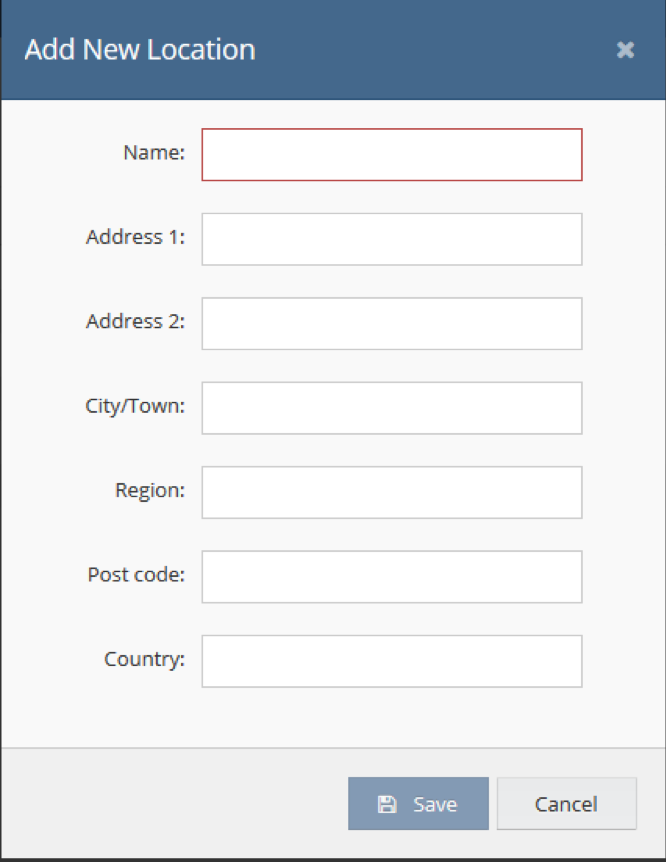 Save details.
Once back on the main locations screen, tick the check box in the fulfilment centre column to enable.
Click on the "Automation" tab to open up the three main types of imports and exports. Clicking the Pen button will let you start setting up exports and imports directly linked to this fulfilment centre: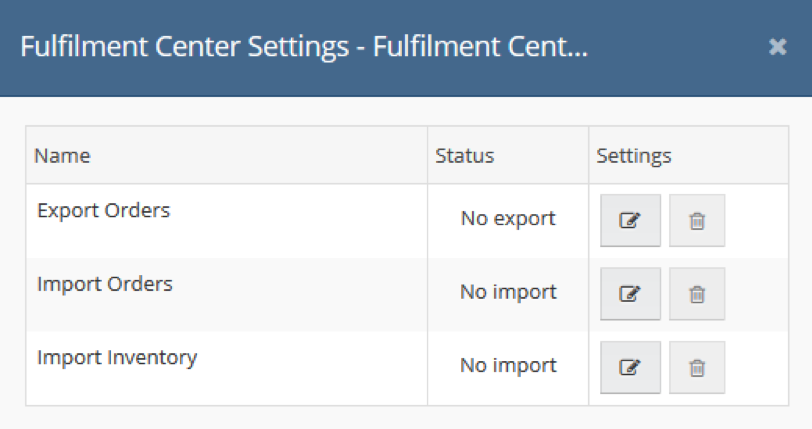 Once your fulfilment centre is set up, return to the details screen to edit once more and select one of the available options depending on whether you need the stock to be deducted when orders are updated with tracking numbers. If you do not need to track the stock as you're importing stock regularly, leave this blank: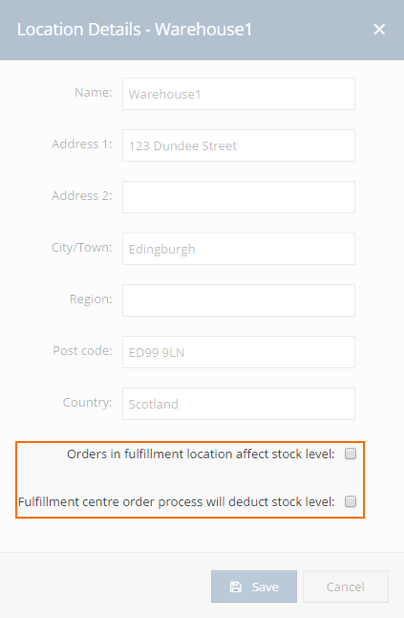 To Schedule an order export from your new fulfilment centre, use the following steps:
From the Fulfilment Centre settings, Select Export Orders and hit the pencil icon.
Step 1: Select the Method from FTP/SFTP and HTTPS. For our example, we will be using FTP.
Step 2: Fill in Server details and login account for the FTP server. Make sure to follow any SSL and port settings provided to you by your Dropshipper for connecting to their FTP:
Step 3: Choose a filename for the file that you will drop onto the server containing your order ID numbers and quantities. Make sure this is pre-agreed with your dropshipper, so they know which folder and file to look for!
Step 4: Select the after download settings:
Nothing
Delete the file
Rename the file
Move file
Move and rename.
Step 5: Once you have connected to the FTP and hit next, you will be on the mapping screen for the file you will create. Here you will map different Linnworks order information to file columns. We will then use this to create the file in the format that your supplier needs.
Discuss the most important information to add that your dropshipper requires for shipping orders and returning tracking info. It is possible to control which items are included by either using the Export column, using Filters on applicable columns or adding additional columns containing expressions.
The bare minimum you have to include is order numbers, full address details for shipping and the quantities on order:

Step 6: Define the schedule; this allows your orders to be exported on time to the correct file and folder that we have just set up. Click on "+new schedule" and name it, e.g. "hourly, daily", and select the schedule type either one time for a one-off scheduled import. Or, in our case, select "Recurring".
Now set up the frequency of the export and its intervals. Set whether the schedule runs either daily or weekly. Select the starting date and time by default; we will set it to today's date. Enter a whole number for your daily or weekly recurrence.
If you selected daily, you could even specify how often the export scheduled will run over the course of that day. If it only has to check in once, choose "Occurs once at" and set the time using the calendar icon. If it's more than once, select "Occurs every" and set the number of hours between each check before finally deciding a start time for the schedule to begin.
Step 7: Check over everything and hit Save!
Now that our second import/export is complete. We are getting stock levels sent to us from our dropshipper that are automatically being updated. In return, we send, on our schedule, a file containing order details from our fulfilment centre location within our ecommerce system. This means that you don't have to spend the time constructing files, calling dropshippers and discussing the details in repetition.
All that remains is to ensure we have the best possible automation between our business and the dropshippers.
Importing Tracking Information
This import is the final part of automating your drop shipping vendor with your eCommerce business. This import example assumes orders have been sent to the dropshipper and a file from them placed back onto a chosen server. This import, in short, will take the file placed onto that server and download the files tracking information, and that is then sent to the eCommerce system.
With setups such as Linnworks, it will mark the orders as shipped, automatically processing them and sending the tracking information to your customer along with any dispatch notifications.
IMPORTANT: The file your dropshipper returns must include a few columns for you to be able to re-import tracking details and process orders automatically. The file needs to be created in a .CSV format and dropped onto an agreed folder location on the server; it can be as simple as /businessname/tracking.csv:

Order ID: This sets the update against an Order ID inside your e-commerce system that will be used to update the orders and apply the correct tracking information.
Statuses
Shipped: Confirms that the order has been sent. This status will instruct Linnworks to Process the order, moving it from Open Orders to Processed.
Complete: This works the same as the shipped term. Either can be used.
Cancelled: Cancels the order for that dropshipping location. Once orders are sent to your fulfilment centre through the orders export, the only way to move orders that your drop shipper cannot fulfil is to update its status in the location as "cancelled". This will then allow you to send it to a new fulfilment centre or ship it locally yourself.
Error (optional): Set an error message for an order into your e-commerce system. This error text can be set by including another column specifically for error details. The column name needs to be set using a column named "fulfilment centre error".
Shipping Service: This column should contain service names used by the dropshipper that your orders have been sent by.
Tracking Number: This is the area for your dropshipper to enter tracking information for the system to import back to the orders.
To set up the import, follow these steps:
Step 1: Head to the fulfilment centre you set up for the previous import and select "import orders". This is the import type we need to get our tracking information back into the ecommerce system. Click the pencil icon to get started: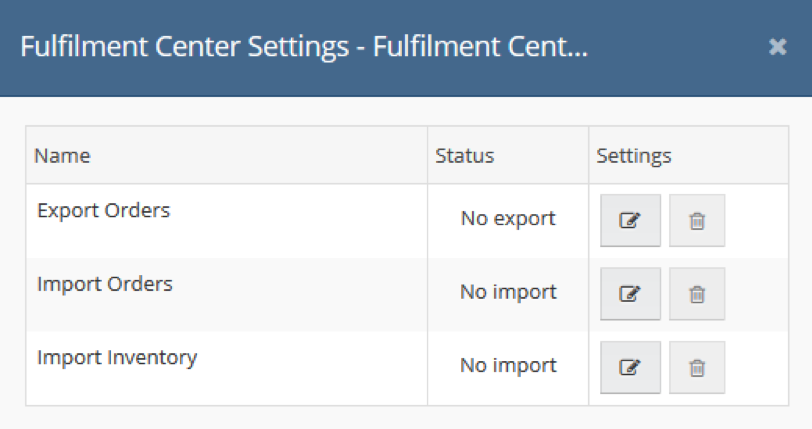 Step 2: Choose the method for the import. In our example, as with the others, we will assume FTP is being used. Available options inside the fulfilment centre options are HTTP or SFTP/FTP.
Step 3: Fill in the server details to connect as well as the file path for the completed orders file that your dropshipper will place. This must be done correctly as if we cannot find the file at that location; the import will fail: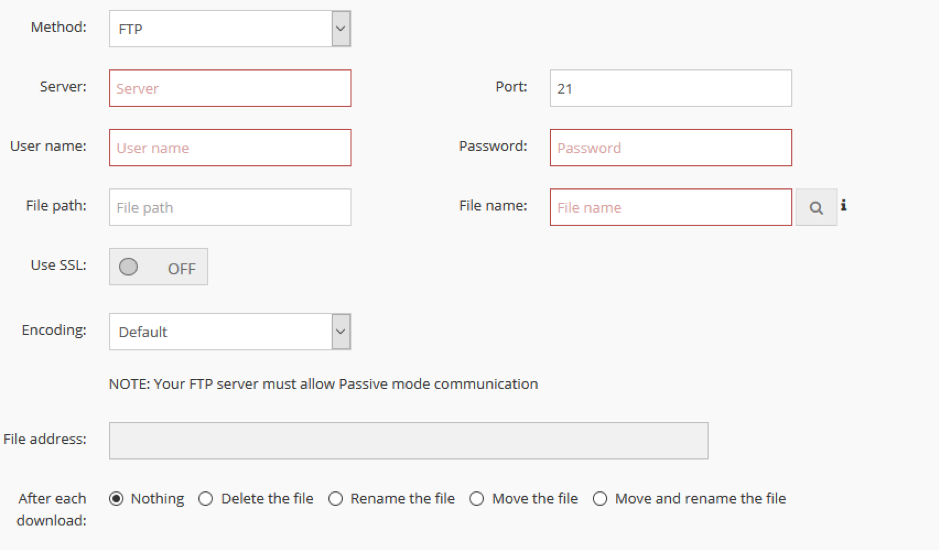 Step 4: After finding the file, the import can load in a template for mapping these columns to your Linnworks data. See the image below for the setup file columns mapping to Linnworks data: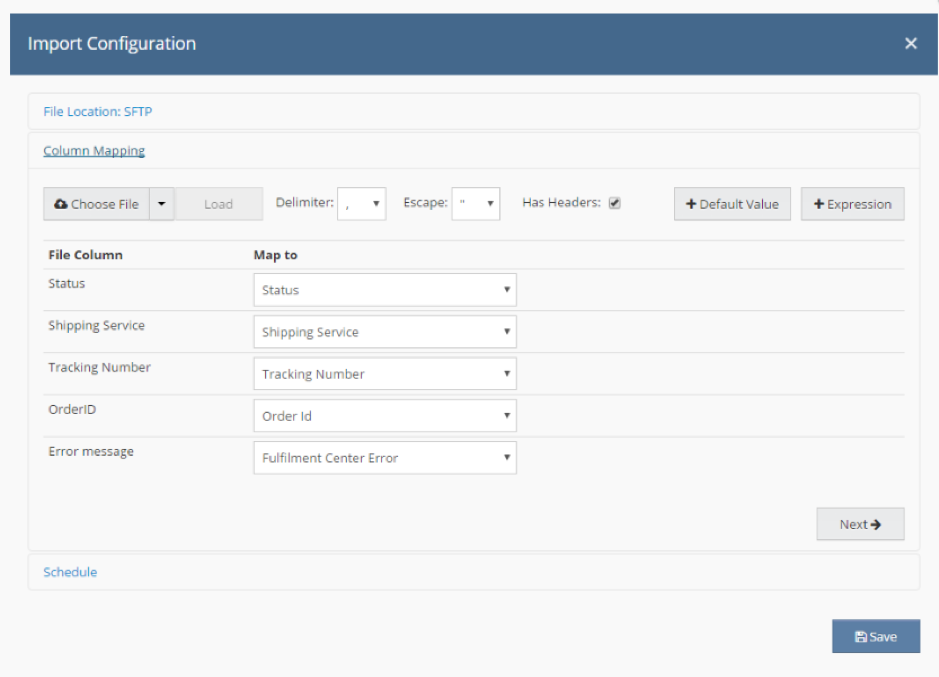 Step 5: Schedule the import to take place at regular intervals, selecting a recurring schedule for an hourly check so that you can run the import, orders updated and dispatch updates sent to channels at regular intervals throughout the day: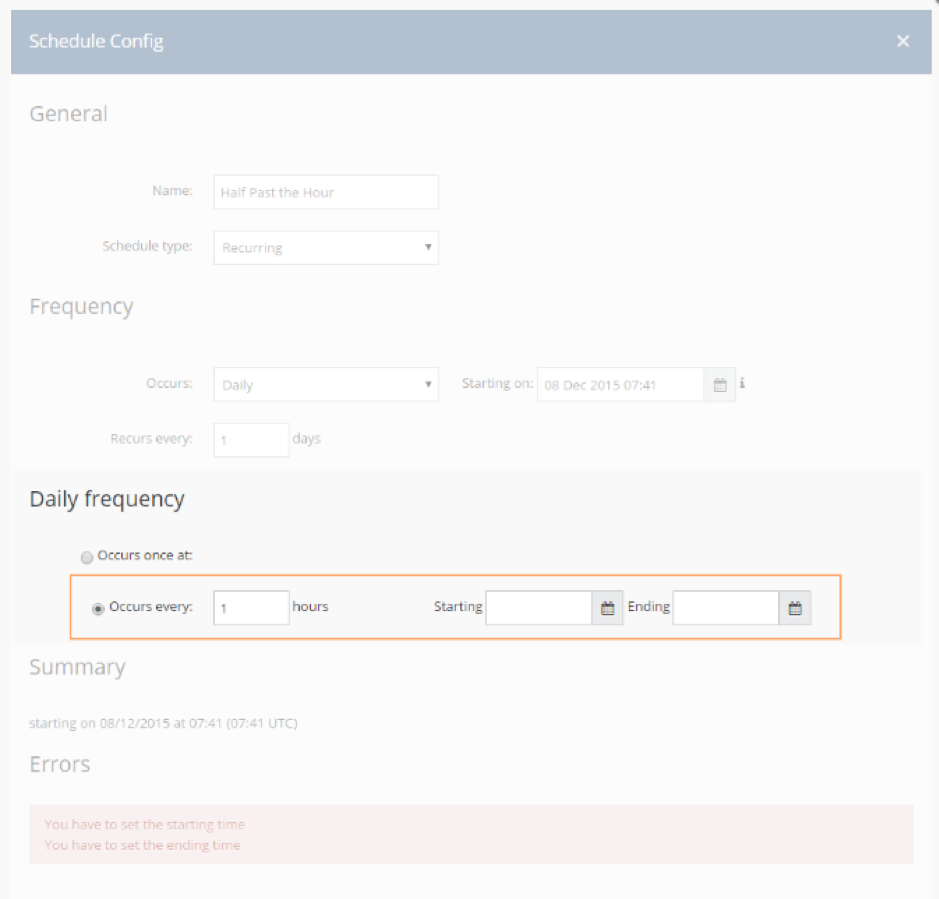 This is especially useful for dropshipping partners that can secure thousands of sales per day as they are reported back to you from your dropshipper supplier.
Step 6: Save the imports and enable the schedules to run!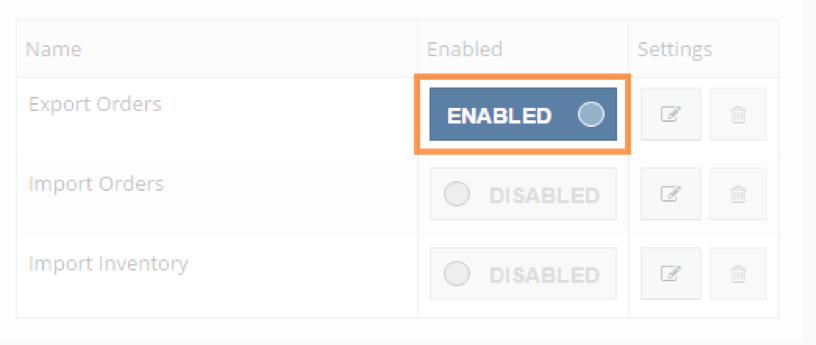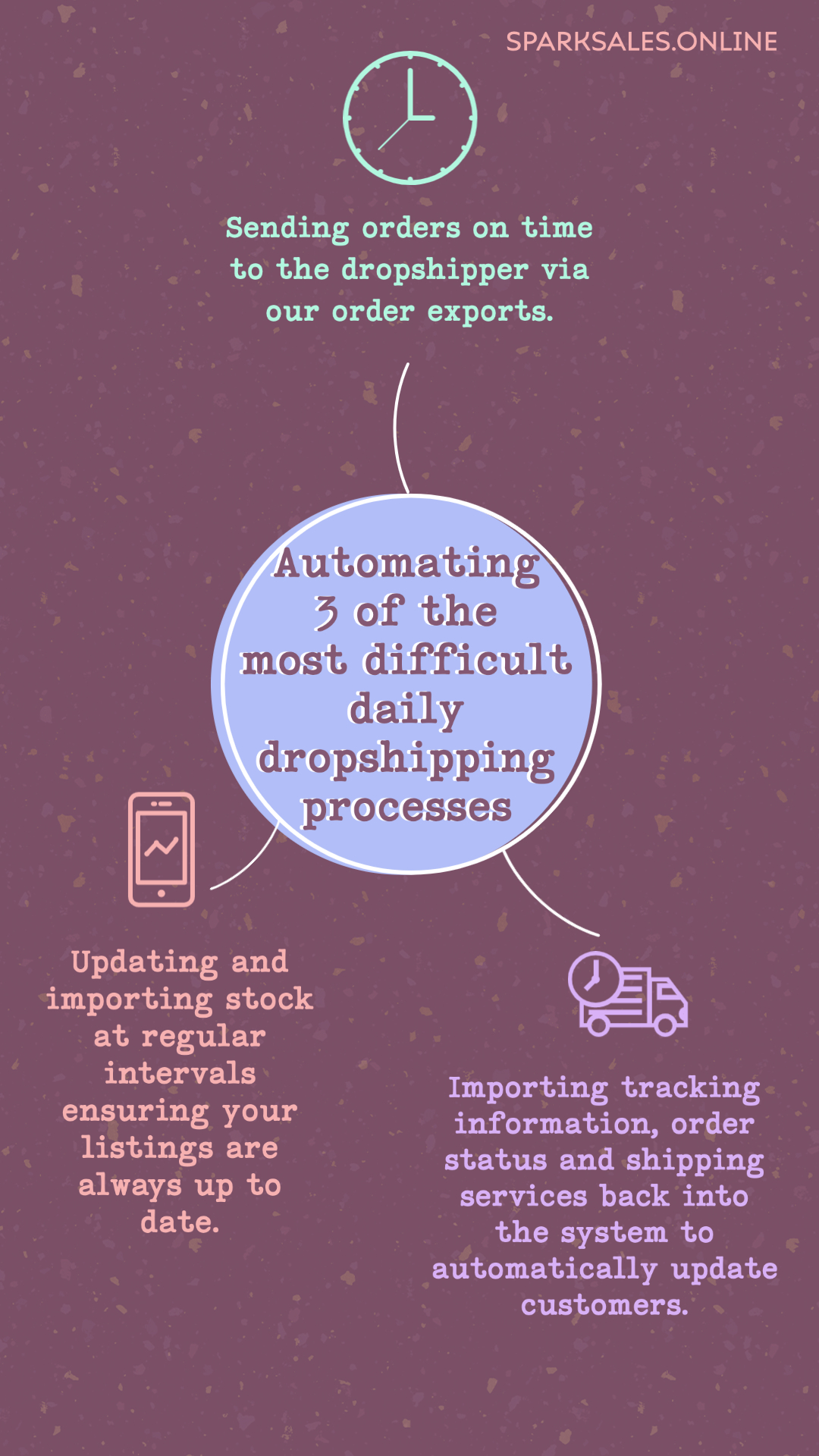 Now that each of the imports is complete, we have automated three of the most complex parts of the daily dropshipping process:
Sending orders on time to the dropshipper via our order exports.
Updating and importing stock at regular intervals ensuring your listings are always up to date.
Importing tracking information, order status and shipping services back into the system. To automatically process orders and update customers regarding their dropshipped parcels.
With dropshippers taking care of the customer service, delivery and courier interactions, plus our system handling the communication between your business and the dropshipper, we have created a feedback loop that will save the business time and effort by eliminating the need to repeat the same process tasks manually.
This frees up your staff on the ground floor, giving them back their time to concentrate on the business's internal issues as well as speeding up your overall response times and delivery updates to customers. This, in turn, will improve your reputation as a dropshipping seller, and as your reputation improves across these platforms due to good services, so too will your sales, as customers are more encouraged to purchase from reactive sellers.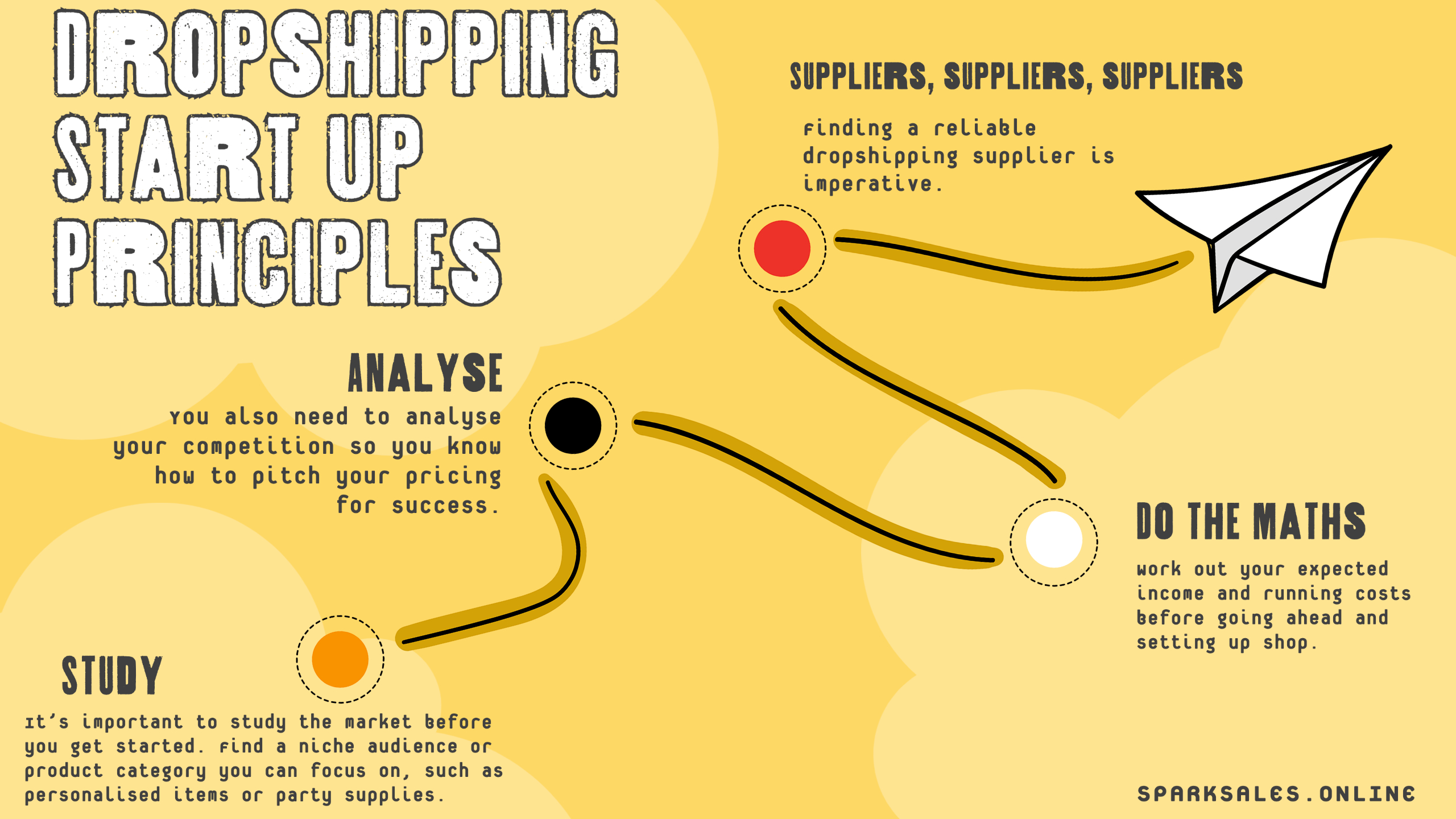 Final Thoughts
Dropshipping is relatively easy to understand and implement, although just like with any new business, you will have bumps in the road along the way. However, plenty of successful people out there use dropshipping as their primary profit generation formula. Whilst there are considerable positives when it comes to initial startup costs over traditional e-commerce business models, dropshipping certainly isn't free. You'll have running, advertising and staff costs, just like any other business. Remember that you'll most likely have to allocate money to drive traffic to your store and market your products.
It's usually best to start small with just a few items from a single supplier. You can always add more as you gain more confidence and knowledge. For existing traditional businesses dropshipping is also an excellent way to test new product lines with limited impact on core models and without the risk of costly supply chain investments.
The dropshipping business model works well for startups if they're looking to establish an e-commerce business with little initial investment and reduced risk factors. Preparation is vital; it's crucial to understand why customers will choose you over your competitors whilst ensuring that your business model maximises the incentive for that choice. What you need to keep in mind as a dropshipper is that it's all about the product and customer experience. Focussing on both of these is, therefore, a great way to develop your dropshipping strategy and ultimately be successful in a very competitive market.