Copywriting for Amazon
The content on your Amazon page is a crucial part of any successful sales strategy on the platform. A well-crafted, strategic message can significantly improve your sales, convert more buyers, and increase your profits.
FREE consultation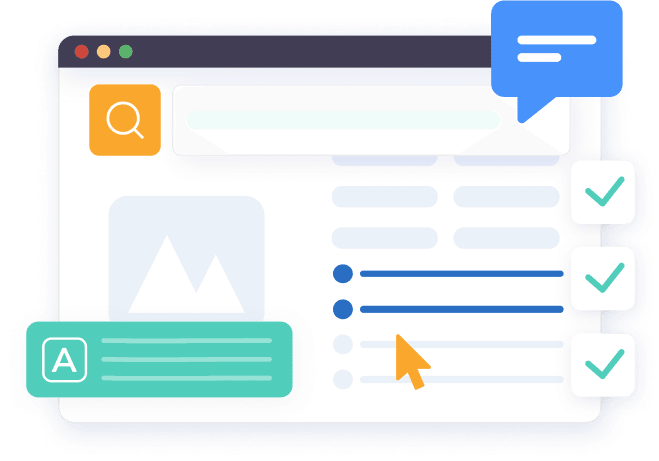 Discover how to boost your online sales with our team.
Three easy steps to grow your business:
Step 1: Discuss your requirements and gather the initial scope.

Step 2: Get back to you with a proposal.

Step 3: Implementation and ongoing managed services.
Get Started
We are trusted
We've worked with many highly successful clients, and client satisfaction is our top priority!

Our services include:
Titles keyword research

Product listing titles optimisation is a crucial aspect of optimising a product page. We optimise product listing titles using common sense, years of experience, competitor research, and Helium 10.

Bullet points writing

Our team will you help get your listings noticed by placing effective keywords in the right places. We know how to choose keywords that increase visibility of your items.

Description writing

We make it easy to get your listings up and running by making sure all the details of the product are optimised and ready to go in the current consumer-driven marketplace.

Search terms research

Our experts will review your listings to see if there are any improvements that can be made to help your products appear higher in Amazon's search results.

Competitors research on Amazon + other channels

We make sure our clients' listings stand out by conducting deep research and only investigating the best players on the market.

Helium 10 + quillbot tools usage

There are a few different softwares that can help you with your keyword research, allowing you to dig into the data and find the keywords that are most relevant to your business.
You save time and money from hiring in-house team members or dealing with expansive payroll issues. Instead, our services are provided at affordable flat fees and leverage our years of experience as a team.
We can take your current brick & mortar shop and transform it into a solid online presence with the automation and listings needed to expand your offerings to the digital space.
Thousands of new products are listed on the online marketplaces every single day. To reach your target customer, you need clear, clean, and easy-to-find product elements that we help create.
You will need branding materials like a name, logo, and the products you want to sell. We can provide the optimisation to make your Shopify storefront stand out.
Shopify is a complete eCommerce platform for you to build an online store, sell products, and engage with customers. You can use this platform to expand your business across other channels.
Our managed services provide ongoing, monthly support that boosts your projects to the best possible rank. We can also work in short-term timeframes depending on the project scope.
Our expert answers to your questions
View all
Get a Free Consultation on Improving Your eCommerce Business.
Take our short quiz and we'll be in touch to help you solve your current challenges.
Get Started
Stay in Touch
Enter your email below to subscribe to our newsletter and get updates on the latest company developments.
Copywriting for Amazon
It is essential to prioritise your product pages to increase sales for your Amazon Business. Amazon has become a go-to place for many eCommerce-related activities. As a result, most searches relevant to an Amazon product will result in it appearing at the top of the search results. Copywriting for Amazon is what plays a significant role in this process.
Amazon product pages often have better content and are more optimised than similar items. Therefore, Amazon product copywriters need to follow some essential tips so that the product content remains relevant to the user's searches, resulting in a better ranking for your product pages on the search engine.
What is Amazon Copywriting?
So, in a nutshell, copywriting for Amazon is writing the text for product listings on the Amazon marketplace. Basically, this text consists of:
product title,
product description,
bullet points,
image captions.
Copywriting for Amazon listings is vital in outlining the value it has for customers and what benefits it can provide. Consider that good copywriting lets your products be found on the first page of Amazon searches and make shoppers want to buy them. It directly influences customers in their purchase decisions. So good product descriptions should highlight how the product can solve clients' problems.
Here are some tips every copywriter for amazon should implement to improve business performance. By the way, if you are searching for an experienced amazon product listing copywriter, contact Spark Sales Online agency. Our professional team of amazon listing copywriters is ready to help you!
Product Title
The product title is one of the first things your potential buyers see when browsing on Amazon and clicking on your product listing. It's a quick overview of what it is. Search engines like Google use algorithms to deliver the best possible search results for a given query. Similarly, Amazon's search engine uses an Amazon-specific algorithm to display the most relevant product pages for a particular question.
When creating your product title, format it according to Amazon's style guide, or else it could get your listing taken down from the search results.
These are some basic requirements for sellers, which you should take into consideration:
Your title must be relevant to your product and can have a maximum of 500 characters, including spaces.
Avoid «keyword stuffing» or inserting an excessive number of keywords to increase your page's visibility. This can actually result in your listing being penalized.
It can't include HTML tags or other code, pricing information or promotional language, profanity, obscene, or sexually suggestive language.
Obviously, you can't include trademarks or branding not owned by you.
There is a secret weapon we use in our amazon copywriting services. We recommend using this formula for the best results: your brand name + relevant primary keyword phrase + important keywords with high search volume that describe the product (dimensions, material, key features, quantity, etc.).
Bullets
Below the product title is the part of an Amazon listing where you can write up to 5 brief bullet points highlighting the product's features and benefits. The bullets are an excellent opportunity to engage customers and keep them reading.
To write effective Amazon bullets:
Keep them brief, persuasive, and keyword-rich.
Remember to focus on both the internal and external benefits your product provides customers.
Include five top benefits into it.
A perfect proportion is 1 key benefit=1 bullet point; the main benefit should be used as the first bullet point. Each bullet point should ideally be around 200 to 250 bytes in length, including spaces.
Product Description
Product descriptions allow you to market your product and convince customers to buy it. Amazon provides up to 2,000 characters for this purpose. The most effective descriptions are those that tell a story while also highlighting the product's best features. It should be well-written, have proper grammar and punctuation, and avoid gimmicky language.
An excellent way to write a product description is to expand on the five bullet points you already have. Use images to create a favorable impression and support your story.
Some tips will help you to create a great product description.
Think about a target audience
First, to be successful on Amazon, you need to figure out who your buyer is. You already know your audience, but before the start of copywriting for an amazon listing, remind yourself who these people are, what they want, their problems, and how your product can solve them.
If you want shoppers to see your product as the complete and effective solution to their problem, create a product description that makes it clear that your product would address their current dilemma, not just something that would help with a future issue.
Do a keyword research
An excellent description begins with careful research into the keywords that potential customers are likely to use when searching. To ensure that your listing appears high in Amazon's search results, you need to optimise it with relevant keywords. Additionally, research semantically related (LSI) keywords to help you rank better for more general searches.
Use strong USPs and CTA
Remember, that your goal is to convince customers to purchase your product. Hence, your product description should have CTA (call-to-action) sentences reminding the shopper to make a decision to purchase. For example, «Buy this *your product* today and forget about *customer's problem*!».
For your description to be practical, it must contain strong USPs, a complete list of features, and a call to action. Additionally, all relevant details must be included, such as warranty information, care instructions, usage restrictions, and features.
Create a sense of limited offer
Make your copy more urgent to encourage customers to act quickly! Write about potential issues that could occur if shoppers don't buy your product. For example, you might mention that inventory is running low or that the price will soon increase.
This technique creates a sense of urgency in the customer, gently encouraging them to make the purchase immediately and enjoy the benefits immediately.
Consider the customer's feedback
It's essential to answer customers' frequently asked questions if you want to succeed in eCommerce. You can learn these questions by checking product reviews, questions, and comments on your competitors' listings. If you see a question being asked frequently, you should address it in your bullet points or product description.
Use HTML formatting
Finally, use HTML text formatting to add visual interest to your content, making it easier for readers to skim and understand. By separating your content into smaller chunks, you can control the reader's flow and emphasize certain parts, improving your conversion rate.
Summary
If you want to successfully sell your product on Amazon, it is crucial to write persuasive copy that will help increase sales and improve conversions. Amazon copywriting services will help you ensure that you do your best with content for Amazon. Spark Sales Online amazon copywriting service is precisely what you need for this.
Spark Sales Online team of experienced copywriters utilise every space on an Amazon listing to help sell your products. Our copywriters help to sell your products on Amazon by using all the available space on a listing. This includes using B+ content that highlights the product's key features in bullet points and additional A+ content below the fold that provides more information about the product and tells the brand story. We will handle all content tasks, so you won't have to waste your time, resources, and expertise on it, and you will be able to focus on your Amazon business development.
Ready to grow your product listings on Amazon? Let's start! Fill out the form, and our manager will contact you shortly to tell you more about how you can benefit from our expertise.