Conversion Optimisation for Shopify Store
Transform your Shopify store into a high-converting sales machine. Our expert-driven conversion optimisation strategies will skyrocket your sales, boost your revenue, and turn visitors into loyal customers.
FREE consultation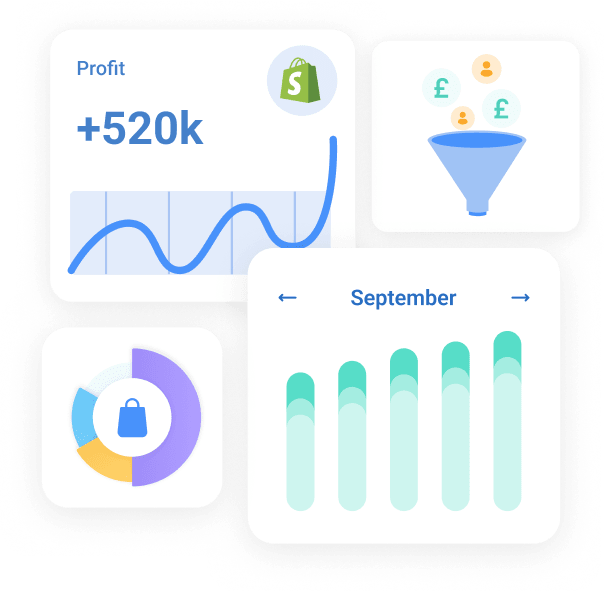 Discover how to boost your online sales with our team.
Three easy steps to grow your business:
Step 1: Discuss your requirements and gather the initial scope.

Step 2: Get back to you with a proposal.

Step 3: Implementation and ongoing managed services.
Get Started
We are trusted
We've worked with many highly successful clients, and client satisfaction is our top priority!

Our services include:
Conversion Funnel Analysis

We'll dissect your sales funnel to identify friction points and areas of drop-off, optimising the user journey from landing to purchase.

Product Page Perfection

Elevate your product listings with compelling descriptions, high-quality images, and persuasive CTAs, turning browsers into buyers.

A/B Testing and Experimentation

We'll implement A/B tests and experiments to fine-tune your site elements, such as button colors, headlines, and layouts, based on data-driven insights.

Cart Abandonment Recovery

Recover lost sales by implementing proven strategies to reduce cart abandonment rates and encourage customers to complete their purchases.

Mobile Optimisation

With the rise of mobile shopping, we'll ensure your site is optimised for mobile devices, providing a seamless shopping experience for all users.

Data-Driven Insights

Leverage the power of analytics to make informed decisions. We'll provide detailed reports and insights to track your progress and continuously improve your conversion rates.
You save time and money from hiring in-house team members or dealing with expansive payroll issues. Instead, our services are provided at affordable flat fees and leverage our years of experience as a team.
We can take your current brick & mortar shop and transform it into a solid online presence with the automation and listings needed to expand your offerings to the digital space.
Thousands of new products are listed on the online marketplaces every single day. To reach your target customer, you need clear, clean, and easy-to-find product elements that we help create.
You will need branding materials like a name, logo, and the products you want to sell. We can provide the optimisation to make your Shopify storefront stand out.
Shopify is a complete eCommerce platform for you to build an online store, sell products, and engage with customers. You can use this platform to expand your business across other channels.
Our managed services provide ongoing, monthly support that boosts your projects to the best possible rank. We can also work in short-term timeframes depending on the project scope.
Our expert answers to your questions:
View all
See how we helped to solve our client's problems
Learn more. Grow more.
The eCommerce industry is constantly changing and evolving. Read our blog and stay up to date on the latest trends.
View all
Get a Free Consultation on Improving Your eCommerce Business.
Take our short quiz and we'll be in touch to help you solve your current challenges.
Get Started
Stay in Touch
Enter your email below to subscribe to our newsletter and get updates on the latest company developments.
Why You Need Shopify Store Optimisation Services to Boost Conversions
There are millions of engaging Shopify stores online offering everything from pet Halloween costumes to luxury clothing brands. If you want to succeed and grow your business in a way that carves out an online niche market, you need a way to get around that competition. It's essential to learn how to increase Shopify conversion rate if you want to have the income that allows you to sit back and make money in your sleep. With so many online businesses vying for consumers' attention, having an ecommerce shop highly optimized for both speed and attention grabbing customer experience can be the difference between a sale and a missed opportunity.
A CRO optimized Shopify store ensures that all those slightly warm leads turn into loyal brand ambassadors. After all, you want to make it error-proof for them to find the products they're looking for and purchase (meaning more money in your pocket). When you're in the market for a quality Shopify store optimize agency, trust our team at Spark Sales Online. Our experienced agency can make the conversion process seamless by identifying areas of improvement in your store, from layout tweaks to getting the SEO product descriptions that skyrocket your page results. Our expertise ensures that not only does your store look great, but it makes logical sense – leading to increased conversions, CRO metrics, and sales.
Google, social media, and other high-volume engines change their algorithms all the time. This can be a ding to your response rate and engagement if left unchecked. We ensure your store is optimized for search so potential customers can find you easily, no matter the technical changes online. With the proper optimization, your Shopify store can rank higher in search results, bringing in more organic traffic and, consequently, more sales.
The Essentials of an Expert Shopify CRO Agency
A reliable CRO agency well-versed in creative Shopify design, CRO tactics, SEO, and more, must understand the tricks, tips, and details of the Shopify platform. You don't want a freelancer out for their first gig. We are an expert CRO team striving to consistently stay updated with the latest trends, ensuring your store remains relevant and competitive, no matter the niche. We tackle everything from enhancing your store's design to improving product listings and even ensuring that checkout processes are streamlined for your target audience and payment processor.
At Spark Sales Online, we also optimize Shopify store speed. With so many customers on mobile devices demanding instant gratification, a slow-loading website can be a significant deterrent for potential customers. Our Shopify conversion optimization agency will utilize advanced tools and techniques to ensure your store loads swiftly, ensuring that customers stay engaged and are more likely to purchase with:
Detailed Site Audit: Our agency team starts by conducting a comprehensive CRO site audit targeting Shopify features that lead to higher conversion rate ideals. We identify any existing issues that may be slowing down your website and harming growth.
Image Optimization: Gigantic images can significantly slow down CRO on a Shopify website. We optimize every image to ensure it's of the right size and format without compromising on quality so your site pops up when your customers need it.
Highly Engaging SEO-Driven Content: Your product descriptions should always boost CRO. The answer to how do I get better conversion rates on Shopify has way more to do with SEO-driven product descriptions that drive interest, business growth, and action.
Prioritizing Above-the-Fold Content: Want to grip your audience's attention? Ensure the content above the fold loads first. Our team works hard so target shoppers get immediate value when visiting your site – leading to measurable ecommerce growth.
Advantages of Shopify Conversion Rate Optimization
Conversion optimization for Shopify store is not just about increasing sales (although that certainly helps!). It's about enhancing the overall user experience. When customers have a smooth journey from browsing to purchasing, they're not only more likely to buy but also to come back for more and share your shop with their friends. You want a highly versatile sales funnel aligned with current Shopify trends to accelerate your potential sales so your money-making machine is always running hot. That begins with agency benefits like:
Enhanced User Experience: An optimized site ensures potential buyers can easily find what they're looking for, when they want it the most.
Higher ROI: More conversions mean a better return on investment for your marketing, social media, ads, and organic search efforts. No one wants to blow resources on bad media buys.
Improved Brand Image: A smooth, optimized shopping experience can bolster your brand's reputation across all omnichannel platforms. This boosts your word of mouth marketing due to cross-platform benefits (different sized screens).
Lower Cart Abandonment Rates: Optimization can help tackle common reasons for cart abandonment so you can adapt and efficiently reshape your ecommerce structure.
Why Spark Sales for Conversion Optimization for Shopify Store
Spark Sales Online stands out as an industry leading agency because we know what we're about! We off the best quality Shopify conversion rate optimization service. Our team of experts understands how to strategically leverage the Shopify platform. We are highly passionate about helping businesses succeed online. We understand that every business is unique, and our strategies are tailored to meet each client's specific needs.
As a premier conversion optimization Shopify Agency, we're dedicated to staying ahead of the curve. We invest time in CRO research and training, ensuring our team is ready to adjust to whatever shifts in your marketplace, niche demand, or online marketing tactics.
Ready to transform your Shopify store and skyrocket your conversions? Get in touch with Spark Sales Online today and experience the difference of partnering with a truly expert optimize Shopify store speed CRO agency!