Shopify Theme Development
Transform your Shopify store into a unique and stunning online destination with our tailor-made theme development services. We'll create a visually captivating and highly functional storefront that reflects your brand's identity and boosts sales.
FREE consultation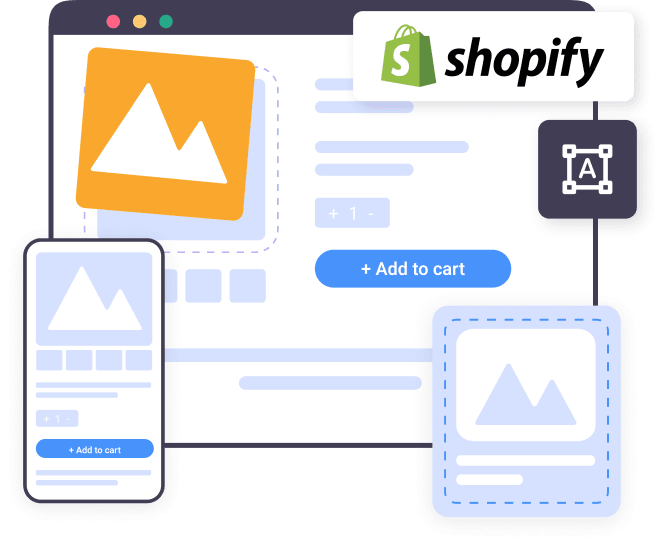 Discover how to boost your online sales with our team.
Three easy steps to grow your business:
Step 1: Discuss your requirements and gather the initial scope.

Step 2: Get back to you with a proposal.

Step 3: Implementation and ongoing managed services.
Get Started
We are trusted
We've worked with many highly successful clients, and client satisfaction is our top priority!

Our services include:
Custom Theme Design

Get a unique, eye-catching design that sets your store apart from the competition. We'll craft a custom Shopify theme that aligns perfectly with your brand and vision.

Responsive Design

Ensure your store looks and works flawlessly on all devices. Our themes are designed to provide an exceptional user experience on desktops, tablets, and mobile devices.

Page Speed Optimisation

Improve your website's loading speed to reduce bounce rates and improve SEO. Our themes are optimised for performance, ensuring quick page loads and a seamless shopping experience.

SEO-Friendly Structure

Enhance your store's discoverability with SEO-friendly theme development. We'll optimise your theme's structure, tags, and meta-data for better search engine rankings.

Ongoing Support and Updates

Enjoy peace of mind with ongoing support and theme updates. As your business grows, we'll ensure your Shopify theme stays up to date and continues to meet your evolving needs.
You save time and money from hiring in-house team members or dealing with expansive payroll issues. Instead, our services are provided at affordable flat fees and leverage our years of experience as a team.
We can take your current brick & mortar shop and transform it into a solid online presence with the automation and listings needed to expand your offerings to the digital space.
Thousands of new products are listed on the online marketplaces every single day. To reach your target customer, you need clear, clean, and easy-to-find product elements that we help create.
You will need branding materials like a name, logo, and the products you want to sell. We can provide the optimisation to make your Shopify storefront stand out.
Shopify is a complete eCommerce platform for you to build an online store, sell products, and engage with customers. You can use this platform to expand your business across other channels.
Our managed services provide ongoing, monthly support that boosts your projects to the best possible rank. We can also work in short-term timeframes depending on the project scope.
Our expert answers to your questions:
View all
See how we helped to solve our client's problems
Learn more. Grow more.
The eCommerce industry is constantly changing and evolving. Read our blog and stay up to date on the latest trends.
View all
Get a Free Consultation on Improving Your eCommerce Business.
Take our short quiz and we'll be in touch to help you solve your current challenges.
Get Started
Stay in Touch
Enter your email below to subscribe to our newsletter and get updates on the latest company developments.
Boost Your Brand with Custom Shopify Theme Development
Over 650 million people around the globe purchased from a Shopify store in 2022. Why? Because the customized themes, incredible sales funnels, and highly engaging layouts make your products shine. If you want to get a slice of that precious marketing pie, you need custom Shopify theme development from our team at Spark Sales Online. We take control of your custom Shopify theme development to perfectly reflect your brand without sacrificing streamlined sales strategies.
We get questions like "How much does it cost to build a Shopify theme?" and "What does a Shopify theme developer do?" all the time. Our approach is a little different from cookie-cutter providers. We provide transparent, value-driven solutions that ensure high ROI for your e-commerce store. Our Shopify theme development team creates spaces that enchant, engage, and convert your visitors into actionable purchases.
Engaging any of our fantastic Shopify theme developer experts ensures you gain all the data-driven solutions and creative enhancements that go beyond basic development. We get into the gritty details of your brand story by leveraging technology at point-of-sale contact and beyond.
We Focus on Shopify Theme for Your E-commerce Store
Being an e-commerce powerhouse on Shopify requires more than something visually engaging. Your Shopify store needs to showcase how your products solve real problems without risking your sales funnel. We have the experience, professionalism, and detail-oriented viewpoint to ensure your shop is a memorable brand experience. Our Shopify custom theme development workflow ensures your e-commerce platform is a full extension of your brand, product, and high-value features.
Our goal at Spark Sales Online is to blend aesthetics with customer utility and our experience with the Shopify theme dev command technology. That is why all our Shopify custom website development services are 100% tailored to your unique online presence. Have a custom cat clothing business? What about a premium jerky brand? Maybe you're selling art posters of customers' favorite pet photos. Whatever the niche market, we can help!
Get Theme Customization for E-commerce Development
Every customization theme project we undertake is looked at from a client-centric approach. We can easily mold your various features, plugins, and layout needs through one-of-a-kind Shopify themes that target your potential customer needs. Our approach includes:
Detailed Analysis: Before delving into customization, our team embarks on a comprehensive analysis of your business, ensuring the customization resonates with both your brand and target demographic.
Brand Consistency: At Spark Sales Online, we are all about maintaining brand identity across omnichannel touchpoints. We will infuse your Shopify store with customized visuals through a theme that reflects your brand characteristics.
Customer Journey Mapping: One feature that sets us apart is our store customization using journey mapping. We meticulously craft how your customer journey unfolds so they feel personalized and engaging every step of the way.
Seamless Integration: Customization is not just surface-level aesthetics but extends to essential third-party integrations through custom Shopify themes designs. We are happy to adapt your Shopify theme to fit your unique apps, plugins, and other integrations.
We are a Leading Shopify Theme Development Agency
With so many digital agencies flooding the marketplace, we are proud of our reputation as a leading Shopify theme development team. Our testimonials and previous work stand as critical examples that every custom Shopify theme we develop is crafted with top-tier design and development practices that will set you apart from the competition. That includes benefits like:
Immersive Experiences: Creating immersive digital shopping experiences that captivate and convert visitors. Through strategic design and development, your store becomes a digital journey, boosting CRO and leading customers to act.
Bespoke Solutions: Every Shopify store theme is crafted with a bespoke approach. We don't like looking at the same boring stores – so why would your customers? Let us build something truly unique for your brand.
Scalable Strategies: Our Shopify theme development uses scalable workflows so that when you go viral on social media or unlock that trending product, your Shopify theme is ready to handle the added weight of massive business demand.
Data-Driven Approach: Leveraging data to sculpt Shopify themes that are not just visually compelling but also conversion optimized. A data-driven approach ensures each design element is optimized for engagement, interaction, and conversion.
Time to Rely on Our Shopify Theme Development Experts
Using custom Shopify theme development experts like our team at Spark Sales Online is one of the best ways to build a brand full of engaging e-commerce design and storytelling. We walk that fine line between stunning aesthetics and practical funnel craftwork that drives future sales.
Through each stage, from conceptualization, development, design, to deployment, our team is not just a service provider but an extension of your business, infusing our expertise with your brand vision to sculpt a Shopify store that stands a cut above the rest. Our holistic approach towards Shopify theme development encompasses the latest trends and marketing techniques that practically scream to your clients to "buy now."
Now is the perfect time for a solid digital transformation journey with a team that aligns technology with narrative, aesthetics with functionality, and your business goals with customer experiences. It's time to carve out your digital space with Shopify experts who elevate your online presence. Get in touch, and let's sculpt your digital future, crafting a Shopify store theme that's a beacon of your brand in the digital realm.