Etsy SEO for Jewelry
Boost Your Jewelry Sales with Etsy SEO – Optimise Your Listings and Reach More Customers Today!
FREE consultation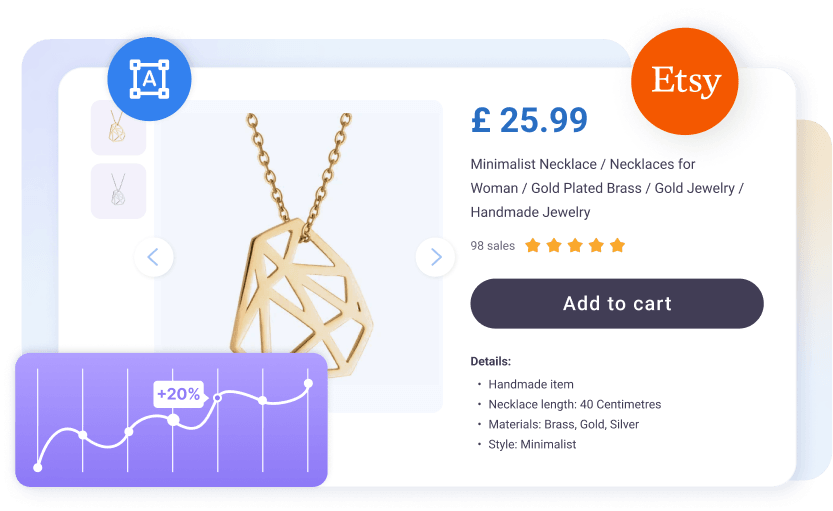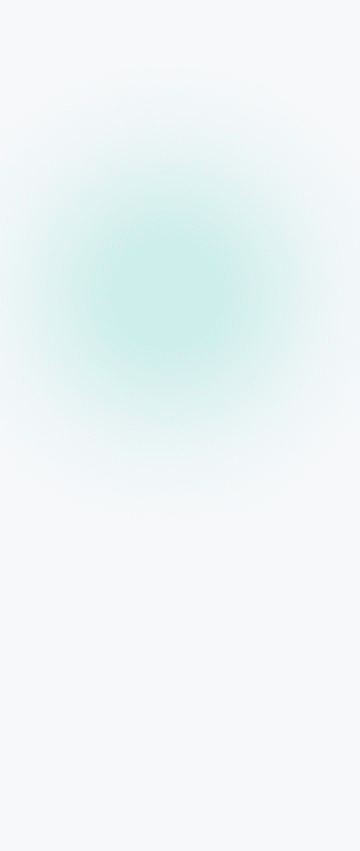 Discover how to boost your online sales with our team.
Three easy steps to grow your business:
Step 1: Discuss your requirements and gather the initial scope.

Step 2: Get back to you with a proposal.

Step 3: Implementation and ongoing managed services.
Get Started
We are trusted
We've worked with many highly successful clients, and client satisfaction is our top priority!

Our services include:
Product & Title Optimisation (SEO)

Uncover highly relevant phrases and optimisations that speak directly to your target market of high-in-demand buyers.

Product Photo Enhancement

Get high-quality images to boost conversion rates for your Etsy store. Our team knows how to ensure your pictures convey your product features to your target market more efficiently.

Competitor & Keyword Research

We consider the direct and indirect competitors to your products and niche market to select the best possible long-tail, high-volume keywords for SEO optimisation.

Promotional Campaigns

Attract more customers with universal branding and ad generation.

Etsy Account Audit

Conduct a detailed and comprehensive audit of your Etsy pages, listings, and account, including the details of your branding and your data-driven analytics review.

Custom Strategies

Build unique strategies and eCommerce tactics to drive internal organic and external rank lead generation.
You save time and money from hiring in-house team members or dealing with expansive payroll issues. Instead, our services are provided at affordable flat fees and leverage our years of experience as a team.
We can take your current brick & mortar shop and transform it into a solid online presence with the automation and listings needed to expand your offerings to the digital space.
Thousands of new products are listed on the online marketplaces every single day. To reach your target customer, you need clear, clean, and easy-to-find product elements that we help create.
You will need branding materials like a name, logo, and the products you want to sell. We can provide the optimisation to make your Shopify storefront stand out.
Shopify is a complete eCommerce platform for you to build an online store, sell products, and engage with customers. You can use this platform to expand your business across other channels.
Our managed services provide ongoing, monthly support that boosts your projects to the best possible rank. We can also work in short-term timeframes depending on the project scope.
Our expert answers to your questions:
View all
Learn more. Grow more.
The eCommerce industry is constantly changing and evolving. Read our blog and stay up to date on the latest trends.
View all
Get a Free Consultation on Improving Your eCommerce Business.
Take our short quiz and we'll be in touch to help you solve your current challenges.
Get Started
Stay in Touch
Enter your email below to subscribe to our newsletter and get updates on the latest company developments.
Boost Your Jewelry Sales with SEO for Etsy
Many new buyers to the world of eCommerce often ask questions like does jewelry sell well on Etsy. Maybe you are worried about the competitiveness of the market or are not sure what type of jewelry niche and features you need to emphasize to succeed. The good news is that with Etsy SEO for jewelry, you can boost your sales, rise above the competition, and create a vibrant online business.
Our team at Spark Sales Online understands the subtle nuance of the Etsy marketplace. We know how to optimize tags, attract women shoppers, emphasize features like silver materials or steampunk-themed bracelets, and even what keywords for handmade jewelry will rank the best. We do everything we can to boost your online visibility and ensure success with your Etsy jewelry business.
Our SEO jewelry experts have spent years developing strategies that allow your products to rise to the top of a customer search. We know the best tags to boost your listing and what other critical information needs to be included, so the organic SEO of your Etsy jewelry rises to the top of the market. We can help sellers just like you by checking the details of your title, descriptions, details, images, and more so that all your efforts are unified into a powerful new Etsy listing.
Sell More Items with Quality Etsy SEO for Jewelry
As a leading SEO on Etsy for jewelry team based in the UK, we have access to some of the world's most profitable online stores. That gives us the natural experience to leverage keywords for steampunk-themed bracelets or handmade jewelry pieces, sure to tantalize the interest of buyers everywhere. Our team can infuse your listing with critical SEO tactics that directly appeal to Etsy's listing algorithm, so your products show up in search requests time and time again.
With our quality Etsy marketing and SEO for jewelry, you get:
Increased Visibility
Even though our team at Spark Sales is based in Great Britain, we have SEO experts all over the world that understand how to integrate the best keywords for handmade jewelry or silver bracelets in the target market you want the most.
Improved Traffic
Learning how do you optimize tags on Etsy and use proper title formatting attracts a much higher volume of the targeted traffic you want to your Etsy shop. This results in more views, sales, customer interactions, and reviews.
Higher Conversion Rates
Quality Etsy SEO for handmade jewelry sellers and suppliers lands more qualified leads to your shop. That makes it much easier to convert these leads into loyal brand ambassadors willing to share your fantastic products on their own accounts.
Competitive Advantage
When you use Etsy SEO optimization for jewelry sales, you gain a critical competitive advantage over those other sellers who may not be aware of the power of keywords, search visibility, women's search terms, listing tags, Pinterest traffic, fashion trends, and more.
Cost-Effective
Etsy SEO services for jewelry are far more cost-effective than endlessly running ads that never convert. This is a purely organic way to boost your bracelet, cuffs, or even steampunk silver earring listings, so you have more potential sales.
Long-Term Benefits
SEO is a long-term commitment. It is a living, breathing marketing strategy that improves over time. The more you trust our team, the better we can ensure the keywords you need are directly aligned with the search terms your target customers want.
Still not convinced? Let's explore how integrating powerful Etsy SEO keywords into your title, tags, Pinterest links, and more can boost your Etsy listing.
Our digital marketing team has the experience in knowledge to do the research, analysis, and integration of powerful SEO keywords, so your product listing gets a higher rank in search results.
Spark Sales Online is built by industry-leading digital marketing experts that thrive on finding new ways to leverage SEO techniques that save you time and money from handling the process yourself.
Whether you have a unique homemade silver cuff or steampunk earrings you hope to sell, our team will get to know your product listings and adjust your SEO tactics accordingly.
We do in-depth keyword research to find the trending, inclusive, and target market search terms most related to what jewelry you are hoping to sell. Trust our team to offer the insights you need for success.
Our team knows how to use keyword integration into robust titles, descriptions, features, tags, and categories, so your products are easier to find instead of being lost in the mix of other competitors.
Getting the most sales on Etsy is all about leveraging every tool at your disposal. Let our SEO experts be the powerful reason your handmade or white-label silver jewelry receives all the interest needed to expand your revenue streams.
Want to Sell More Jewelry on Etsy? Reach Out to Our SEO Team!
Any handmade jewelry seller working on Etsy knows the competition can be fierce. Having the best-fit SEO keywords that show up in search terms is critical to your success. That means optimizing your listing with the tags, categories, images, and more to ensure your items are appealing to visitors and have the organic reach to expand your online sales.
The fact is the more keywords you have that are directly related to your customer needs, the better your Etsy store will list online. Even if you have a perfect Pinterest account of amazing silver necklaces, golden cuffs, or steampunk nose studs, you still need quality SEO to break through that last barrier of customer demand. Our experienced digital marketers can help with all the details to uncover search terms, integrate keywords, and give your Etsy store the help it needs to be a power seller! We offer:
Exceptional Support – our team has the customer service and know-how to keep you informed of your progress every step of the way.
Strategic SEO Insights – we use the latest tools and marketing data to find those keywords most likely to boost your store visibility, product rank, and online sales.
Zero Stress – leave the complex world of getting ranked higher to our team and spend more time crafting incredible handmade jewelry.
Massive Growth Potential – we adjust our SEO keyword tactics in real-time, always finding new ways to ensure you have the customers needed to grow your Etsy store.
Time to elevate your Etsy presence with strategic insights and SEO tactics sure to help you sell more jewelry items. Whether you have fantastic silver bracelets that can be personalized, or homemade earrings celebrities will love, our team at Spark Sales Online can create the SEO plan to get you started and help you grow! Book a consultation with our team today!