Shopify Store Audit Services
Unlock the full potential of your Shopify store with our comprehensive audit services. Our experts will analyse every aspect of your ecommerce business, providing actionable insights and recommendations to boost your sales, enhance user experience, and drive growth.
FREE consultation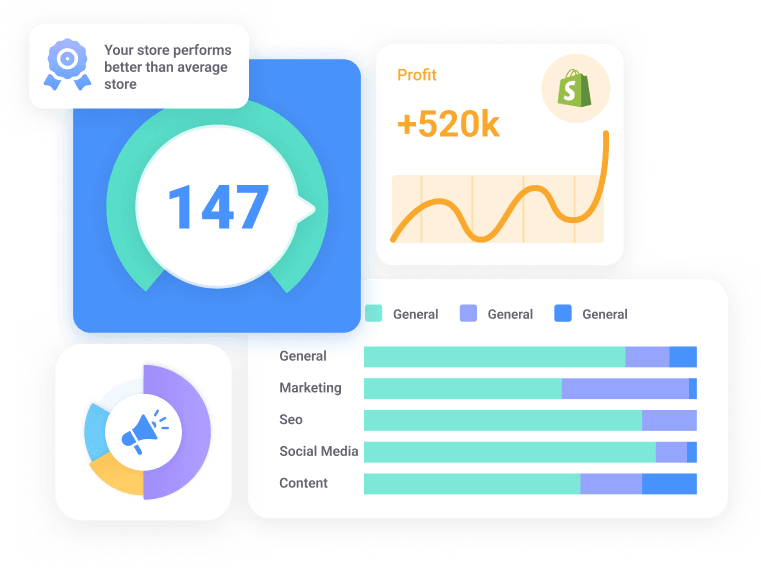 Discover how to boost your online sales with our team.
Three easy steps to grow your business:
Step 1: Discuss your requirements and gather the initial scope.

Step 2: Get back to you with a proposal.

Step 3: Implementation and ongoing managed services.
Get Started
We are trusted
We've worked with many highly successful clients, and client satisfaction is our top priority!

Our services include:
Store Performance Analysis

We'll conduct a thorough evaluation of your Shopify store's performance, identifying bottlenecks and opportunities for improvement in page loading times, site responsiveness, and overall user experience.

Conversion Rate Optimisation

Increase your sales by optimising your store's conversion funnel. Our experts will assess your product pages, checkout process, and call-to-actions to enhance conversion rates.

SEO and Content Review

Improve your online visibility with an in-depth analysis of your SEO strategy. We'll provide keyword recommendations, meta tag optimisation, and content improvements to boost organic traffic.

Mobile Optimisation

Ensure your store is mobile-friendly. Our audit will focus on mobile responsiveness, design, and user experience to capture the growing mobile eCommerce market.

Inventory and Product Analysis

Optimise your product listings for maximum impact. We'll review your product descriptions, images, pricing strategies, and inventory management to drive sales and reduce bounces.

Marketing and Advertising Assessment

Get the most out of your marketing efforts. We'll evaluate your advertising campaigns, email marketing, and social media strategies to ensure you're effectively reaching your target audience.
You save time and money from hiring in-house team members or dealing with expansive payroll issues. Instead, our services are provided at affordable flat fees and leverage our years of experience as a team.
We can take your current brick & mortar shop and transform it into a solid online presence with the automation and listings needed to expand your offerings to the digital space.
Thousands of new products are listed on the online marketplaces every single day. To reach your target customer, you need clear, clean, and easy-to-find product elements that we help create.
You will need branding materials like a name, logo, and the products you want to sell. We can provide the optimisation to make your Shopify storefront stand out.
Shopify is a complete eCommerce platform for you to build an online store, sell products, and engage with customers. You can use this platform to expand your business across other channels.
Our managed services provide ongoing, monthly support that boosts your projects to the best possible rank. We can also work in short-term timeframes depending on the project scope.
Our expert answers to your questions:
View all
See how we helped to solve our client's problems
Learn more. Grow more.
The eCommerce industry is constantly changing and evolving. Read our blog and stay up to date on the latest trends.
View all
Get a Free Consultation on Improving Your eCommerce Business.
Take our short quiz and we'll be in touch to help you solve your current challenges.
Get Started
Stay in Touch
Enter your email below to subscribe to our newsletter and get updates on the latest company developments.
Boost Profitable Sales with Our Comprehensive Shopify Store Audit
When you're looking for Shopify store audit service, you need a team that understands the subtle nuances of the ecommerce platform most small businesses rely on – Shopify. We leverage everything from your branding to your shop design to maximize target customer engagement. Our Shopify audit recommendation services provide a detailed look into every aspect of your online store, ensuring that your features, funnel, backend, and layout are focused on what matters most – making returns. We have years of experience handling the usability, design, and performance of your online store and give clear and optimized recommendations about the target consumer's journey from landing page to making a purchase.
From data analytics to app performance, Spark Sales Online works hard to manage innovative tools and years of industry knowledge. We apply these abilities to review your online presence with Shopify. What truly sets us apart as ecommerce geniuses is our ability to combine technical expertise with a deep understanding of your target audience's behaviors and needs. Every audit we conduct isn't just a collection of data points but a strategic roadmap for future growth.
As a leading agency in the UK, we pride ourselves on offering a comprehensive service that goes beyond boring numbers. When you choose our Audit for growth Shopify store service, you're choosing a partner dedicated to your online success that is happy to share insights sure to blow your sales figures out of the water.
We Offer a Website Audit by Shopify Experts
Fighting to stay above the noise of online competition requires a Shopify presence that continually evolves to the ever-changing whims of the consumer-driven marketplace. With our expert team leading the charge, you're guaranteed a Shopify audit experience that's tailored just to you. Drawing from a wealth of experience, our experts get into the nooks and crannies of your online business by looking closely at layout, app integrations, theme settings, and anything else we can transform to ensure they align with today's best practices.
We rely on a unique audit process 100% tailored to the needs of your business model. This custom approach, combined with our expertise, ensures you get actionable insights to elevate your Shopify store.
What's Included in the Shopify Audit from Spark Sales Online?
We have a comprehensive answer when you ask, "What is Shopify audit?". Our audit process is designed to be as accurate and proactive as possible, including features like:
Performance Testing: We assess your website's load speed and overall responsiveness across all mediums and device sizes. This creates a seamless experience for your paying customers.
Design Review: Our team evaluates the usability and aesthetic "likeability" of your ecommerce store design, making specific recommendations to enhance customer engagement and trust so your CRO skyrockets.
Analytics Assessment: Leveraging analytics, we identify those stubborn areas of improvement by studying user behavior and conversion patterns, helping you understand your audience better.
Sales and Conversion Analysis: At Spark Sales Online, we love sales data! This helps us better identify trends and potential bottlenecks preventing your sales increases.
Advantages of Shopify Ecommerce Audits by Our Agency
Partnering with our agency for a Shopify audit offers numerous benefits. When you are looking for Shopify audit experts, you cannot go wrong with Spark Sales Online. We provide your business extremely valuable benefits like:
Expert Analysis: Our team of experts uses advanced tools (AI, ML, AR, and years of proven experience) and strategies to comprehensively analyze your store from the ground up.
Performance Boost: With our audit recommendations, you can significantly improve your store's speed and overall performance so you load faster, get to the funnel quicker, and give your customers the satisfaction of a rewarding online shopping journey.
Data-Driven Decisions: Make informed decisions using the detailed data and insights we provide that boost your ability to remain flexible to modern trends and an ever-shifting playing field.
Usability Improvements: Enhance the overall user experience with our usability findings and suggestions that will make your store "stick out" in customer's minds.
Why Use Our Shopify Site Audit Experts?
Our team of Shopify experts is fully dedicated to offering unparalleled service that stays way in front of the competitive curve. We combine the years of hard-earned technical prowess with a genuine passion for seeing our clients succeed. Our audit reports are not just boring lists of issues you must address. We provide comprehensive strategies for sustainable growth that will inspire positive change in your online business.
Moreover, as a recognized agency in the UK, we uphold the highest standards of professionalism and innovation for international facing online stores. Our Shopify audits have consistently delivered results for all kinds of niche clients from fly fishing experts in the U.S. to Greek olive oil producers.
Take the leap towards unparalleled online success. If you're serious about maximizing your online potential, there's no better ecommerce and technical partner than Spark Sales Online. Ready to transform your Shopify experience? Looking for Shopify audit experts? Look no further and let us guide you to e-commerce excellence. Reach out now for a transformative Shopify store audit experience.