Photos for Amazon Listings
From click to conversion – captivate shoppers with stunning product images.
FREE consultation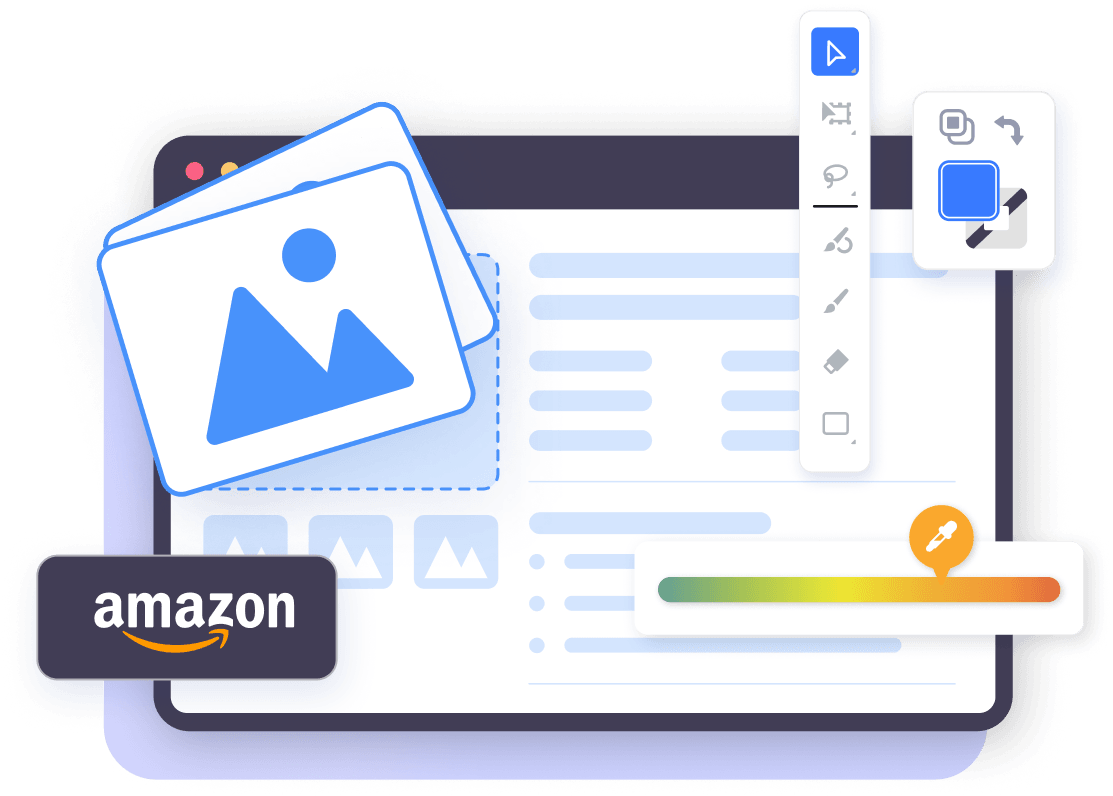 Discover how to boost your online sales with our team.
Three easy steps to grow your business:
Step 1: Discuss your requirements and gather the initial scope.

Step 2: Get back to you with a proposal.

Step 3: Implementation and ongoing managed services.
Get Started
We are trusted
We've worked with many highly successful clients, and client satisfaction is our top priority!

Our services include:
Image Editing and Enhancement

Our skilled graphic designers will enhance your product images by retouching, adjusting colors, removing backgrounds, and optimising them for maximum impact. We ensure that your images meet Amazon's image guidelines and stand out from the competition.

Lifestyle Product Photography

Let us create lifestyle images that demonstrate how your products can be used in real-life situations. These images help potential customers envision themselves using your products, leading to higher conversion rates and increased sales.

Infographics and Image Overlays:

Our designers create informative infographics and image overlays that highlight the key features and benefits of your products. These visual elements help convey important information quickly and attractively, making your listings more engaging and persuasive.

Amazon Image Compliance Review

Our experts will review your existing product images to ensure they meet Amazon's image guidelines. We'll provide feedback and suggestions for improvement, helping you avoid any potential issues or rejections from the Amazon platform.
You save time and money from hiring in-house team members or dealing with expansive payroll issues. Instead, our services are provided at affordable flat fees and leverage our years of experience as a team.
We can take your current brick & mortar shop and transform it into a solid online presence with the automation and listings needed to expand your offerings to the digital space.
Thousands of new products are listed on the online marketplaces every single day. To reach your target customer, you need clear, clean, and easy-to-find product elements that we help create.
You will need branding materials like a name, logo, and the products you want to sell. We can provide the optimisation to make your Shopify storefront stand out.
Shopify is a complete eCommerce platform for you to build an online store, sell products, and engage with customers. You can use this platform to expand your business across other channels.
Our managed services provide ongoing, monthly support that boosts your projects to the best possible rank. We can also work in short-term timeframes depending on the project scope.
Our expert answers to your questions
View all
Learn more. Grow more.
The eCommerce industry is constantly changing and evolving. Read our blog and stay up to date on the latest trends.
View all
Get a Free Consultation on Improving Your eCommerce Business.
Take our short quiz and we'll be in touch to help you solve your current challenges.
Get Started
Stay in Touch
Enter your email below to subscribe to our newsletter and get updates on the latest company developments.
Engaging Photos for Amazon Listing to Boost Sales
Amazon is a fantastic channel for your business, and photos for Amazon listings is one of the most important things you can do to improve sales. Unfortunately, many people attempt to complete this task on their own, leading to wasted time and poor-quality results.
Amazon is a visual platform, and customers are drawn to images. The first thing you see when visiting an Amazon listing is the product photo. Images for Amazon listings are the first impression customers have of your brand and product. Your product photos should be eye-catching and convey what makes your offering unique. In addition to helping customers make purchasing decisions, images can influence their perception of your brand itself, further impacting how customers interact with your overall shopping experience.
Why trust Spark Sales Online with your Amazon listing photos? The biggest reason is that it's a pain in the butt to do it yourself! It takes a lot of time and effort, so most people don't do it. They'd rather spend their time and energy on more important things like listing new products, writing ad copy, or improving their marketing strategy. This can be incredibly challenging if you're not experienced with photography, editing, or optimising part of your Amazon listing to improve potential sales and rank listing. All of this becomes much easier when you work with our experienced and professional team.
We Design Amazon Listing Images that Convert!
Regarding Amazon listings, your photos are a significant part of the equation. The right images can help sell your product and increase conversions. On the other hand, if they don't meet customer expectations or aren't optimised for search engines, you might be missing out on potential sales.
Here is a list of how our professional and experienced managed services team at Spark Sales Online can help:
Improved Visual Appeal
When selling a product on Amazon, it's vital to ensure that your image is engaging and appealing. You want the visual appeal of your photos for Amazon listing to stand out from the competition so potential customers know what they are buying, the features provided, and how it can improve their lives.
Increased Conversion Rates
The images for Amazon listing you choose will directly impact your conversion rates, which means they can also help increase your sales and revenue. When shoppers see an image that catches their attention, it's more likely that they will click through to learn more about your product or service.
Better Product Understanding
Images for Amazon listings help customers understand the product better. Product images with detailed explanations demonstrate how simple it is for someone to use this product. It also shows them exactly what they would be getting with their purchase and how it fits into their lifestyle. This reduces confusion and makes it easier for someone to hit that "Buy Now" button.
Enhanced Branding
Your brand is essential to your business, and it's also crucial to your customers. Working with our team to design Amazon listing images that convert changes the perception of your shop branding. It makes people see you are professional and care about the quality of your items. That helps differentiate you from a crowded eCommerce space.
Customised Solutions
At Spark Sales Online, we offer a wide range of what are Amazon listing images services for different needs. Our team can help you with all your Amazon needs, from listing images to managing product listings. We can also help you design and optimise your listing images so that they look great on Amazon's search results page and increase conversions.
Still not convinced? Let's dive deeper into how our high-quality Amazon listing images can drastically improve your sales figures.
Improved SEO that expands your current strategy for ranking higher on Amazon. We will create Amazon listing images and infographics that explain all the details in compelling language.
Streamline operations by outsourcing your images for your product on Amazon to our professional team instead of doing the work yourself and losing valuable time.
Consistent quality of images so all your product offerings are unified in your branding and professional appearance.
Measurable results from A/B testing based on different Amazon listing images we test out.
Real-time monitoring by our professional team to make sure no images get taken down or disputed by other competitors.
You get an experienced team with years of digital marketing to leverage, so every advantage is taken concerning your visual appearance.
Why Trust Our Team with Your Amazon Listing Photos?
You want your Amazon listing photos to be the best they can be, and we at Spark Sales Online wish to help you do that. Our team has experience with Amazon listings and knows how important great photos are for getting sales. So we'll work with you to create the perfect images for your product, whether it's a new product or one already existing on the site.
We'll make sure that every image is clear and easy to read so shoppers can see exactly what they're buying without any confusion or hassle. Of course, that means more time spent browsing through products instead of searching through blurry images!
In addition, you'll benefit from:
Exceptional Support – our Amazon experts are viable to answer any questions you may have about featuring Amazon listing photos that sell.
Strategic Brand Inclusion – we build out your secondary and complementary product sales through a unified image presentation that encourages customers to learn more.
Zero Stress – our professional designers and graphic experts save you time and money from reinventing the wheel on listing images.
Massive Growth Potential – an image is worth 1,000 words, and we know how to optimise your Amazon listing photos to capture as much of your target audience as possible.
We know that Amazon is a massive opportunity for your business, but it can also be very overwhelming. We've found that many sellers don't have time to manage all the details involved with getting their listings right. That's why we at Spark Sales Online offer an easy-to-use service that takes care of everything from start to finish so you can focus on what matters most: selling more products!