ebay Account Management
Experience the ease of ebay account management done right. Our experts will handle every aspect of your ebay store, from listings and customer service to inventory and growth strategies. Say goodbye to stress and hello to ebay success.
FREE consultation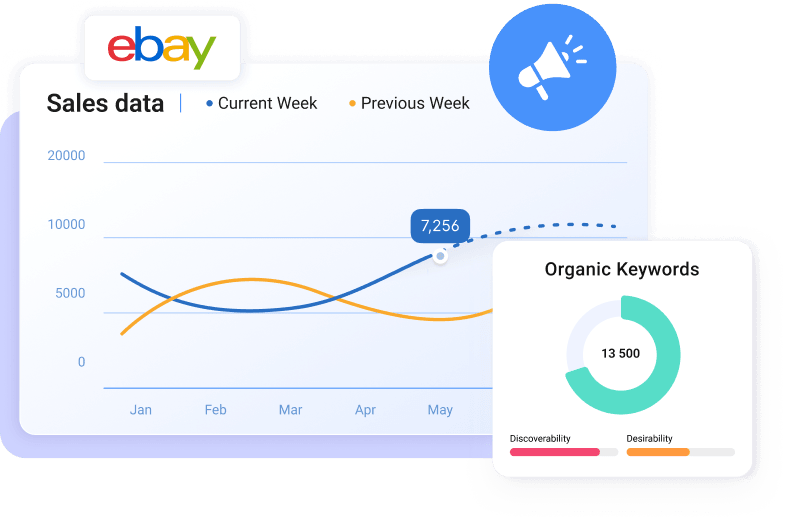 Discover how to boost your online sales with our team.
Three easy steps to grow your business:
Step 1: Discuss your requirements and gather the initial scope.

Step 2: Get back to you with a proposal.

Step 3: Implementation and ongoing managed services.
Get Started
We are trusted
We've worked with many highly successful clients, and client satisfaction is our top priority!

Our services include:
Listing Optimisation

We'll expertly optimise your product listings, ensuring they are search engine-friendly, visually appealing, and packed with compelling descriptions to attract more buyers.

Inventory Management

Our team will handle inventory tracking, restocking, and order fulfillment, ensuring you never run out of stock and can fulfill customer orders promptly.

Pricing Strategy

Stay competitive with dynamic pricing strategies that respond to market fluctuations and maximise profitability while keeping an eye on your competition.

Customer Support

Deliver top-notch customer service with our responsive support team, handling inquiries, returns, and addressing customer concerns to maintain high seller ratings.

Promotions and Marketing

Drive more traffic and boost sales with strategic marketing campaigns, including promotions, discounts, and targeted advertising to reach a wider audience.

Performance Monitoring

Gain valuable insights with regular performance reports. We'll track your eBay store's key metrics, identifying areas for improvement and growth opportunities.
You save time and money from hiring in-house team members or dealing with expansive payroll issues. Instead, our services are provided at affordable flat fees and leverage our years of experience as a team.
We can take your current brick & mortar shop and transform it into a solid online presence with the automation and listings needed to expand your offerings to the digital space.
Thousands of new products are listed on the online marketplaces every single day. To reach your target customer, you need clear, clean, and easy-to-find product elements that we help create.
You will need branding materials like a name, logo, and the products you want to sell. We can provide the optimisation to make your Shopify storefront stand out.
Shopify is a complete eCommerce platform for you to build an online store, sell products, and engage with customers. You can use this platform to expand your business across other channels.
Our managed services provide ongoing, monthly support that boosts your projects to the best possible rank. We can also work in short-term timeframes depending on the project scope.
Our expert answers to your questions:
View all
See how we helped to solve our client's problems
Learn more. Grow more.
The eCommerce industry is constantly changing and evolving. Read our blog and stay up to date on the latest trends.
View all
Get a Free Consultation on Improving Your eCommerce Business.
Take our short quiz and we'll be in touch to help you solve your current challenges.
Get Started
Stay in Touch
Enter your email below to subscribe to our newsletter and get updates on the latest company developments.
Streamline Your Online Store Success with Premium eBay Account Management
The world-renowned eBay auction site is much more than selling a few Beanie Babies and hoping for the best. Successfully launching, managing, and delivering quality products to your target audience takes a lot of skill. Then, there is the massive number of competitive brands out there to undersell your goods.
With eBay seller account management, you get to focus on core online business competencies, like getting more reviews, improving customer relations, and expanding your product listings. Whether you're new to eBay hoping for a quick sale of your indoor Galaxy projector or an established seller without thousands of loyal customers, professional account management can transform your operations, ensuring your brand and product listings always stand out.
Millions of sellers are all fighting tooth and nail to get the most customer engagement. You have to navigate shifting algorithms, customer demand, and trending topics that look attractive one moment and boring the next. Our experienced eBay account management agency stays updated with these changes, optimizing listings to be both search engine and user-friendly. Every one of our eBay seller manager experts will work closely with your brand to ensure your listings remain competitive. From pricing strategy to listing optimization, our team offers comprehensive support, ensuring your business maximizes its online potential.
Why use eBay Account Management Services?
Tossing up a quick listing of a rare baseball isn't enough to survive in the modern competitive eBay world. If you want 24/7, 365 days a year profit, you need an edge. Using eBay account management companies like us at Spark Sales Online means you get the tailored eBay seller account management expertise, tools, and strategies that the average seller won't use. With professional management, your store can shift into money-making mode with the full potential of eBay as a platform, enhancing visibility and boosting sales.
Sit back and relax while our experts handle all aspects of your eBay online business. From inventory management to customer service, you gain peace of mind by outsourcing to an eBay account management agency like ours. It's time to free up those critical time and resources that should be spent on a beach in Bali as your eBay seller's app dings another sale.
Experienced eBay UK Management Makes a Big Difference
Our team's experience is unparalleled. We have numerous of our own profitable stores and use the same methods that bring in the customers for us for you! With our bespoke eBay seller account management, you gain techniques designed for significant impact like:
Detailed Listing Optimizations: We take the time to meticulously review, tweak, and personalize every listing. We want you to stand out without sacrificing the latest search algorithms that boost visibility and enhance customer engagement.
PPC and Advertising Strategy: If you want to sell, you need to be visible. We leverage data-driven advertising tactics that get your best-fit products placed prominently on eBay's platform.
Brand Protection: Copycats are everywhere, and the better your success, the more they come out of the woods. We take your brand seriously. Our team monitors listings to prevent counterfeit products and ensures your brand's integrity is always maintained.
Keyword Analysis: Using advanced tools, we uncover those highly targeted SEO keywords that ensure every one of your listings is fighting to get to the top rung of search results.
Advantages of eBay Seller Account Management Service from Our Team
Our dedicated eBay paid account management team of hardworking eBay pros provides all kinds of insightful benefits and stories from experienced online stores. We are always iterating our methods, so we know we are on the cutting edge of maintaining a high rank for our clients. When you work with our team at Spark Sales Online, you get:
Increased Potential Sales: With optimized listings and a comprehensive marketing strategy, businesses witness a surge in their conversion rates. The more CRO you have, the higher the chance of sales.
Time-saving: Delegate the time-consuming tasks (boring processes) of account management. When you work with Spark Sales Online, you get more time to focus on what matters most – your customers.
Expert Guidance: Benefit from the accumulated knowledge of our seasoned eBay team. We are happy to provide the insider guidance you need to navigate the complex auction website and build a lucrative online business.
Active Performance Monitoring: Our eBay management service includes regular check-ins and reports, ensuring you're always informed about your account's health and performance.
Holistic Approach: We don't just manage your account. We take an active role in helping you grow. From product listing to backend efficiency, Spark Sales Online provides solutions that truly resonate.
Why Use Our eBay Account Management Agency?
When you choose our agency, you're getting a top-notch team of eBay experts who genuinely enjoy getting into the gritty details of boosting your efficiency. We want to save you time, money, and stress by cracking the code to top eBay stores. Our commitment goes beyond mere account management. We invest time in understanding your business, brand vision, and goals. Our seller management solutions are always in sync with your brand's voice.
Let's build a new eBay "you" by outsourcing your management needs to our experts. We consistently innovate by leveraging data-driven insights, SEO improvements, and automation designed for your unique online business needs. We believe in proactive management, continually seeking ways to enhance your eBay presence.
As a leading eBay account management agency, our reputation is built on the successes of our clients. We are dedicated to maximizing your online potential. Ready to transform your eBay business? Let's embark on this journey together. Contact us today and ask our pros to manage my account eBay to get started!