Even before the global pandemic, entrepreneurial-minded users were rushing to ecommerce for side hustle and business development. A key area of this online marketplace has been devoted to dropshipping. With an annual growth rate expected to be a little under 25% over the next few years, finding tools that automate and streamline dropshipping is critical to success.
Oberlo has long been at the forefront of this industry. Instead of needing a massive warehouse to hold all your inventory, you can leverage a Shopify app or WooCommerce plugin like Oberlo to automate the process of consumers placing an order, you receive the details, and your supplier shipping on your behalf.
However, like any other industry in the world, you need to know if there are new tools available that can improve this process. That is why we've compiled a list of the best Oberlo alternatives so you can compare and contrast with your current dropshipping, ecommerce, or online retail needs. Let's jump in!
What is Oberlo?
Oberlo is a dropshipping app that lets you sell products from the popular international supplier AliExpress and other sources. You can create your own store or use one of their templates, and Oberlo will handle everything else, including product sourcing, shipping, and customer service. The Oberlo app is free to download and available for iOS or Android devices.
Before Oberlo, you would have to waste hours trying to manually search through AliExpress in the hopes of happening upon a good product, supplier, and shipping method. Instead, you can use this tool to "set and forget" your online store for a bit – one of the significant benefits that attracts most drop shippers.
The downside is the shipping can take an extremely long time. When you are competing against eBay, Amazon, and major retailers like Walmart, you cannot rely on a 30-day window for your consumers to jump on board. That is why seeking some alternative app, plugin, or extension options is a wise choice.
10 Best Oberlo Alternatives 2023
Designed as a plugin for WooCommerce (built on WordPress), Spocket offers a powerful alternative to Oberlo. This connects your ecommerce or dropshipping platform with thousands of international suppliers that provide reliable products and reasonable rates. That is because the plugin goes beyond AliExpress, opening the doors to lucrative alternative manufacturing and retail suppliers. The app has built-in strategies to boost your customer interactions so you can develop longer-lasting customer relationships that equal a higher conversion and return sale rate.
You can get started with Spocket for nothing. There is a free plan with basic features and tiered options as you scale. The majority of the suppliers you'll be connected with are from the U.S. and European markets, meaning faster shipping times than Oberlo.
Pricing:
Free basic plan with tiers all the way up to $99/month, depending on the number of products you need and additional services.
Features:
Large international supplier connections.
Works smoothly with WooCommerce, Shopify, BigCommerce, and Wix.
Customized invoices to maintain your brand identity.
Exceptional discounts available for savings on products, especially for wholesaling.
Printful made its name as a fashion and lifestyle customization service. Essentially you would pick a base product like a blank white t-shirt and slap on your personalized logo, fun quote, or original artwork. Then you can market the heck out of these products and accessories to your target audience based on the designs you utilize.
Now, Printful offers a massive range of products, from custom clothing to shoes, jewelry, and accessories. With over 20 unique categories of products, you can easily find a line to bolster your ecommerce or dropshipping store that would take Oberlo much longer to source through AliExpress.
Pricing:
Completely free to install through your ecommerce platform. You only pay a percentage of the transaction fee and product value as part of the agreement.
Features:
Printful handles all the details of the transactions for you, including returns.
No upfront costs for renting inventory space or having expensive equipment.
An excellent source for white label dropshipping so you can customize your branding.
Much faster shipping times than Oberlo.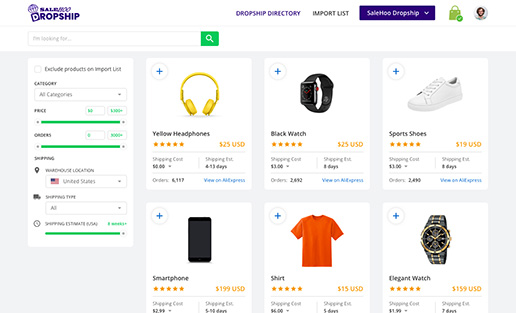 SaleHoo is one of the best Oberlo alternatives if you want to focus more on customer service. It is based in the beautiful country of New Zealand, offering more than 2.5 million different products from well-vetted suppliers and manufacturers.
One of the critical factors of this alternative option to Oberlo is that SaleHoo goes into detail about every supplier they allow onto their platform. You can see the term "vetted" all over the company's marketing because they are targeting drop shippers and ecommerce business owners who may have had a bad experience with less reputable suppliers in the past.
Pricing:
You have to pay a fee to access the directory, and there are different levels of membership with various benefits. Everything starts at an annual fee of $67.00.
Features:
Strong vetting process for all the associated suppliers for peace of mind.
Exceptional customer service features to build stronger relationships.
Works extremely well on Shopify, but not on other platforms.
A lot of additional features are available for additional fees.
Doba is another popular Oberlo alternative. It has many features and offers a free trial, so it's worth checking out if you're looking for something new.
This is a good mid-range alternative to Oberlo that reduces shipping time by roughly half. The downside is you may have difficulty finding quality products at lower prices compared to Amazon or Walmart. That means you'll need to spend a bit more time researching those high-in-demand items that directly appeal to a target niche only.
The upside is that Doba is straightforward to use. The entire system is clear, and there is an excellent customer service center. This is a good option for those looking to add complimentary products to their brands or dropshipping offerings.
Pricing:
There is a free trial that lasts for 30 days, then you will need to pay $50 per month for access.
Features:
Primarily a BigCommerce option for ecommerce and dropshipping business owners.
Has exceptional advertising and marketing features for Facebook.
Works well with eBay sourcing.
There is a built-in data export tool that makes searching for quality items much more accessible.
This is one of the more powerful plugin options if you're searching for a quality Oberlo alternative. The automation features on this system will save you a lot of time, so you can focus on selling, marketing, and customer relations more. In addition, you'll get access to AliExpress, as well as Alibaba and eBay.
Dropified offers private label on-demand options instead of just dropshipping. That is useful if you are out to build a unique brand to set yourself apart from the competition. The entire setup process only took us a few minutes. It probably would have been less if we had our marketing already in mind instead of building it on the spot.
Pricing:
There is a free "Research Plan" available that will give you all the tools to find products, but you'll need to purchase a more extensive plan starting at $19/month to utilize the automation and other features.
Features:
Makes it incredibly easy to work with eBay and Alibaba.
Strong and varied automation features for time-saving benefits.
Includes ecommerce training for 60 days if you are a beginner.
Smooth user dashboard for a quick glance at your daily activity.
AliDropship is an AliExpress exclusive dropshipping service that offers a wide range of products for dropshipping. It has a vast product catalog and a good search feature, as well as an easy-to-use interface.
The plugin is meant to work with WooCommerce and has the ability to quickly import products with only 1-3 clicks. It all depends on the product features/options you are going with for your ecommerce store. That includes being able to migrate directly from Shopify to WooCommerce if you are switching platforms.
Pricing:
There are no monthly fees. AliDropship offers a one-time, lifetime access payment for $89.00.
Features:
You don't have to worry about monthly fees eating into your profit margins.
Has a robust migration option for people moving to WordPress (WooCommerce).
You can import the reviews already available on AliExpress to boost your UGC (user-generated content).
Offers a strong cashback option if you are worried about returns.
7 – Sellvia
If you are a more risk-averse drop shipper or online retailer, then Sellvia is an excellent alternative to Oberlo. With more than 6 billion orders processed, this is a massive boost to your Shopify or WooCommerce storefront. The automation is exceptional, and you get a vital customer service resource for any issues.
The supplies warehouse for Sellvia is set up in Irvine, California, with satellite locations worldwide. That helps streamline your shipping rates and makes it much easier to compete with other massive online retailers. Best of all, Sellvia doesn't use label packaging. You design what you want your customers to see.
Pricing:
Everything starts at $39/month, but you get a lot of benefits to your account. You can select much more extensive plans for turnkey store service.
Features:
Works well on both Shopify and WooCommerce platforms.
They have rapid spitfire fulfillment and shipping based in the U.S.
Discrete fulfillment labels for your customized branding.
Reasonable cost for the American sourcing and branding options.
For any of the eco-friendly drop shippers in the crowd, Modalyst is your best alternative to Oberlo. They feature designer brands as well as private label manufacturers with an emphasis on socially conscious issues that allow you to differentiate your branding.
You can add products from US, European, and AliExpress suppliers with ease based on access to more than 10 million unique items in their catalog. This works with Shopify, Wix, and BigCommerce.
Pricing:
You can start with the "Hobby Plan" for free, but we suggest the "Start-Up Plan" at $35/month for complete access if you have more than 25 products.
Features:
Great resources for eco-friendly product sourcing.
Works on a wide range of ecommerce platforms.
Great pricing plans for those trying to start with little to no money.
Great centralized dashboard to manage all aspects of your business.

When you want to automate your dropshipping store or ecommerce online business with some of the best-trending products on social media, you want Importify. This strong Oberlo alternative works well on Shopify, WooCommerce, and Wix – offering plenty of options for your platform.
You can source products from a wide range of suppliers through Alibaba, AliExpress, Amazon, Banggood, Walmart, Gearbest, and more. We want to point out that this option works with Etsy. That gives you an incredible benefit for homemade goods, especially if you are working with a themed store that parallels modern properties.
Pricing:
There are 3 plans available at $14,95, $27.95, and $37.95, respectively.
Features:
Migrates product descriptions and attributes but allows you to modify them upon importing.
Incredibly fast order automation that saves you and your customer's time.
There is a training program available if you are new to dropshipping.
Works with a wide range of suppliers, including Etsy!
The benefit of Beeketing over Oberlo is that the service offers exceptional marketing automation. Using WooCommerce as its platform, you essentially get 10+ WordPress plugins inside of one free option. That is because it uses everything from AI-based customer behavior insight to smart marketing features that streamline your market reach.
There are already 350,000 international businesses utilizing Beeketing for their system, and it can be used over on BigCommerce or Weebly if you prefer. It used to support Shopify, but there was some conflict between the two related to competition that cut that partnership in 2019.
Pricing:
A free trial is available for a short time, then you'll need to spend $19 per month if you want all the features not available on the free plugin version.
Features:
Substantial discounts if you join the loyalty program.
Adds urgency and AI-backed insights to your online store efforts.
Powerful marketing benefits to boost your CRO.
Partners with triggered automated email campaigns to capture warm leads.
How to Choose the Best Dropshipping Tools
Every online business is going to have different needs and niche interests. Therefore, finding the best Oberlo alternative will depend on your goals, product, market niche, and other differentiating factors. In general, you want to consider:
Budget – It's not just about knowing what you can afford, but also making sure that you're not spending more than necessary on your first order and returns. Look at the fees, returns, and anything else that will be an expense.
Business Goals/Needs – Do you want to sell more products or make more money? Do you want to save time or spend it on other activities? Are there specific markets that interest you and can be reached using this toolset? Find a tool that is scalable to your goals.
Niche/Product Type – You want to be sure the Oberlo alternative you select offers a full listing of products in your desired niche market.
Scalability – Scalability is an essential factor when choosing your ecommerce platform. It refers to the ability of a solution to grow with your business without requiring additional resources or time from the team using it.
Technical Expertise – Work with an Oberlo alternative inside your technical capabilities. That way, you won't need to hire someone to get a basic understanding of the tool.
Conclusion
There are many great Oberlo alternative options out there, and it's worth taking the time to research each one before making a decision. At the end of the day, it is all going to depend on the specific resources and goals of your ecommerce retail needs or dropshipping business dreams.
Hopefully, this list offers plenty of opportunities to grow as you engage with your target market. Good luck!