Dropshipping is a very popular business model for Shopify entrepreneurs, with many people seeing it as an easy way to get into ecommerce. The truth is: dropshipping does make it easier for you to compete against other sellers in your niche as long as you are willing to put in the world.
You need to present a quality brand that sets you apart from the rest of the competition. What is a dropshipping store has more to do with selling products that do not require having to keep inventory or handle shipping and fulfillment. That means you will face many other innovative owners looking to enter this market.
By using Shopify as an ecommerce platform, you get a highly customizable tool for maximizing your dropshipping efforts. That is why we have put together this comprehensive list of the top 20 dropshipping Shopify store examples already succeeding where you hope to grow.
In this article, we'll look at some of the best examples of Shopify dropshipping stores and discuss how they can help you grow your own Shopify store.
Why Dropshipping is Still a Fantastic Ecommerce Model
If you're new to ecommerce and looking for a way to get your feet wet, dropshipping is a great option.
While some people might think it's too risky or difficult to start a business that relies on other companies' supply chains, the truth is that dropshipping stores don't require much overhead or investment to be successful. In fact, there are many examples of successful dropshipping businesses that started with less than $100 in capital!
This means businesses can focus on other essential aspects, such as marketing and customer service. Additionally, dropshipping allows companies to test different products and niches without investing much money upfront.
How Shopify Dropshipping Examples Help You
If you're looking to build a dropshipping store, then these Shopify dropshipping examples will be invaluable. Learning from these dropshipping Shopify store examples goes a long way to ensuring your future success.
You'll be able to see what works, what doesn't, and how other stores are running. You'll also learn from their mistakes so that you don't make the same ones yourself.
By seeing what has worked for them, you can get inspiration for your own store and ideas on how to set it up and run it more effectively.
Shopify dropshipping store examples can help you in a number of ways. For example, by looking at successful dropshipping stores, you can learn about the best practices for building and growing a Shopify store.
Additionally, by looking at the themes and designs used by other groups of stores, you can get ideas for your own store. Furthermore, by studying marketing and sales strategies used by different stores, you can learn how to drive traffic and convert visitors into customers.
The Shopify Dropshipping Stores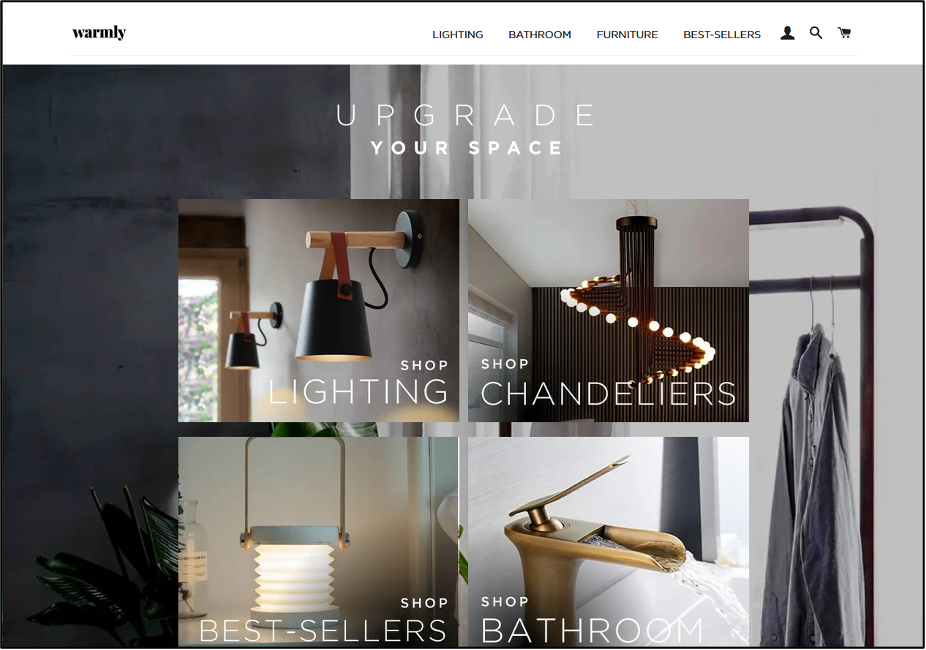 #1 – Warmly (Home Décor)
Theme: Live Theme with Quadpay
Warmly is a home décor store based in Los Angeles. They sell a variety of unique, hand-crafted pieces that are perfect for adding some personality to your space. Their focus is on naturally fitting pieces that do not distract from the amazing colors and features designed to add character to a living area.
The elegant color offerings from Warmly show up brilliantly on the simplified Shopify theme with a minimalistic construction. An important point to note is the Pinterest account for this dropshipping giant. That has a massive customer flow through that social media platform.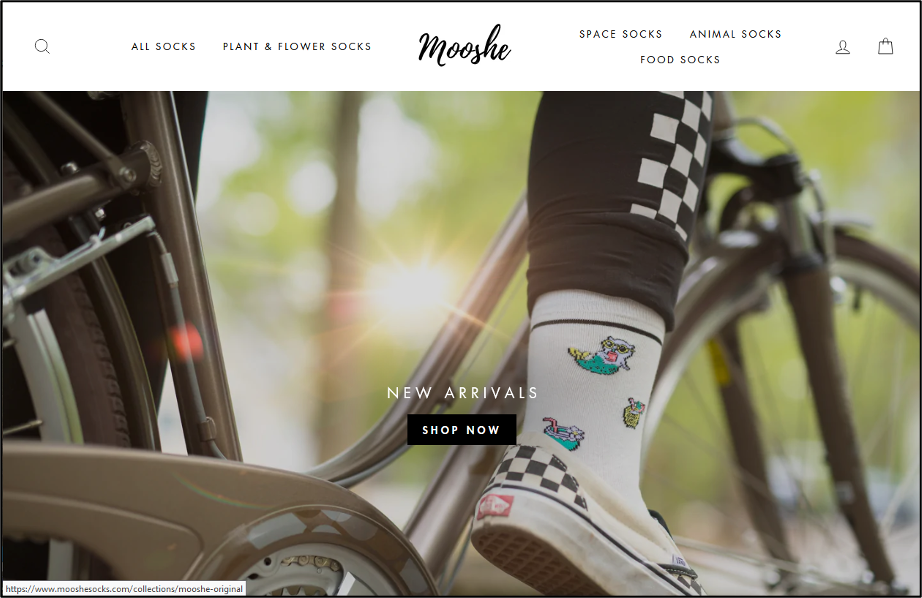 #2 – Mooshe Socks (Clothing)
Theme: Mooshe Theme based on District
This store is an excellent example of an ecommerce business that has done well with a single product. Mooshe Socks sells socks that change in design every month. That means they have a rotating unique selling point that can be used for new and returning clients. This Canadian-based drop shipper is a fantastic example of providing real brand value to customers.
This store owner has done an exceptional job at creating a niche brand that resonates with its target audience (sock lovers). The design elements are simple but effective: bright colors, clean layouts, and photos that show off the products clearly without being too "busy."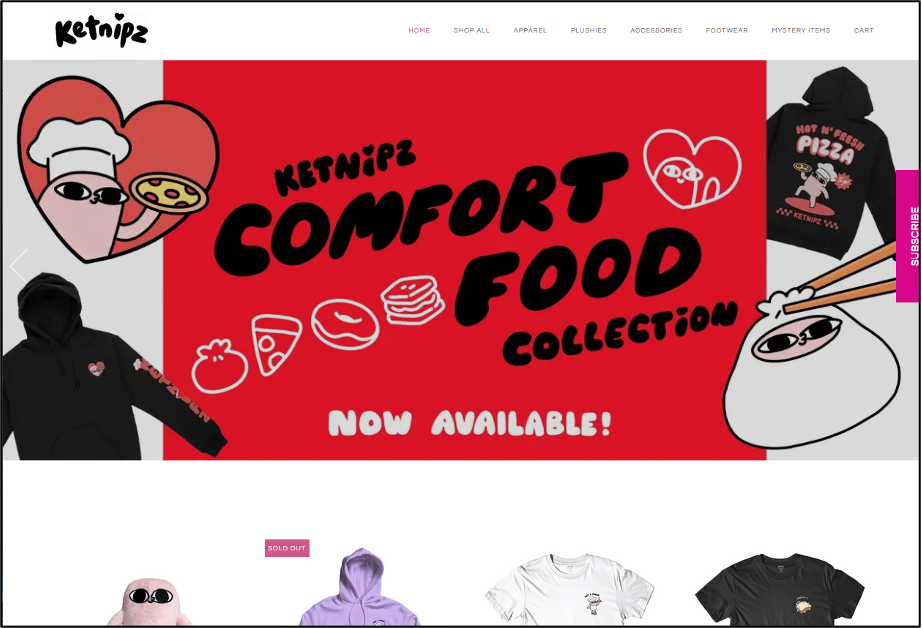 #3 – Ketnipz (Personal Brand)
Theme: Pipeline
Ketnipz is a personal brand that sells clothing, fun items, and accessories. Everything is based on the cartoonist Harry Hambley and his fun character Bean, that offers all kinds of engaging puns and cuteness. With so many dropshipping Shopify store examples, it's important to consider the personal brands just as much as the versatile larger models.
What sets this dropshipping store apart from the rest is the intellectual property. Not everyone can draw a character and hit immediate success. There has to be a solid following to keep coming back and build up the draw of the cartoonist designs.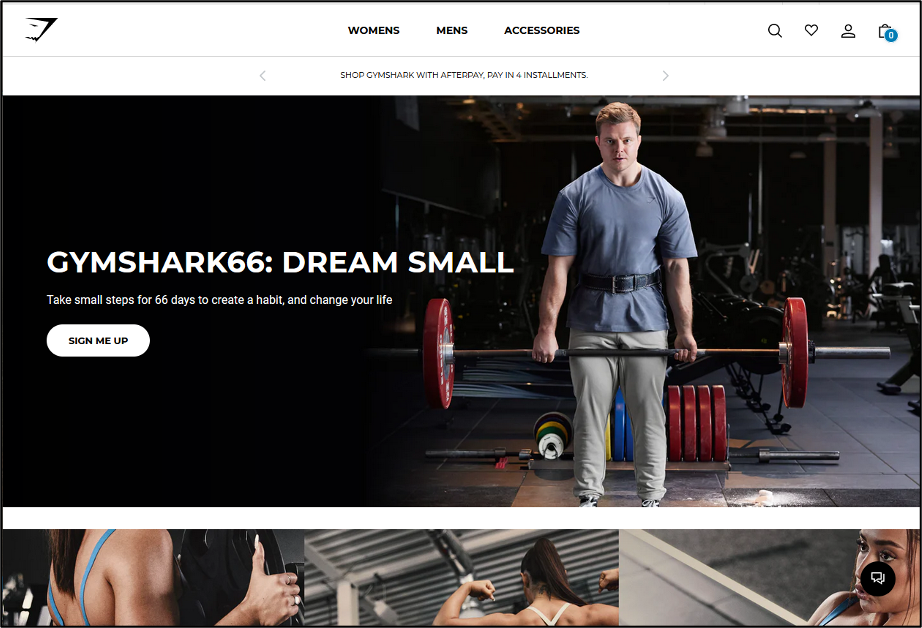 #4 – Gymshark (Athletic Clothes & Accessories)
Theme: Based on Impulse
Gymshark is a popular fitness brand that sells workout clothes, shoes, and accessories. They have a wide range of products across different categories, including shirts, leggings, jackets, shorts, and more.
It's easy to see why Gymshark has been so successful on Shopify. It offers great designs at affordable prices in an industry where customers are willing to pay more for better-quality clothing. It also uses product descriptions that clearly explain what each item does in terms of performance during exercise and details about the material used for each type of garment (e.g., polyester vs. cotton).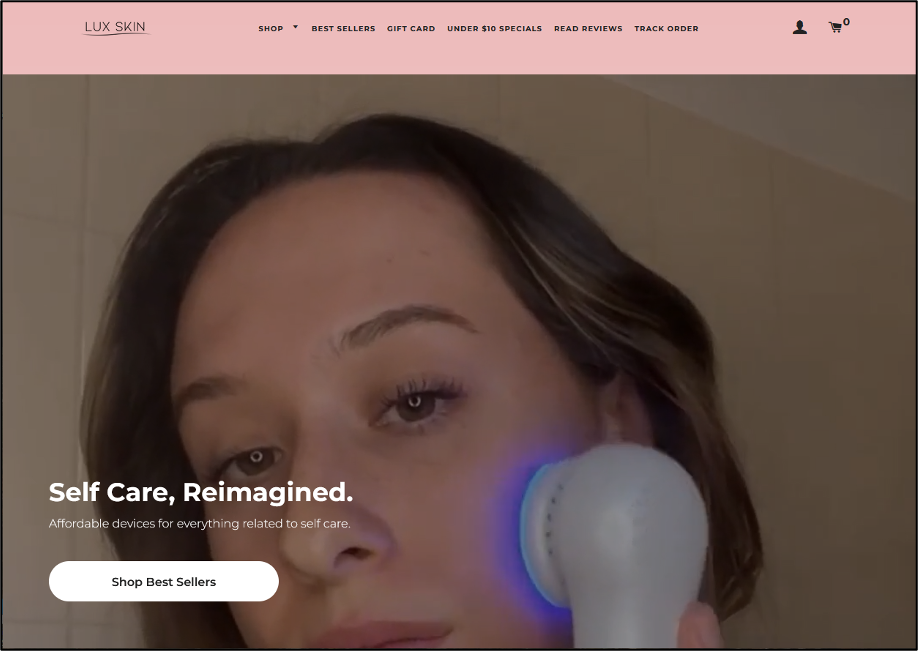 #5 – Lux Skin Co. (Health & Beauty)
This is a perfect example of how to start an online store with Shopify. If you are looking for inspiration, this store is for you. This is so engaging because the landing page uses video content in short bursts to catch any new users' attention. This not only explains what the product is, but how to use it.
Another critical factor to consider with this brand is how they cross-sell products. Even though there are two primary items for sale – the hair removal wand and mask, the company also provides plenty of complementary things to bolster revenue potential.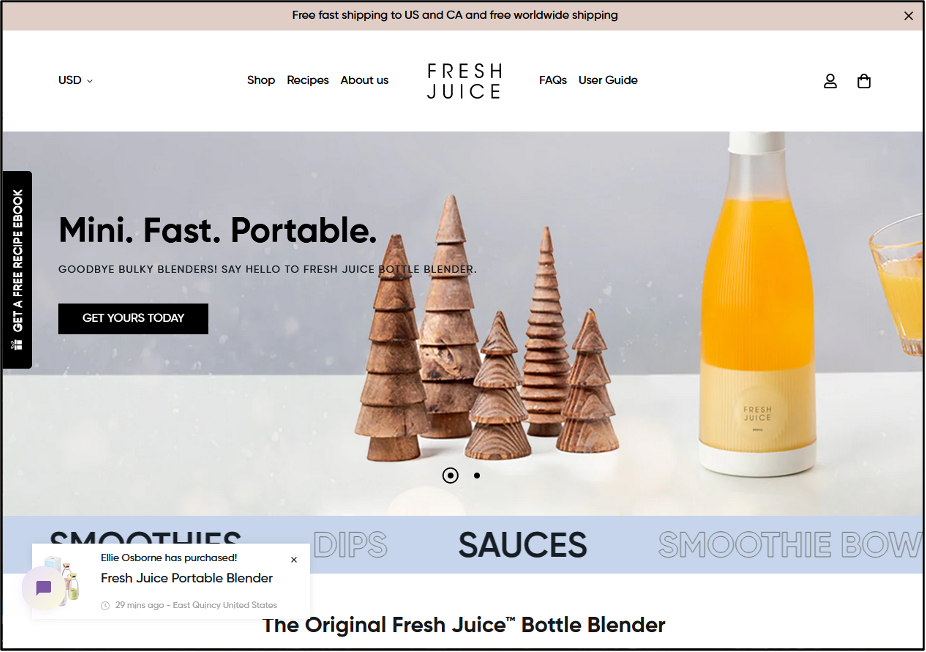 #6 – Fresh Juice Blender (Home & Garden)
Fresh Juice Blender is one of the best dropshipping stores on Shopify. The reason is that this Shopify drop shipper uses pretty much every proven technique in its sales funnel without overwhelming the user.
This is also one of the best shopping UK examples on our list that has broken into international sales. It can be challenging for new users to enter the dropshipping market if they are not selling to the US because of consumer demand. However, you almost guarantee success if you can carve out a country-focused niche.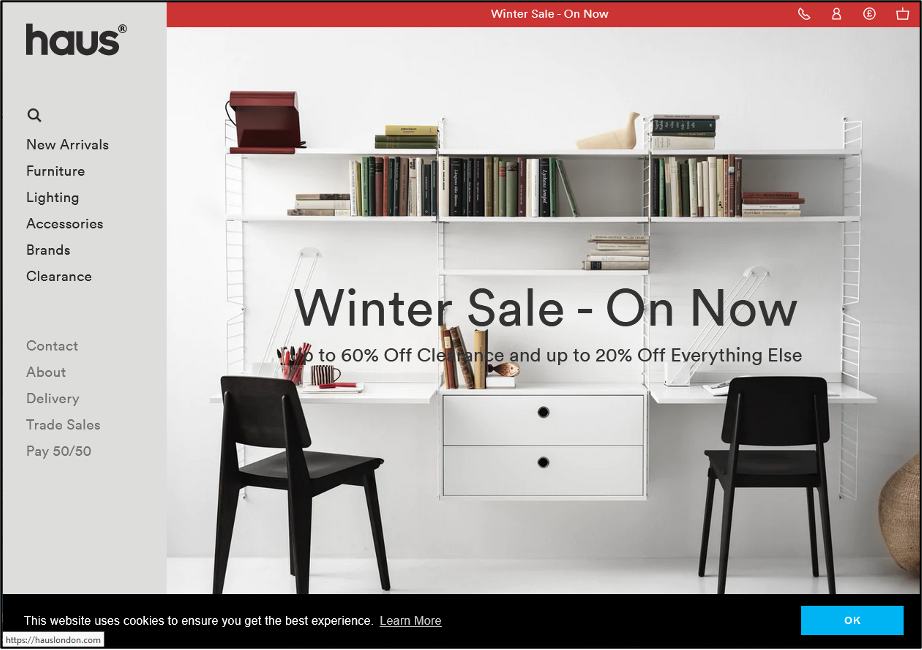 #7 – Haus (Furniture & Home Décor)
Haus is a furniture and home décor dropshipping Shopify store examples that sells trendy home furniture for those with a more contemporary taste. They offer their own name-brand products and source and ship from over 80 different brands to flush out their inventory. That makes life much easier when it comes to marketing because you can easily find something on that list with a niche audience.
Their Shopify dropshipping store example is great because it shows how you can have multiple brands under one storefront while still using the same fulfillment method. This saves time and money because everything remains under one roof. It doesn't matter if you use a free Shopify theme or an expensive one, you need to keep things clean and well-organized like this example.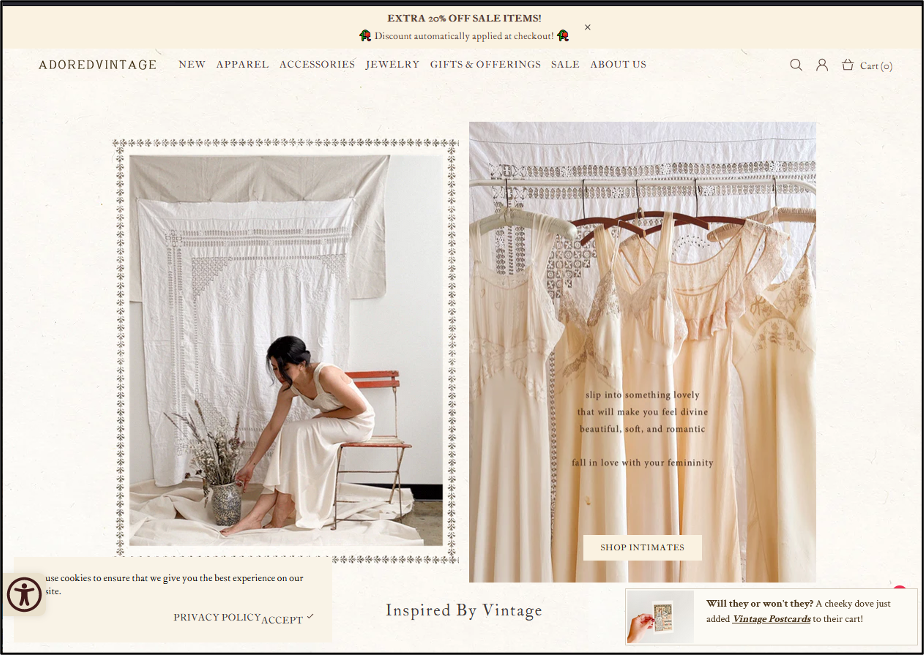 #8 – Adored Vintage (Vintage Clothing)
Again, successful Shopify drop shippers dip into the niche markets where they know success will come from. With Adored Vintage, the owner features clothing for women from various time periods in a more Boho style. This directly appeals to the current trend most social media influencers love, especially around Coachella.
Imagine a romantic French countryside meets an upscale West Coast beach town. This is the buyer's chance to enjoy a more feminine experience immersed in a welcoming online community.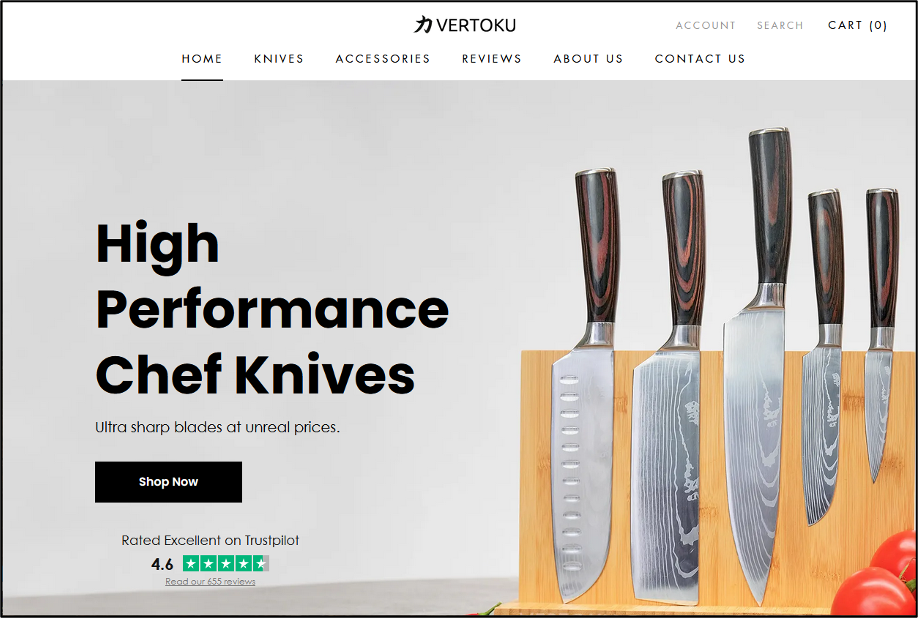 #9 – Vertoku (Kitchen Accessories)
The next general dropshipping store is Vertoku, a kitchen accessories shop. The store sells items like kitchen utensils, kitchenware, and more, but its main focus is on high-quality, ultra-sharp blades at affordable prices.
This is a highly competitive niche, so the company leans into a minimalist design that features the unique benefits of each blade. There's also an extensive product selection available for customers to browse through so they can find exactly what they need for their home or restaurant.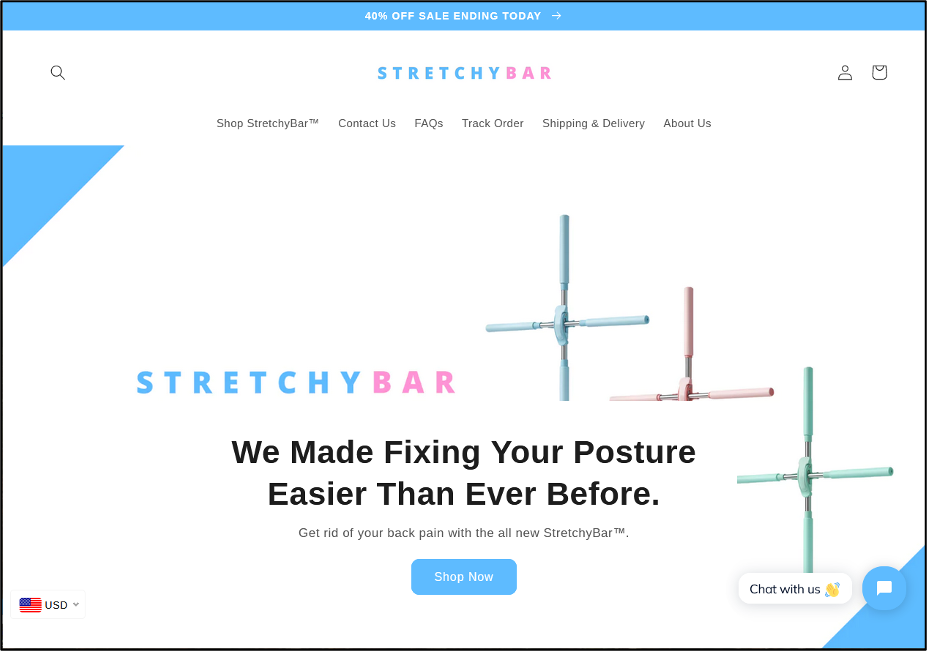 #10 – StretchyBar (Health & Beauty)
Theme: Refresh
This is another product that doesn't need much explanation. Many business owners have found success building a Shopify dropshipping site based on a one product dropshipping store model. Usually, the more unique the item, the better. It allows you to "shock" the market with something they may not have seen before, letting you get past whether or not to use a free Shopify theme or pay for something more personalized.
This is also inside the fitness niche, which can be challenging to find a foothold. That is why there is a lot of video and imagery across the StretchyBar site explaining how to use the product just as much as the benefits you'll receive when shopping through their storefront.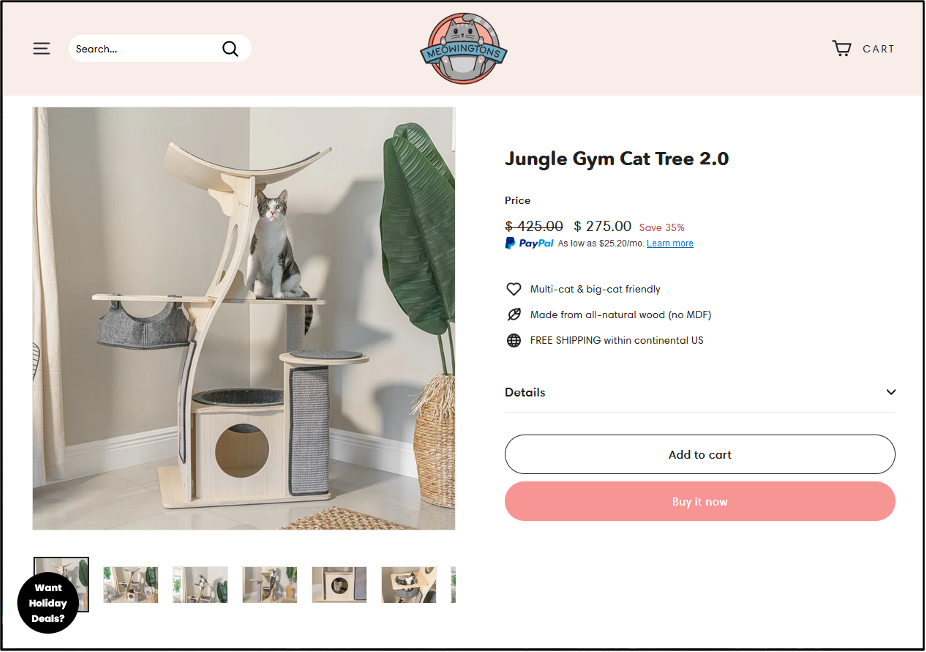 #11 – Meowingtons (Pets)
Theme: Expanse
Meowingtons is a pet store that sells cat products and accessories. This niche dropshipping stores offer a cutesy theme with plenty of animation and cartoon-featured graphics right next to real-world cats enjoying their many quirky products.
What sets this Shopify drop shipper apart is their product selection. The pet niche is a hotbed of activity and having items that you cannot find anywhere else is an excellent way to differentiate yourself. The competitive advantage of having real cat models using these products means you have plenty of content to share across every platform for engaging new clients.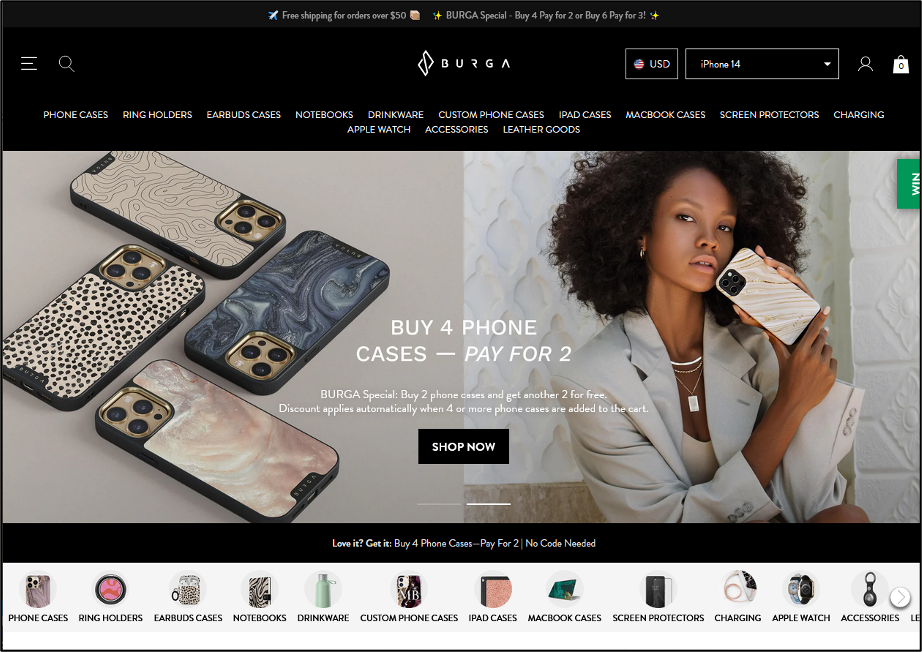 #12 – Burga (Phone Accessories)
Burga is a Shopify store that specializes in phone accessories. Their Shopify ecommerce website product list includes everything from phone cases to screen protectors, chargers, batteries, speakers, and headphones. They also have cables for all these things.
The brand loves to amplify the luxurious side of phone accessories, always trying to target the high-end user that gets into the club without waiting in line. Considering they get more than 800K in visitors per month, that is nothing to shake a stick at!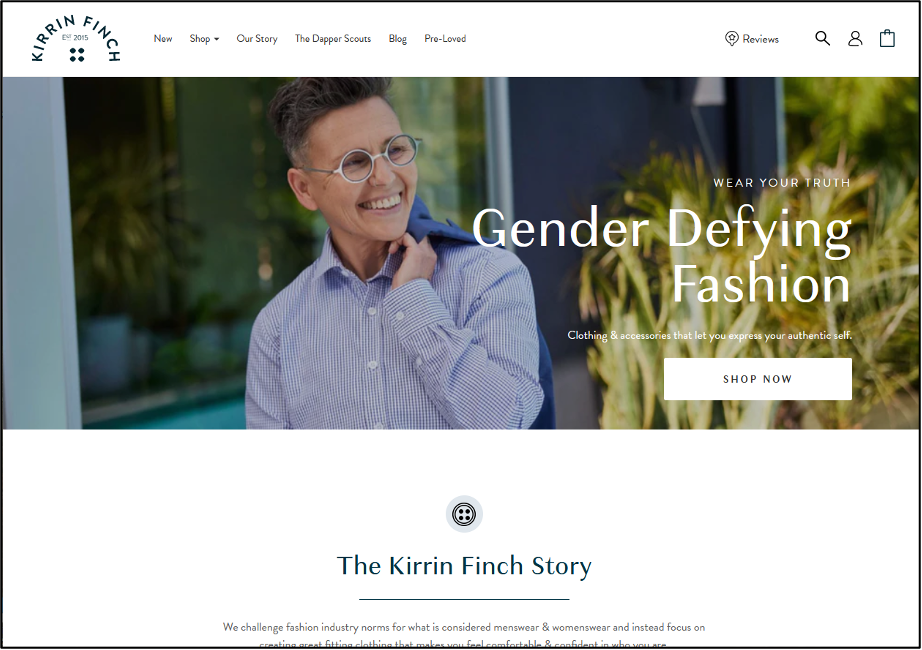 #13 – Kirrin Finch (Men's Clothing)
Theme: Live WITTY
Kirrin Finch should be at the top of your list if you're looking for a Shopify dropshipping store example. This men's clothing store has a wide range of products and is considered to be one of the best Shopify dropshipping stores out there.
The unique nature of the gender-defying apparel is what people love about this brand. While it is menswear, the items are non-binary so that those transitioning or wanting a more masculine appearance can enjoy well-fitting items without the judgment of a retail location. They also lean into fair labor and ethical manufacturing processes, making them a marketing juggernaut for building a dropshipping following. Sometimes you don't need to focus on which theme does this Shopify store use and more on the unique marketing.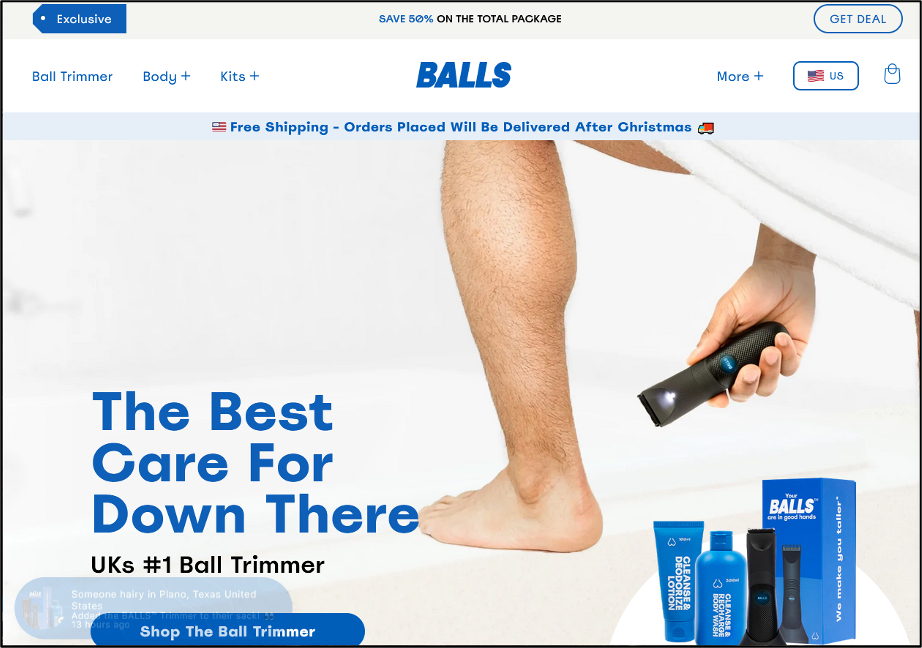 #14 – Balls (Health & Beauty)
Theme: Copy of Dawn (INT Theme 2.0)
If you're looking for a dropshipping store that sells hair removal products, Balls is an excellent option. This store sells everything from waxing kits to electric shavers and epilators, making it a one-stop shop for all your hair removal needs.
Yes, we picked this one because of the name – and that is kind of the point. The tagline and branding make you chuckle just enough to click on their website link and check out what is going on. That means they get a ton of new visitors that can easily convert into loyal brand ambassadors down the line through fair promotions.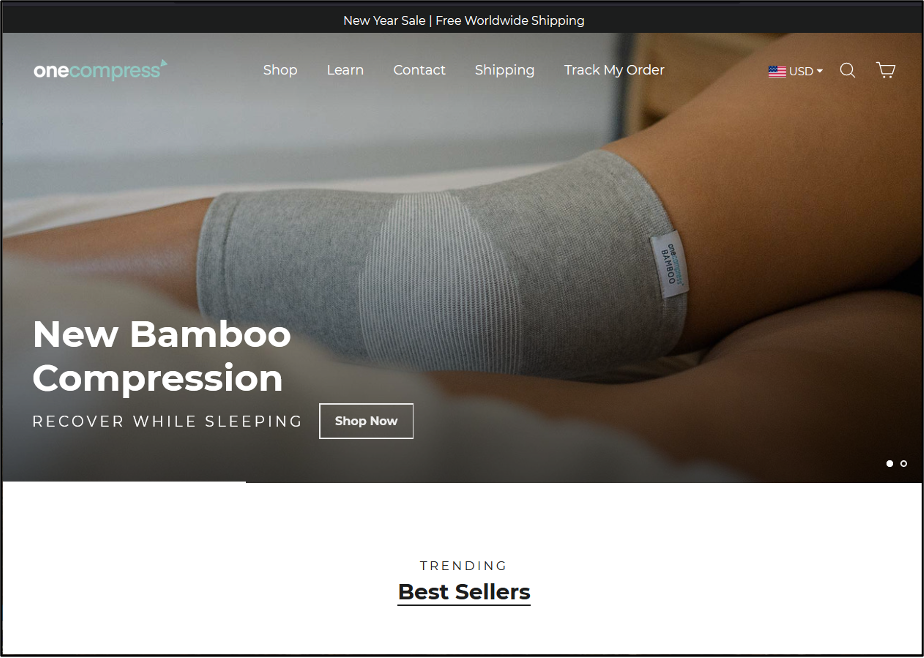 #15 – OneCompress (Medical Devices)
OneCompress is a medical device company that sells compression sleeves for the treatment of blood clots and varicose veins. They currently sell their products through Amazon and Shopify dropshipping websites and are an example of the biggest Shopify stores due to their highly niche products.
OneCompress's story is not far from any other successful Shopify dropshipping store. They started out with one product, then expanded to multiple types of complimentary items based on the customer feedback they were receiving. Once they did so, they started to see more sales coming in and decided to focus on just this niche.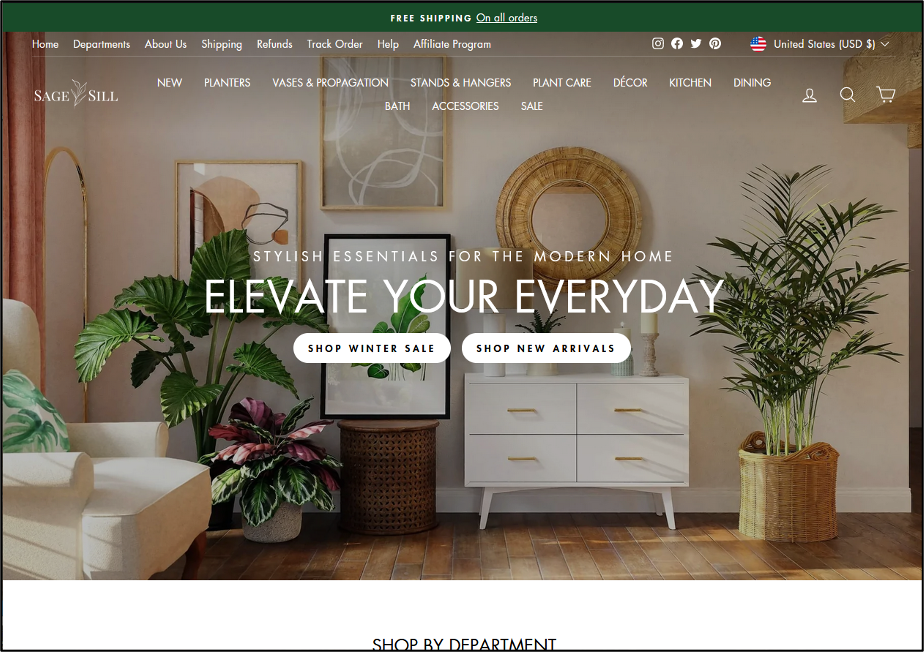 #16 – Sage & Sill (Home Décor)
Sage & Sill is a home décor store that sells beautiful planters, pots, vases, and home accessories for plant lovers. They amplify the feelings and personal preferences of people that want to have plenty of plant babies all over their homes and apartments. Many of our examples of niche dropshipping stores think about how their target market feels more than simply throwing promotions at them.
Two of the essential things to recognize from this Shopify drop shipper are how they appear like a regular brand and their "frequently bought together" suggestions designed to maximize revenue opportunities. You can learn a lot about their business model by simply cruising around the website and seeing what offers and suggestions pop up as you shop.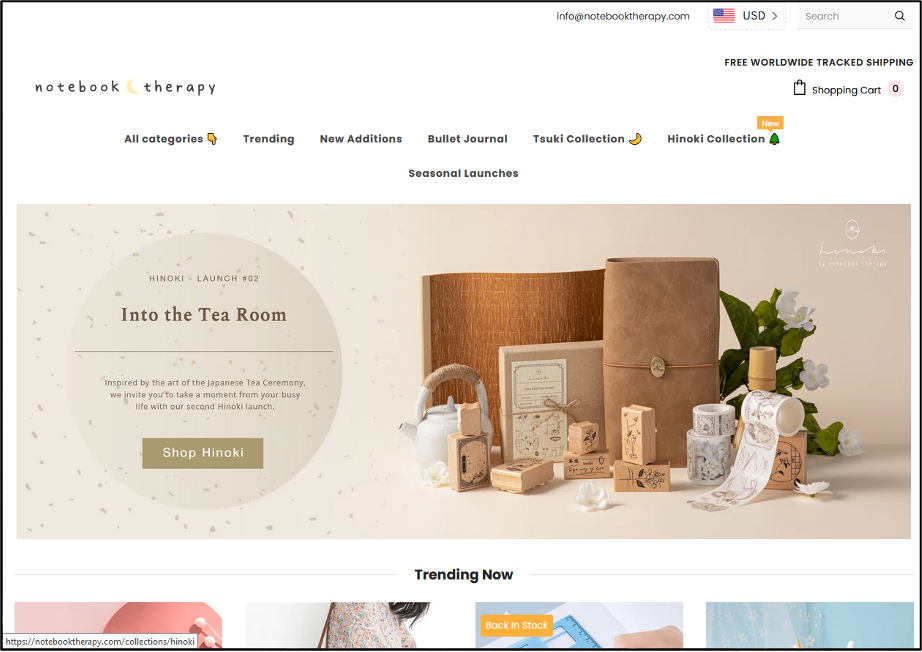 #17 – Notebook Therapy (Personal Brand)
Notebook Therapy is a personal brand that sells notebooks. It's not a store you'd typically think of when it comes to ecommerce, but its success is proof that any product can be sold online if it's done right. The reason this works so well for them is they lean into Japanese and Korean-based notebook products and accessories for international buyers.
This is a crucial lesson in dropshipping. If you can insert your brand into a cultural phenomenon like the love of Japanese and Korean identities, you will find success. They are not necessarily selling notebooks, but rather the experience and feelings associated with those cultures.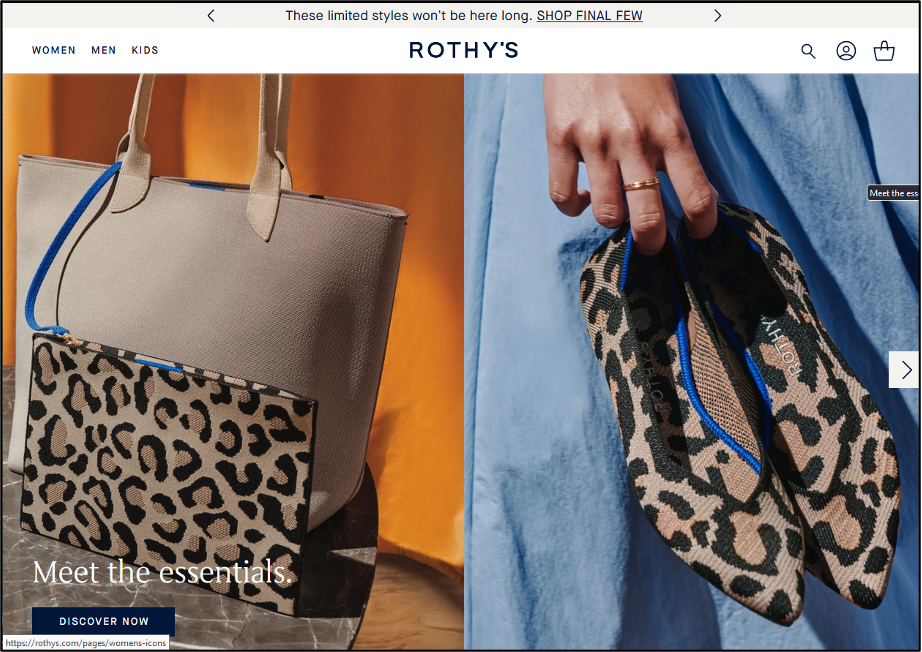 #18 – Rothy's (Shoes & Footwear)
Rothy's is a direct-to-consumer brand of shoes and accessories. However, all their items are naturally sourced and washable, meaning they are more durable and capture the imagination of eco-friendly buyers. This is a highly desirable niche market right now, as so many consumers are becoming more socially aware when they make a purchase.
The company also doesn't restrict itself to one gender or age. They love showcasing users across their social media enjoying their custom-made items in a fun and exciting spaces that make any viewer envious.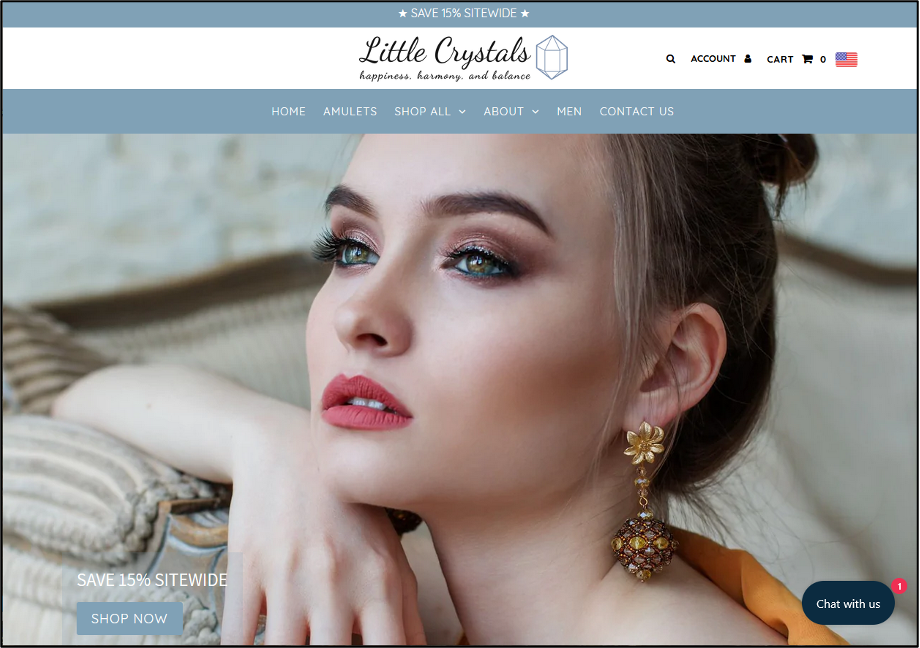 #19 – Little Crystals (Jewelry)
Theme: Fashionopolism
Little Crystals is a jewelry store with a focus on unique and affordable gemstones. It's a dropshipping store with a ton of positive reviews on Shopify. The store sells jewelry for women, men, kids, and babies.
The filtering process of their product selection makes this one of the better examples of niche dropshipping stores on our list because it is so easy to navigate. In addition, every item has individualized model photos for the different versions available and plenty of white space, so the shopper feels like they are getting an upscale online experience.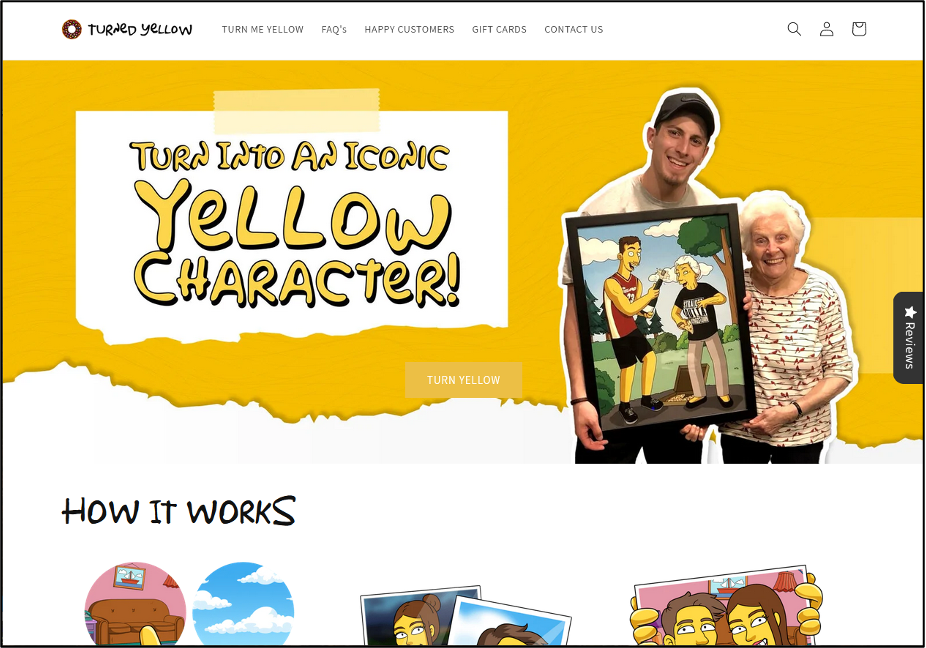 #20 – Turned Yellow (Personal Brand)
Theme: Dawn Theme 2.0
Turned Yellow began as a niche website that would transform the pictures you uploaded into yellow-themed Simpsons characters. That style quickly led people to want photos, artwork, and all kinds of branded accessories with the newly created artwork on them.
This is hands down one of the most original ideas when it comes to dropshipping because the products are straightforward to source. There are endless companies willing to let you add custom branding to any design and then handle the selling, returns, and logistics on your behalf.
Best Way to Grow Your Shopify Dropshipping Store
Create a Unique Selling Point – One of the best ways to grow your Shopify dropshipping store is to create a unique selling point that sets your store apart from the competition. This could be a unique product, a unique service, or a unique approach to customer service.
Leverage User-Generated Content – User-generated content, such as reviews and photos, can help to build trust and credibility for your store. Encourage your customers to leave reviews and share photos of themselves using your products.
Have a Fast & Mobile Responsive Theme – A fast and mobile responsive theme is essential for any Shopify dropshipping store. This will ensure that your store loads quickly on both desktop and mobile devices, and will help to improve the user experience for your customers.
Build a Brand – Building a strong brand is essential for any successful Shopify dropshipping store. This can be done by creating a strong visual identity and consistently communicating your brand's values and message across all channels.
Offer Fast & Trackable Shipping – Shipping and fulfillment are key components of any dropshipping store. By offering fast and trackable shipping, you can ensure that your customers receive their products quickly and can track the status of their orders.
Don't Forget Email Marketing! – Email marketing is an effective way to stay in touch with your customers and drive repeat sales. Use email marketing to promote new products, offer discounts and deals, and keep your customers informed about new developments.
Conclusion
Shopify dropshipping store examples can be valuable for anyone looking to start or grow a dropshipping store. By studying successful stores' design, marketing, and sales strategies, you can learn how to create and grow your own successful dropshipping store.
We hope these Shopify dropshipping store examples have inspired you to take action and start your own store. If you're looking for more inspiration and advice, check out our other blog posts!