Are you curious about how to market through Instagram and why it's essential for businesses? Instagram has emerged as a critical channel for businesses that want to show off their products and strengthen customer relationships due to its excellent visual content.
Additionally, Instagram ads allow you to specify who sees the ads and where they appear. Unlike paid partnerships, the ads are sent from your account. The only thing left to do is to decide how much you want to pay for the ads, where you want users connected to from clicking them, and who you want to reach with them.
Why sell on Instagram? With over a billion active monthly users, Instagram provides advertisers with a great way to reach their desired audience. If you have already done all you can with your influencer marketing plans or just looking to start a new form of marketing, here is a guide offering a step-by-step process for advertising on Instagram.
How to grow on Instagram in 2023?
There is no secret! The most efficient way to grow on Instagram in 2023 is to advertise on Instagram. Advertising can be a powerful way for businesses to reach their target audiences, increase followers & leads, and maximize their sales and revenue. You can spread the word about your company and products with sponsored content or ads.
Taking into account the success of this popular social networking site, using Instagram to promote your brand can be particularly beneficial to the growth of your business. For example, if a new business introduces itself and its products, Shopping Ads on Instagram can be a great way to expose its brand and attract potential customers.
When scrolling through Instagram, you will likely encounter posts labeled "Sponsored." These Instagram ads appear similar to regular posts but can come with extra features such as a link to a brand page, city page, product catalog, and CTA buttons. Utilizing these ads to promote your business can assist in driving website traffic, creating new leads, and ultimately boosting profits.
What types of Instagram ads can you use?
1. Video Ads
Instagram videos for advertisements can now be up to 60 seconds long, allowing for either square or landscape shots to be used. This feature is a significant improvement from the earlier 15-second limitation.
2. Photo ads
Photo ads can be either square or landscape images. Designing these types of ads requires only a single image to be used.
3. Carousel ads
Carousel advertising is a method that allows businesses to showcase up to 10 pictures or videos in a single ad, each of which possesses its link or call-to-action button. This makes it easier for visitors to reach the website of that business. This ad style is regularly used by companies looking to expand their brand awareness and elevate their sales. Furthermore, Carousel ads can be seen in your feed or Instagram Stories.
4. Explore Ads
Ads on Instagram's Explore page can be referred to as Explore ads. Utilizing this feature allows businesses more exposure since over half of Instagram users browse the Explore page monthly. It is important to note that the ads do not appear on the Explore grid itself but only after you have viewed a photo or video and begun to scroll down. For example, you will likely see sponsored material after viewing a post and scrolling.
5. Reels Ads
Named for the short length of the adverts, Reels ads are full-page, vertical video clip promotions that last up to thirty seconds and are presented between organic Instagram Reels or on the Explore page. For a Reels ad to be suitable with the organic Reels, background music must be incorporated into the advert. Brands will generally find the advert looks like a typical Reels post, with a 'Sponsored' tag underneath the company name. When appropriately used, Reels ads can spread the word about a company and convince possible customers to try the business.
6. Stories ads
Ads similar to those seen on Instagram, Facebook, and Snapchat Stories are highly successful in appealing to potential customers and increasing sales. Since these ads appear to be regular Stories, they don't stand out as an advertisement.
7. Collection ads
A Collection ad on Instagram is a creative way of advertising. You can craft an attention-grabbing advertisement by combining pictures, videos, and product catalogs. Music and words may also be included to create a promotional video slide show that promotes several products in one go. Consumers can also look at the details of each item in the advertisement.
How to set your Instagram ads in 2023
Choose the right tool
If you want to implement your advertising strategies on Instagram, Facebook, Messenger, or Audience Network, the Facebook Ads Manager is the best resource. This helpful platform provides you with the specifications to set up and oversee your ad campaigns and an overall look at their efficiency.
Using Facebook Ads Manager is a simple way to begin setting up Instagram ads, so the first step is to create a new advertising campaign.
Select a campaign objective
After clicking "Create a new ad," you will land on the page with the campaign's objectives. Now you need to select a proper campaign objective from a given list: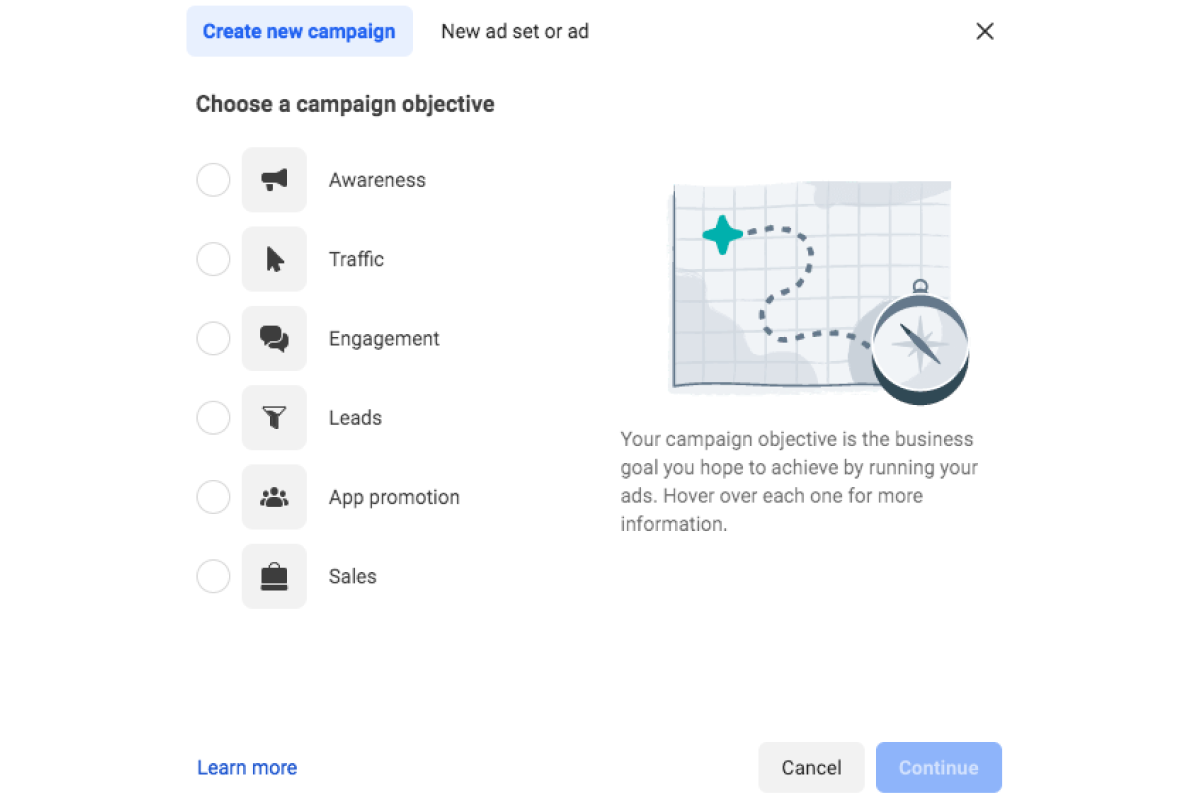 When setting out an Instagram advertising campaign, knowing what you want to accomplish is essential. Traffic (driving visitors to a website) will be the most straightforward objective for beginners. Keep in mind that creating a Lead Generation ad can be more complex.
The next step is to give your campaign a name. Ensure to provide such attributes as offer, date, and content. It will help you quickly identify the campaign you are looking for, among others.
Select an audience
Determining your targets may seem difficult if you are a beginner in advertising on Instagram. Don't stress too much; repetition provides the most education.
Choosing what kind of people would be interested in your offering is essential. To increase traffic, use your regular client profiles to define the viewers.
Who might be curious about your products or services? Moreover, you can make a Custom Audience to show the ad to a particular group of people.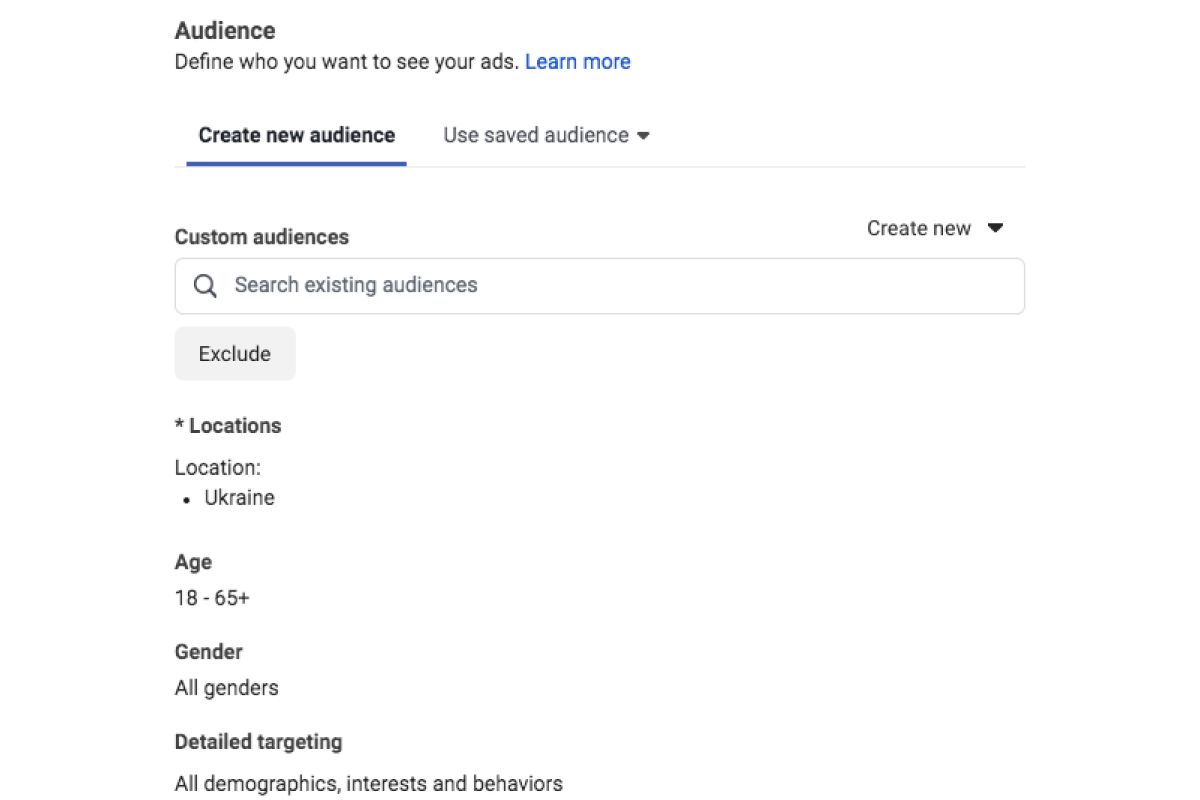 How to define a custom audience? Here are a few methods:
Use detailed targeting to specify the portrait of your perfect client (demographics, interests, status, etc.)
If you already have customer data from website analytics, you can upload a file with it.
You can create a list of people who have previously visited your website or specific pages and taken action, and then target them on Instagram.
If you have an app, you can build a Custom Audience to reach those who took particular actions, including running a certain level in a game, putting items in the cart, or rating your app.
Additionally, you can use the data related to your Facebook followers to create a Custom Audience for Instagram. Effectively, this list would contain people who viewed your videos, opened or finished a lead form in your Lead ads on Facebook, etc.
Don't forget to save the custom audience so you won't have to do it again next time.
Select Instagram ad placements
The next step is to decide where you would like your ads to appear. Here are some considerations to keep in mind:
You can pick Advantage+ Placements or go with Manual Placements. Advantage+ Placements will show your ads on all platforms like Facebook, Messenger, Instagram, and Audience Network.
On the other hand, Manual Placements only displays ads on Instagram. Moreover, you can decide where to show your ads on Instagram. For example, you can display ads in Instagram Feeds, Explore, and Stories.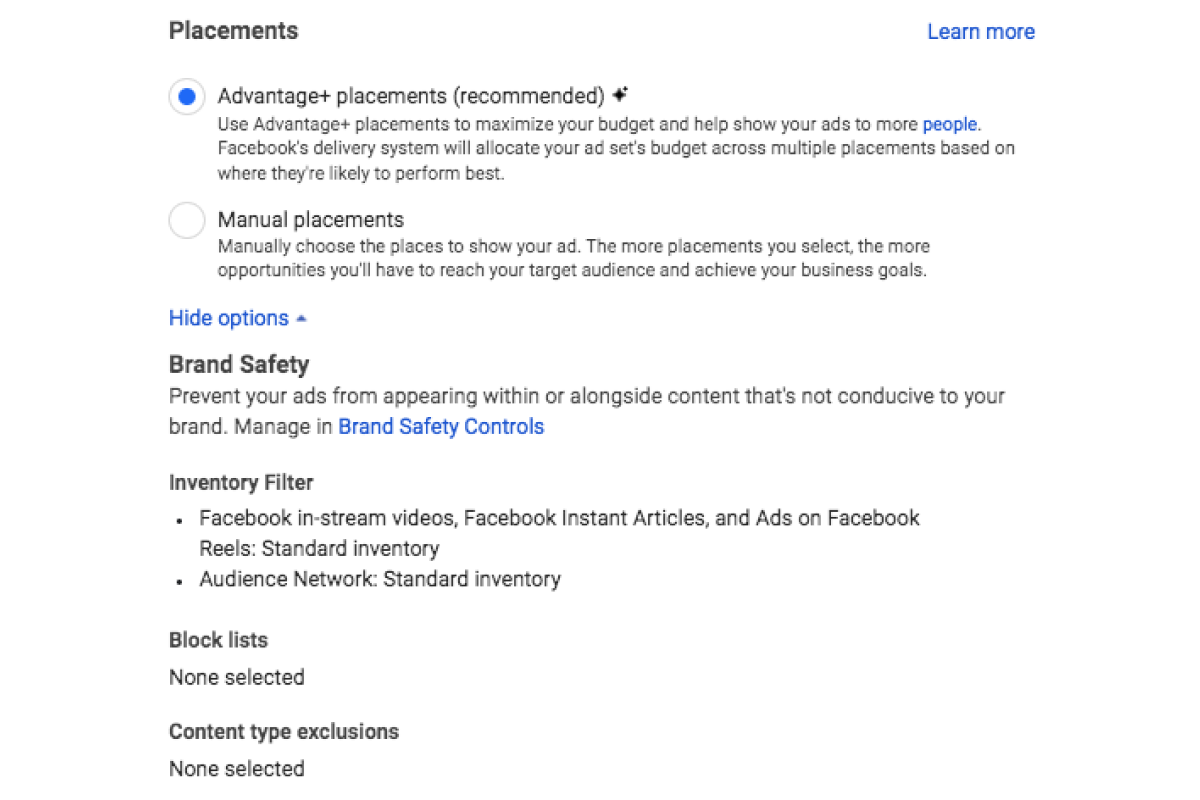 Set up your budget & schedule
It would be best to decide how much you would like to invest – you can choose between a Daily Budget and a Lifetime Budget. A Daily Budget is the average amount you will pay each day of your ad campaign, whereas a Lifetime Budget is the maximum sum you will spend during the campaign.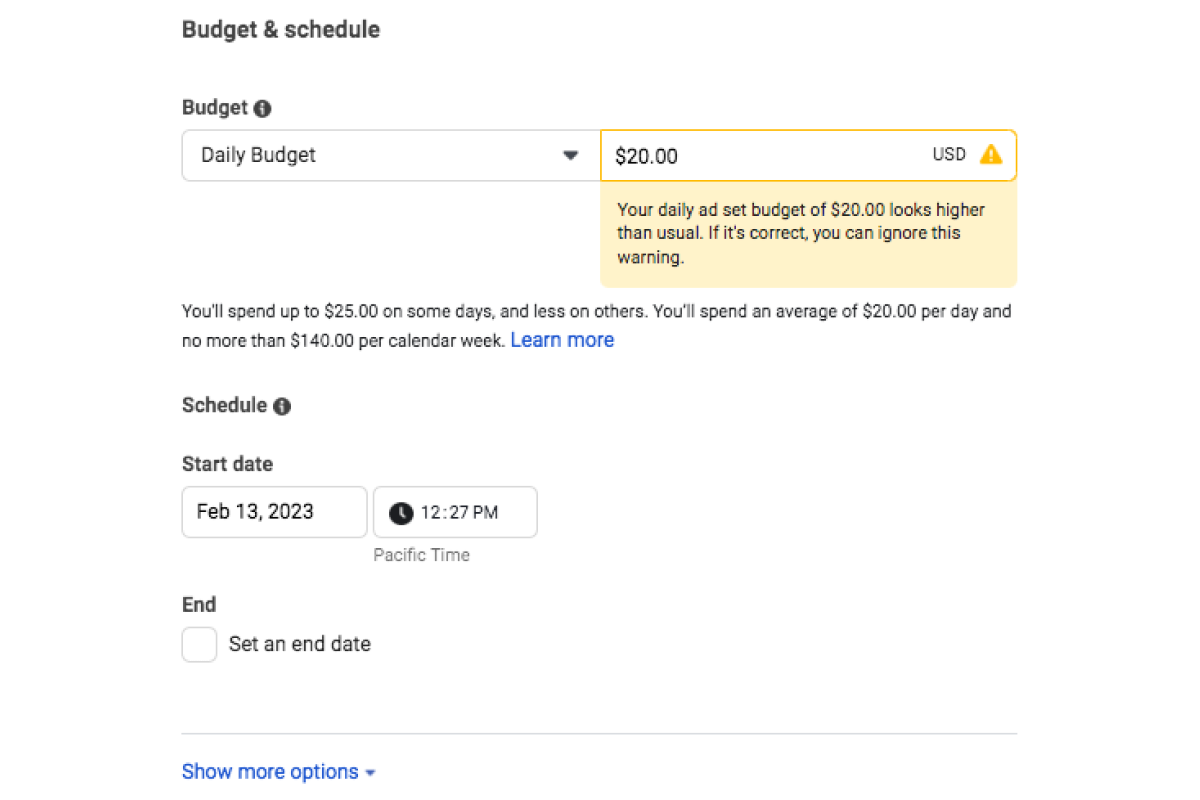 Lastly, you need to specify the schedule. Unless you have pinpointed which days and hours will generate the best results, choosing the setting that allows your ad to run continuously from today is recommended.
Choose the format and create a new ad
Now unlock your imagination and construct a new Instagram advertisement. To do so: determine the Facebook page and an Instagram account where you wish to post the ad.
Pick the best ad format when setting up the ad. Such options include Single Image or Video, Carousel, or Collection.
Next, you must fill out the details under Ad Creative. This includes Primary Text Headline Destination Website URL and Display Link Call-to-Action.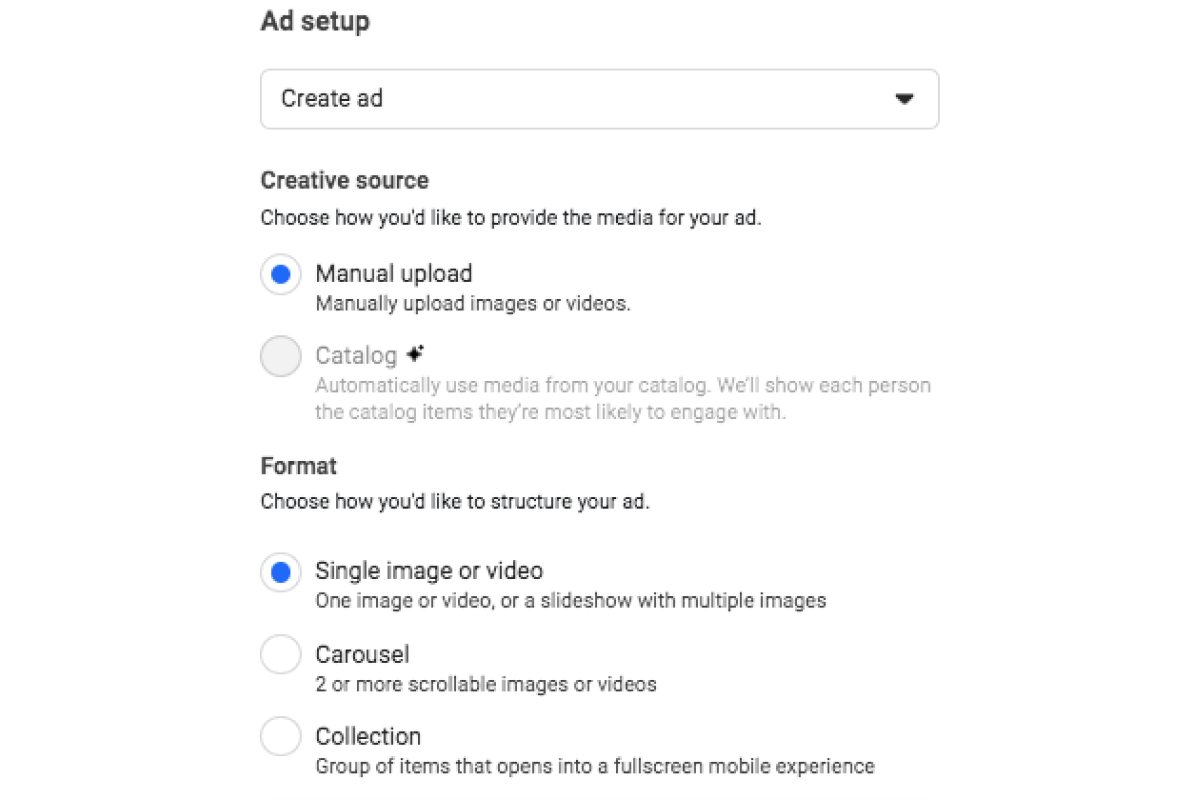 Then fill out the details under Ad Creative, which include:
Primary Text
Headline
Destination
Website URL
Display Link
Call-to-Action
Preview and publish your ad
After you have filled in the necessary categories for Ad Creative, you can move on to Preview your ad campaign. Activate the preview function to ensure it looks good when it appears on your Instagram Feed, Story, or Explore.
If it looks nice, then you can push Publish. Facebook will review the ad to ensure it meets their Advertising Policies before displaying it on Instagram. In Facebook Ads Manager, you can monitor the Delivery Column to check the advertisement's status.
Track your performance
Once your advertisement has been launched, track its performance by checking all its metrics. You can switch some things up in the ad, such as the image, text, or call to action. Click on the 'Ads Manager' to get the information concerning reach, spending, and cost per click. Then, in the top right corner, there will be an option named 'Columns: Performance.' Click on this selection and then adjust the results to see the total clicks, page likes, etc.
How Much Does It Cost to Advertise on Instagram?
When you plan your budget for Instagram advertisements, you will definitely want to know its approximate prices. The cost of it depends on several factors, such as:
Type of target audience
Competition in this market
Season (costs tend to increase during holidays)
Placement of ads
Bidding models, such as CPC (cost-per-click), CPM (cost-per-impression), and CPE (cost-per-engagement)
Hence, it's quite difficult to name a price because we must consider many factors. However, we can use some research. According to Revealbot, the average cost of advertising on Instagram in November 2022 was:
CPM campaign: $12.66 per 1000 impressions
CPC campaign: $1.46 per click
CPE campaign: $0.087 per engagement